A Visit With My Brother and His Family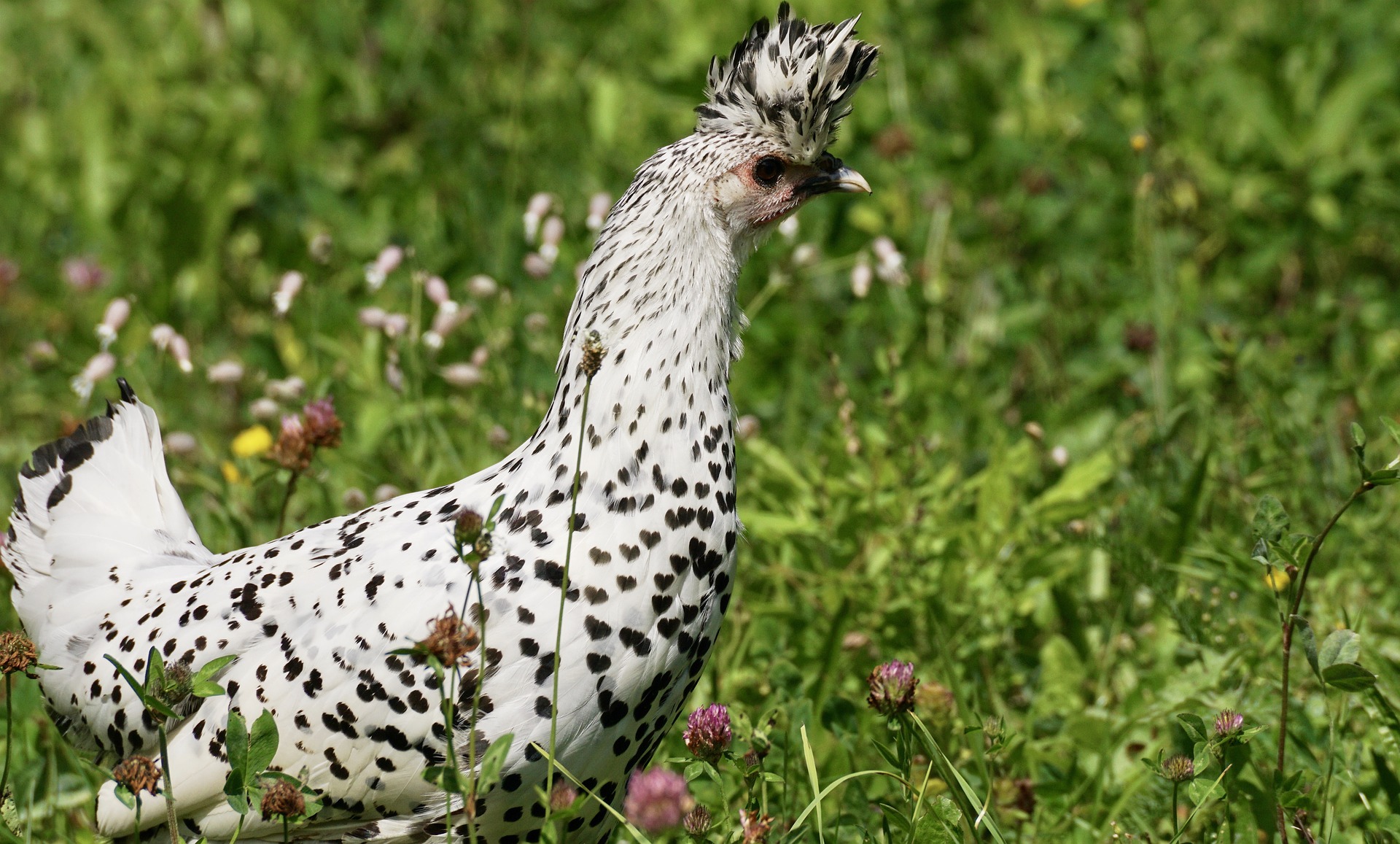 United States
October 15, 2017 9:26am CST
Yesterday, my youngest son and his wife and their son and I left at 8 AM to drive the 135 miles to visit my brother and his family. We stopped for a quick breakfast and arrived at my brother's house about 10:45. They were expecting us and we enjoyed the next couple hours catching up on everything. My brother has been remodeling their house and it was interesting to see all the improvements. New flooring, new kitchen cabinets, new lighting and several other things. Then, at 1PM the guys went to get some pizza for lunch. And some cinnamon rolls. After that, we went out to their huge fenced back yard and were introduced to their recently acquired free-range chickens. They have 11 chickens and these chickens are producing about 5 or 6 eggs per day, enough for them and the rest of their family. These chickens have a mop of feathers on the top of their heads, like the one in the photo, and one in particular has yellow feathers that flop around on the top of his head. My brother named him Donald. Go figure. Another one, my brother named Hillary. Just saying.

One of their daughters and her family live in a new house they built on the back lot of my brother's property. They were gone when we arrived, but returned and we had a nice visit with all of them. I took lots of jewelry for my niece and her two girls. They were so excited to get FREE jewelry. They are teenagers. They had fun going through all the jewelry and choosing what they wanted. Lots of ear rings and necklaces and a few rings too. I have given them FREE jewelry for several years, so they know what to expect when I come for a visit. My sis-in-law also chose some jewelry for herself and for her other daughter who lives nearby but was not able to come that day. I missed seeing her but she had another event going on that day. My brother's, daughter's son is 17 years old and my grandson is soon to be 17, so they were glad to see each other. It had been a few years. They are both over 6 feet tall now and such handsome young men. We left to go home about 4PM and stopped at the Cheese Shop in Stuarts Draft. This shop is ran by the Mennonites that live in that area and we bought several things. It's a wonderful store with lots of natural foods and cheeses and candy and jelly and jam and all sorts of things that you wouldn't find in a regular store. After that we continued to Gordonsville where we ate dinner at a Barbecue Restaurant. I had never been there but my son was very familiar with the place. It was crowded. We had to get in a long line to get our food. I don't care for barbecue, so I got some chicken wings and corn bread. But, they all got barbecue and thoroughly enjoyed it. We arrived home at 8:10PM and I was really tired at that point. It had been a very long, but very enjoyable day. I went to bed early and slept soundly all night.
4 responses

• Philippines
15 Oct 17
What a wonderful busy day you got there! It`s really nice having an enjoyable day like yours and can give you a good sleep



• United States
15 Oct 17
Yes, I slept very well. I was really tired. But, it was a good day. The weather was perfect. There was FOG on the mountains, early in the morning so we didn't stop at any of the look-outs on the way there. The FOG cleared off though, so we stopped at one of the look-outs on the way back and took a couple photos. I will have to get my son to transfer them from his phone, and I can post them later.

• Philippines
15 Oct 17
@IreneVincent
Oh ok. That`s good to know that you slept well and weather was good

Here too but still keep on changing


• United States
16 Oct 17
@m_audrey6788
Germany is such a beautiful country. I was there once. It was a very short visit. A bus tour actually, when I was in Switzerland for a week's vacation. We went to Germany and ate lunch there in a nice little restaurant. Then, went on to Austria and Liechtenstein. It was a beautiful day in February.


• Daytona Beach, Florida
15 Oct 17
Love the photo of the chicken. Sounds like you had a great day.

• United States
15 Oct 17
Yes, it was tiring but I'm glad we were able to go before the weather turns bad. We didn't actually see many fall colors in the trees in the mountains and I was surprised. We had hoped that the trees were already showing their colors.

• Daytona Beach, Florida
15 Oct 17

• United States
15 Oct 17
That was good the day came to an end for you to rest.

• United States
15 Oct 17
Yes, it was a busy day and just getting in and out of my son's Silverado truck was difficult for me. But, he helped me in and out and there is a handle I could use too.