Brooker's Received A New Name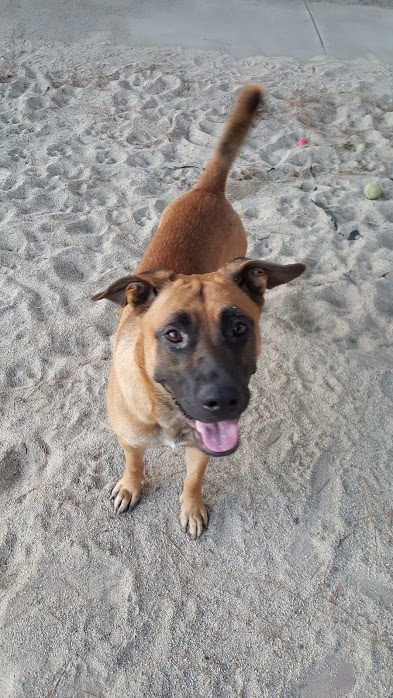 Redlands, California
October 15, 2017 2:50pm CST
My brother is right. Personality like no other, Her nicknames piling up. Brooklyn is her name and personality is her game. Brooker's Brook Wiggles little Monster Thief Princess, Lucy as in Charley Brown Moody, Crack Head Try to pick up her ball and she snatches out of nowhere. Why she became Lucy like Charlie Brown with the football. Crack head because she bounces off the walls at times. and has the prettiest smile ever.
5 responses

• United States
15 Oct 17
Like the name there.Is she from Brooklyn I can see why


• Redlands, California
15 Oct 17
No, she straight Cali, but family we got her from was from Brooklyn. Had no heart to changer her name. Funny, they said she was a German Shepherd. Knew right away that is not what she is or was or will be, but she loves the breed Kai her best friend. So fun to see them play

• United States
15 Oct 17

•
16 Oct 17
Sounds like an interesting dog and not boring at all. I renamed my cat when I got her when she was 3 months old and I call her by nicknames and she knows them all I believe. The one name for sure will answer to if she wants to is Sophie. That is the name I gave her.

• Redlands, California
16 Oct 17
Yes, pretty amazing, out of all the nick names we give them, they still know their real name. Animals are awesome.

•
16 Oct 17
@crossbones27
they certainly are and I would not trade them for the world.

• Redlands, California
16 Oct 17
I am Partial to Brookers myself. Say it real fast and kind of can make it sound like a rooster sound.


She definitely loves her princess nickname. She just needs a pink bow, another thing my sister calls her, diva. To girly for me.


• Roseburg, Oregon
15 Oct 17
What a very beautiful dog. She looks very happy.

• Redlands, California
15 Oct 17
Unless Moody, is probably the happiest dog you will ever meet.