Jesus is Love: Fabulous Word Art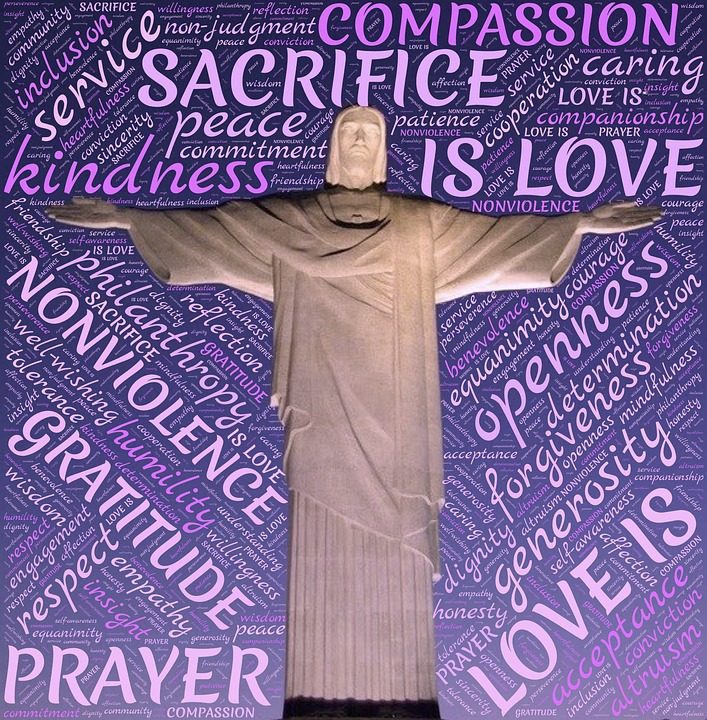 Austin, Texas
October 20, 2017 8:17pm CST
Found this fabulous word art. Have to share it. My mom used to make me read the newspapers, even though I was a kid. She said since I knew how to read I should learn about the world. I remember as a child seeing an article in the Miami Herald showing a picture of a statue that was still standing after an horrendous earthquake that occurred in Brazil. The photo and the caption were enough to leave a mark in my memory forever. To this day every time, I see that statue everything floods back into my memory.

1. Christ the Redeemer, Rio de Janeiro, Brazil – The most famous statue of Jesus is also considered the largest Art Deco statue in the world. It is the 5th largest statue of Jesus in the world with a height of 30 metres (98 ft) – not including its 8 metres
4 responses

• Oxford, England
21 Oct 17
I love it but is it your creation? Just wondered if it is copyright or not? The artistic concept works well.

• Austin, Texas
22 Oct 17
No. Not my creation but got it from a site that has free images and does not require attribution. Many people know about this site. It's called Pixabay. Wish I could take credit for the work.


• Oxford, England
22 Oct 17
@cmoneyspinner
Oh that is great! I wanted to use it if I could but I am very sensitive about copyright issues. I was kind of hoping you designed it! I sometimes feel a bit sorry for the Pixabay artists as in a way, I think they should get some credit for their work and this is a battle I fought with my artist son. He would not sign anything for years.

• Austin, Texas
23 Oct 17
@Jackalyn
- Well first of all, the word art tool is free and what ever you create on it is your own, so there's no need to be concerned about copyright issues. Secondly, that photo of the statue is in the public domain, so there's no need to be concerned about copyright issues. In fact, seeing the image gave me more ideas of what to do with the word art that I create. I had never thought about combining my art with a photo or free image. But I'm thinking more about it now! As for your son, it is his creation. He has the liberty to do with as he pleases, even though you may not be pleased. What is his belongs to him. Copyright is "protection" law for those who don't want others "stealing" their work and earning the income they are entitled to earn as the originator or creator. But there is no law that says YOU HAVE TO copyright your work. There is no law that says you can't put it out there for others to use FREE. If anything the law allows you to copyright or not to copyright. It's your work! The people who signed up with Pixabay read the terms. They could have just as easily gone to another images site. I can't feel sorry because, like your son, they made their own choice about their own work. I respect that.


• Philippines
21 Oct 17
Reading newspapers was a past time I enjoyed as a kid that I enjoy until now. I agree that seeing a photo like that under those circumstances will leave a lasting impression.

• Austin, Texas
22 Oct 17
Now that everything is in digital formal, I kind of miss spreading out the newspaper on the floor and flipping though the pages. I was little. I couldn't sit in the chair, spread it open and flip through the pages like my dad used to.


• Philippines
22 Oct 17
@cmoneyspinner
our office gets two broadsheets delivered daily. I get the copies the day after. I get to relive my childhood days.

• China
21 Oct 17
Some things that happened in our childhood would leave an indelible impression on us.However now I even can't remember what has just happened .


It is a wonder the statue survived the earthquake.

• Austin, Texas
22 Oct 17
You're so funny! Yes. I can recall things that happened decades ago but sometimes can't remember what I did a couple of hours ago.



• Malaysia
21 Oct 17
my teacher made us to read newspaper, not my parents who were busy fighting. Awesome Jesus picture

• Austin, Texas
22 Oct 17
Not being nosy but were they fighting each other or fighting for a cause?


My teachers didn't make us read the newspapers. I wish they had.

• Malaysia
22 Oct 17
@cmoneyspinner
they fight due to blaming each other, usual family fights

• Austin, Texas
23 Oct 17
@peachpurple
- I see. Welcome to the worldwide club of
"My Family is Just Like Yours"
. So many members we've lost count. You are not alone.