Nurse Freya the Catblog Cat Reports from the Human House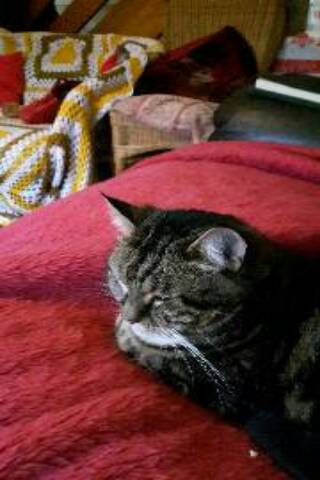 Oxford, England
October 23, 2017 2:02pm CST
I have been most busy. First I had to go and sit on Human 2 next door's bed because she was sick. Then Human 1 got sick. It is most important to sit on the bed of a sick person to make sure they are still alive and can give you dinner when needed. I am pleased to report that although both seem to be staying in bed, which to my mind is a very sensible place to be and there is a lot of sneezing going on, both seem to be on the mend and I have had my dinner. Thankfully, Human 1 has not had an ambulance and a hospital stay this time round. There was a hairy moment last night when she convinced herself it may happen, but we think she is better than she was and maybe, just maybe, tomorrow we will both get up. She is coughing a lot, but she does that anyway. I offered Human 1 some cat food in case it helped, but she had soup instead.
7 responses

• Cuyahoga Falls, Ohio
23 Oct 17
What a good cat you are. Hope they feel better when they can give you some much-needed loving.

• Oxford, England
23 Oct 17
I will be collecting extra rations as soon as someone is fit to go to the shop! Love and catkisses, Freya the Catblog Cat

• Cuyahoga Falls, Ohio
23 Oct 17
@Jackalyn
What a good girl you are. Wish you can teach my cat to behave. *sigh*

• Los Angeles, California
23 Oct 17
Aren't humans silly? If they got proper nap time perhaps they would not get sick.

• Philippines
23 Oct 17
You`re such a sweet cat


I hope they get well soon before you get sick too but atleast your presence made them feel good



• Oxford, England
23 Oct 17
I was sick last week but it was just a cat being sick sick not a cat being ill sick and fortunately I was on my own blanket at the time. Love from Freya, the Catblog Catxxx

• Philippines
23 Oct 17
@Jackalyn
Oh ok. I hope you`re feeling better now


• United States
24 Oct 17
Freya, you do your duty well. Sometimes the most healing thing in life is a cat, keeping us warm in bed.

• Green Bay, Wisconsin
23 Oct 17
That was good of you to offer Human 1 some cat food. I'm glad they are both on the mend. You are such a thoughtful cat.

• United States
23 Oct 17
A fine job you are doing taking care of your humans. I do believe that cat food does have some powerful medicinal properties. Maybe you can sneak some into the soup.

• Bunbury, Australia
24 Oct 17
It is good that they have you to watch over them. You will know they are really ill if they forget to feed you.

• Oxford, England
24 Oct 17
So far so good but we are back in bed again this afternoon and the Human is not looking as good as this morning.

• Bunbury, Australia
24 Oct 17
@Jackalyn
That's a shame. I hope you still get fed.

• Oxford, England
24 Oct 17
@JudyEv
I am fine because she opened up the special Good Food we keep for emergencies and I had that as well as my order me food so I am very well thank you and now I'm going to sleep good night and hope that that cures my human.