1 thing checked off my bucket list..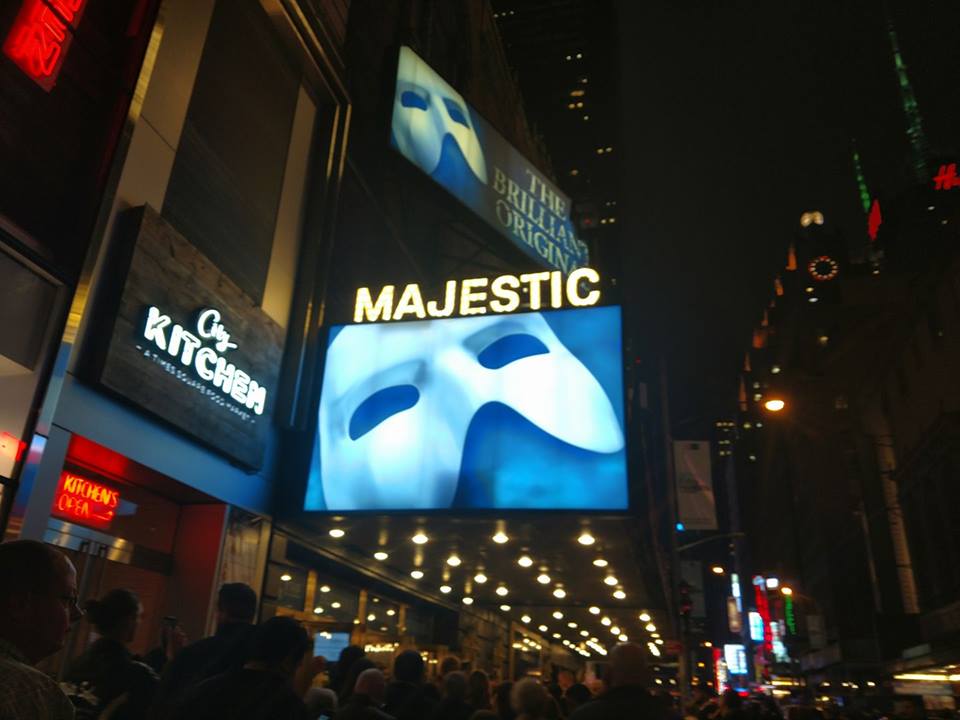 United States
October 24, 2017 8:27pm CST
Do you have a bucket list of things you want to do sometime before you're no longer able to? I don't have an actual list, but there are definitely things I dream of being able to do someday. The biggest thing I want to do is visit Europe, especially London! Last weekend I was able to cross a smaller goal off my list. I went to see a show on Broadway! Our Marching Band took a trip down to New Jersey. They were performing at MetLife Stadium on Saturday. That is the stadium where the NY Giants and the NJ Jets play (American football). The band headed down on Friday and stayed until Sunday morning. All 4 of my younger kids are in band.. but my youngest, the 9 year old, wasn't old enough to travel and stay with the rest of the band (school rules, insurance reasons most likely). So in order for him to be a part of the performance I had to drive him down and get my own hotel room for the weekend. On Friday the entire band and all the chaperones went into NY city and saw Broadway shows. We had 3 to choose from; Aladdin, Kinky Boots, and Phantom of the Opera. I chose Phantom as did both my younger boys. The twins chose Kinky Boots and really enjoyed it. Saturday we performed, and did well placing 9th out of 14 bands. Then we went to a fun place that had an arcade, laser tag, go karts, bumper cars... the kids got to run around for a few hours and enjoy themselves. Sunday they headed home, but since we drove down we decided to head back to the city to see some sights. We saw the 9/11 memorial, Times Square, Rockefeller Center.. we even rode the Subway and I stepped into the largest Macy's store ever! It was a great trip and we really enjoyed ourselves.. and now I can say I've seen a show on Broadway.. and it was amazing! In a couple weeks I'll be going to see The Lion King, but it is not on Broadway. It is a traveling show that will be coming to town for a few weeks.. but it will still be a really good performance. I've seen Phantom when it came to town and while it's wasn't exactly the same as the Broadway version, it was still extremely good. So I know Lion King won't disappoint!
8 responses

• Philippines
25 Oct
I have actually, I got that idea after wathcing The Bucket list movie,from then on I wrote down things a must do.I am halfway there, half would be doing the things that I fear the most

• United States
26 Oct
Nice

! I would love, love, love to see Phantom on Broadway . . . that is totally what I would have picked too! We did see The Lion King when it came out here - it was so wonderful! Sounds like your kids are doing good . . . busy but great!

• United States
26 Oct
I actually wish I had seen Aladdin instead. Phantom isn't one of my favorites.

• United States
28 Oct
@katsmeow1213
Really? I haven't seen Phantom on stage yet - I'd love to see it. My daughter's middle school is putting on Aladdin in December, but she hasn't been on drama tech for a while now. But school productions are a "little" different from Broadway productions


.

• United States
31 Oct
@much2say
Yes they are, but they can still be a lot of fun.. My son will be in Beauty & The Beast next weekend.. he got the part of Gaston. That's a middle school production. The high school will be doing Young Frankenstein in March.



• United States
7 Nov
We'll see Lion King tomorrow! I'm excited! I can't wait to go back to NYC. There was so much we didn't get to do that I wanted to. Central Park, Brooklyn Bridge, Empire State Building. All we really did was walk around Times Square a bit. We saw the Statue of Liberty but only from Battery Park.

• United States
7 Nov
@katsmeow1213
Enjoy Lion King. I know you will. NYC can't be seen in one day, but you certainly have seen some awesome places.

• United States
9 Nov



• United States
3 Nov
Interesting stuff there... brothels still exist? Or a place that used to be a brothel? I imagine it wouldn't be too hard to teach yourself to knit. I once taught myself to crochet, but I don't have the patience. I made about half a baby blanket and gave up.

• United States
3 Nov
@katsmeow1213
The only place I know of in the United States that still has brothels is Las Vegas. I don't want to go in though. It would be hard for me to even get the guts to stand in front of one.

• United States
4 Nov
@AmbiePam
Ah.. go to Europe and take your pic in front of a place that used to be a brothel! LOL

• Bunbury, Australia
25 Oct
I'm so glad you all had such a good time and congratulations to the marching band. I know it's had its ups and downs recently.

• United States
25 Oct
Yes it has.. and the ups and downs continue. But I love the kids in the band and enjoy spending time with them. It's just the adults I'm not fond of.


• United States
25 Oct
Aww.. well there are things I have to put off for awhile as I just don't have the time right now. Perhaps in a few years when the kids are older.

• Malaysia
2 Nov
Sounds like you had a wonderful time.

I do have several things on my list, one of them is visiting Cappadoccia in Turkey.

• Indonesia
25 Oct
I have a lot of bucket list. And none of them have been finished