How's the craic? (How's the crack?)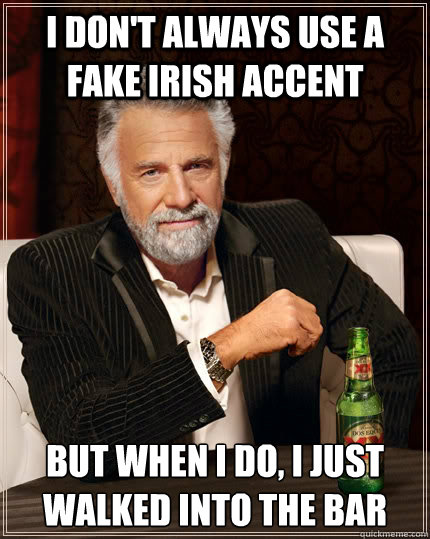 Saint Vincent And The Grenadines
October 26, 2017 1:27am CST
I just watched the movie The Foreigner where Jackie Chan faced off with Pierce Brosnan. The latter played the role of the Deputy First Minister of Northern Ireland with his authentic Irish brogue. Actually I googled that piece of information. Brosnan is originally from Ireland though his British accent as James Bond was convincing enough for me. I don't want to dwell on the movie's plot. What caught my attention was the Irish accent which is nasal and has a smoky lilt to it that kept me wanting for more. Which reminded me of Merida and her cohort in Pixar's animated movie Brave. And talented actress Saoirse Ronan (pronounced as Ser-sha like inertia). And Ed Sheeran too. So I ended up YouTubing more of the Irish accent. So how's the craic?
10 responses

• Toronto, Ontario
26 Oct
There's been lots of Irish accents floating around TV and the movies lately. The Netflix hit Peaky Binders has a slew of them. My husband is watching that series but it is way too violent for me. Lots of Northern Irish accents in that one though.

• Saint Vincent And The Grenadines
19 Nov
Peaky Binders. Interesting title.

• Toronto, Ontario
20 Nov
@sol_cee
Actually it's Peaky Blinders and it's on Netflix. Very excellent but a little violent for me.

• United States
27 Oct
The craic is brill here thanks Sherlocked - san. I grew up with this saying as my own Mother is born in Ireland.

• Saint Vincent And The Grenadines
27 Oct
Omg! You're the first real Irish I've spoken to.

• United States
27 Oct
@sol_cee
And you are the first real Japanese person I had spoken too as well



• Saint Vincent And The Grenadines
28 Oct


• United States
3 Nov
I have not seen it and probably won't but appreciate the small review of this film and I do like Pierce Brosnan . . .

• Saint Vincent And The Grenadines
3 Nov
He's got more gray hair but still is handsome. ;)

• United States
3 Nov
@sol_cee
oh definitely and did you ever see him in Mamma Mia with Meryl Streep and he sang songs ?

• Saint Vincent And The Grenadines
19 Nov

• Canada
18 Nov
I remember Saoirse from the movie "Hanna"-because of her accent(s) in that, I really had no idea she was Irish/American. I remember being a little surprised by Brosnan being Irish as well, because in movies like the Lawnmower Man his accent was convincing, and other roles...then seeing him in an interview, well, it was interesting. I am not really one to talk about accents though, because sometimes ppl ask me what country I was born in and what my first language was and I have to tell them uh I was born here.

• Saint Vincent And The Grenadines
19 Nov

• Canada
19 Nov
@sol_cee
oh I forgot to mention, the picture and the quote, loved it, I almost wanted to respond with "Stay thirsty, my friends";P



• India
4 Nov
Haven't seen this one..Enjoy watching both of them.Loved PB's Remington Steel series

• Waikoloa, Hawaii
31 Oct
thanks for sharing are thier are many people watch it in theaters its blockbusters??

• United States
26 Oct
I do enjoy the sound of an Irish accent. It is unique.

• Bunbury, Australia
26 Oct
We surrounded by the Irish for several months this year and I loved their way with words and their accents. The accents did vary a lot and some I really had trouble understanding.

• Saint Vincent And The Grenadines
19 Nov
I can imagine myself being confused too. Lol