Daily Bible Study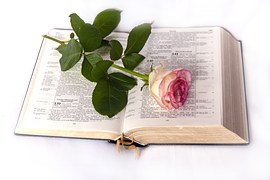 Green Bay, Wisconsin
October 26, 2017 8:32am CST
Day 7 Jeremiah 7 7:1 The word that came to Jeremiah from the LORD, saying, 2 Stand in the gate of the LORD'S house, and proclaim there this word, and say, Hear the word of the LORD, all ye of Judah, that enter in at these gates to worship the LORD. 3 Thus says the LORD of hosts, the God of Israel, Amend your ways and your doings, and I will cause you to dwell in this place. 4 Trust ye not in lying words, saying, The temple of the LORD, The temple of the LORD, The temple of the LORD, are these. 5 For if ye thoroughly amend your ways and your doings; if ye thoroughly execute judgment between a man and his neighbor; 6 If ye oppress not the stranger, the fatherless, and the widow, and shed not innocent blood in this place, neither walk after other gods to your hurt: 7 Then will I cause you to dwell in this place, in the land that I gave to your fathers, forever and ever. 8 Behold, ye trust in lying words, that cannot profit. 9 Will ye steal, murder, and commit adultery, and swear falsely, and burn incense unto Baal, and walk after other gods whom ye know not; 10 And come and stand before me in this house, which is called by my name, and say, We are delivered to do all these abominations? 11 Is this house, which is called by my name, become a den of robbers in your eyes? Behold, even I have seen it, says the LORD. 12 But go ye now unto my place which was in Shiloh, where I set my name at the first, and see what I did to it for the wickedness of my people Israel. 13 And now, because ye have done all these works, says the LORD, and I spoke unto you, rising up early and speaking, but ye heard not; and I called you, but ye answered not; 14 Therefore will I do unto this house, which is called by my name, wherein ye trust, and unto the place which I gave to you and to your fathers, as I have done to Shiloh. 15 And I will cast you out of my sight, as I have cast out all your brethren, even the whole seed of Ephraim. 16 Therefore pray not thou for this people, neither lift up cry nor prayer for them, neither make intercession to me: for I will not hear thee. 17 See thou not what they do in the cities of Judah and in the streets of Jerusalem? 18 The children gather wood, and the fathers kindle the fire, and the women knead their dough, to make cakes to the queen of heaven, and to pour out drink offerings unto other gods, that they may provoke me to anger. 19 Do they provoke me to anger? says the LORD: do they not provoke themselves to the confusion of their own faces? 20 Therefore thus says the Lord GOD; Behold, mine anger and my fury shall be poured out upon this place, upon man, and upon beast, and upon the trees of the field, and upon the fruit of the ground; and it shall burn, and shall not be quenched. 21 Thus says the LORD of hosts, the God of Israel; Put your burnt offerings unto your sacrifices, and eat flesh. 22 For I spoke not unto your fathers, nor commanded them in the day that I brought them out of the land of Egypt, concerning burnt offerings or sacrifices: 23 But this thing commanded I them, saying, Obey my voice, and I will be your God, and ye shall be my people: and walk ye in all the ways that I have commanded you, that it may be well unto you. 24 But they hearkened not, nor inclined their ear, but walked in the counsels and in the imagination of their evil heart, and went backward, and not forward. 25 Since the day that your fathers came forth out of the land of Egypt unto this day I have even sent unto you all my servants the prophets, daily rising up early and sending them: 26 Yet they hearkened not unto me, nor inclined their ear, but hardened their neck: they did worse than their fathers. 27 Therefore thou shalt speak all these words unto them; but they will not hearken to thee: thou shalt also call unto them; but they will not answer thee. 28 But thou shalt say unto them, This is a nation that obeys not the voice of the LORD their God, nor receives correction: truth is perished, and is cut off from their mouth. 29 Cut off thine hair, O Jerusalem, and cast it away, and take up a lamentation on high places; for the LORD hath rejected and forsaken the generation of his wrath. 30 For the children of Judah have done evil in my sight, says the LORD: they have set their abominations in the house which is called by my name, to pollute it. 31 And they have built the high places of Tophet, which is in the valley of the son of Hinnom, to burn their sons and their daughters in the fire; which I commanded them not, neither came it into my heart. 32 Therefore, behold, the days come, says the LORD, that it shall no more be called Tophet, nor the valley of the son of Hinnom, but the valley of slaughter: for they shall bury in Tophet, till there be no place. 33 And the carcasses of this people shall be meat for the fowls of the heaven, and for the beasts of the earth; and none shall fray them away. 34 Then will I cause to cease from the cities of Judah, and from the streets of Jerusalem, the voice of mirth, and the voice of gladness, the voice of the bridegroom, and the voice of the bride: for the land shall be desolate. What do you do when everything you say to someone falls on deaf ears? What do you do when withholding privileges doesn't work? What do you do when promised outings and pleasures gets no response? God was at that place with his people. He gave them the law, which they refused to obey. He told them the consequences of their actions, but they paid him no mind. He withheld their blessings, and it didn't cause them to pay attention. They continued to worship their false gods of Baal and the Queen of Heaven. Children today don't care what happens to them, or so it seems to a casual bystander. They do whatever they like, without concern for the people around them. No matter what you tell them about the consequences of their behavior, they just continue misbehaving. Your life as a Christian, can have the same affect. You had the experience of accepting Jesus as Savior and Lord. You were zealous for Jesus for a short while, and then the newness of your life wore off, and you went back to your old ways, believing you had nothing to worry about because you were saved. Even your Christian friends have no effect on you. If that is you, it's time to stop thinking you can continue in your old ways without consequence. Romans 6:15 What then? shall we sin, because we are not under the law, but under grace? God forbid. 16 Know ye not, that to whom ye yield yourselves servants to obey, his servants ye are to whom ye obey; whether of sin unto death, or of obedience unto righteousness? (KJV) As Christians, you are to live your lives as a testimony of God's goodness in your life. Jesus said you are the light of the world. Your light shines for everyone to see. What kind of example are you showing the world? Let your light so shine before men that they will see your good works and glorify your Father in heaven. Matthew 5:16 God wants your whole heart. He loves you and doesn't want to see you leaving your first love, but living your life for him. Jesus told John to write to seven churches. In one of those letters, Jesus pleads with the people to return to their first love. Revelation 2:1 Unto the angel of the church of Ephesus write; These things says he that holds the seven stars in his right hand, who walks in the midst of the seven golden candlesticks; 2 I know thy works, and thy labor, and thy patience, and how thou canst not bear them which are evil: and thou hast tried them which say they are apostles, and are not, and hast found them liars: 3 And hast borne, and hast patience, and for my name's sake hast labored, and hast not fainted. 4 Nevertheless I have somewhat against thee, because thou hast left thy first love. 5 Remember therefore from whence thou art fallen, and repent, and do the first works; or else I will come unto thee quickly, and will remove thy candlestick out of his place, except thou repent. 6 But this thou hast, that thou hate the deeds of the Nicolaitans, which I also hate. 7 He that hath an ear, let him hear what the Spirit says unto the churches; To him that overcomes will I give to eat of the tree of life, which is in the midst of the paradise of God. Every action has a consequence. What kind of consequence will you receive from God? Will it be a blessing because of obedience? Or will he tell you he never knew you? Let's pray: Father, help me keep my eyes on you, to walk in obedience to you, never forsaking you or your love for me. Let me be your light in the world, so you will get the glory. In Jesus' name, I pray, amen. Copyright © 26 October 2017 by Valerie Routhieaux Image courtesy of Pixabay
4 responses


• Green Bay, Wisconsin
28 Oct
And we won't be until we meet Jesus face to face.

• United States
26 Oct
a lot to think about. I dont believe my life is a great example of my connection with god. All to often, the things I wish to do, tend to get side tracked by other demands. Like I hear him calling and saying things (not literally, but like a sense of doing good to help a lot more), but I'm like I will get to that once I finish this or that. I struggle daily to be a good reflection of whats good. I think my little light is like a twinkling star in a cloud! :)

• Green Bay, Wisconsin
28 Oct
Then you know what you need to do to brighten your light and be a good example for others.

• Roseburg, Oregon
27 Oct
Living a good life is the only way to live.

• Green Bay, Wisconsin
28 Oct
Living a good life with Jesus as your Savior is the best way. Many people live a good life, but don't know Jesus or have God in their lives.

• East Tawas, Michigan
27 Oct
Over and over again, God has loving sent his warnings, to turn away from our own wicked way! Yet, God's people have continually refused to take heed and do as the Lord instructs us to do! False Gods? These can be anything, that we place ahead of God, in importance! Burning their sons and daughters in a fire? Some parents are actually doing this, setting a poor example for their children to follow. Thus, these kids stand to eventually burn, in eternal flames! God help us, to repent and to turn from our own wickedness


• Green Bay, Wisconsin
28 Oct
I agree. God's warnings aren't just for Israel, but they are for us too. We need to heed what he says, and follow his ways and be a good example to our children.

• East Tawas, Michigan
28 Oct
@just4him
He's preparing New Jerusalem, those who are believers and followers, of the Lord Jesus Christ!

• Green Bay, Wisconsin
28 Oct