japanese obento (lunch box)just rocks..have you ever tried any japanese food?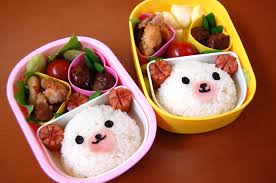 Japan
October 27, 2017 6:48am CST
Besides feeding people at school or work, bento are also consumed on picnics, as well as in private homes and at parties, where they offer a convenient means of extending simple hospitality or serving large numbers of people. In Japan, some schools provide lunch to the students, while others require students to bring their own lunches. i am an english teacher at elementary school. i also can eat school lunch and its great. i think bento (lunch box) and kushoku (japanese traditional food) are the best food in my life. even i am originally turkish i think i love japanese food a lot.. have you ever tried japanese food?

9 responses


• Japan
27 Oct 17
SUSHI IS SO CHEAP HERE. how about there?

• Australia
27 Oct 17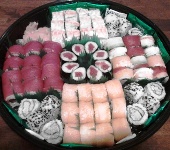 @japanesesamurai
Not very cheap at all... A platter like this is around AUD50 - and those are just rolls, no nigiris or sashimis...


• United States
27 Oct 17
I was born in the US - I am Japanese and grew up on Japanese food. I love looking at photos of those extra cute bentos . . . but I sure don't get that fancy when we make ours (not even close - it might even include a sandwich and cheese puffs

). I have heard that Japanese school lunches are much better than the stuff kids get here . . . what do you get in your school lunches?

• Japan
27 Oct 17
wow i am glad to meet you.. i love school lunch,i am in love with them. what we get? everything.. lol yakisoba udon karerice beans and more any japanese food is delicious.i also love natto. but my favorite school lunch is AYU


• United States
27 Oct 17
@japanesesamurai

. . . an American school lunch would never have any of that! I would go to school in Japan just to have such a lunch

. I am not big on natto - but my parents weren't either, so we didn't have it much. Ayu - you mean that fish? Wow, you really do get awesome lunches!!



• Japan
28 Oct 17
@much2say
i especially said ayu,i wanted to know if you know or not. yes that lovely and yummy fish.its at our school lunch.can you believe! i am glad to live here..




• Japan
30 Oct 17
you can do.wow how can you find seaweed.? i am just kidding,chinese people love sushi and seaweed too.. wow you are a good dad.

• Guangzhou, China
30 Oct 17
@japanesesamurai
I am a mom

This avatar is from my son's photo...

• Japan
30 Oct 17
@youless
oops,sorry . you are a nice mom.



•
27 Oct 17
Looking yummy don't know how it taste


•
27 Oct 17
@japanesesamurai
I will try to make it.Hope I will

.

• Japan
27 Oct 17
@deorahul
japanese food is really the best! please try..

• Oxford, England
27 Oct 17
I used to get a Bento box when I worked in the famous Oxford Cowley Road, However, all too often the dish with cashew nuts in won me over and I ate in.

• Japan
27 Oct 17
cashew nuts in a dish,wow i heard it first time. maybe its not japanese style who knows. here in japan obentos are just perfect. they have everything we need. main dish,rice some salad and also some pickles


• Oxford, England
27 Oct 17
@japanesesamurai
Definitely Japanese seeing as it was in the shop selling Japanese food by Japanese people.Mind you, this is the UK and the majority of people eating would not be Japanese so maybe they made a dish up? Usually it is Chinese that use the cashew nuts/

• Japan
27 Oct 17
@Jackalyn
oh i got it.japanese people are really clever so maybe they just rearranged it for uk people. i am not suprised. its hard to find any obento with cashew here lol,also it is weird for japanese here. thanks for details..


• Delhi, India
29 Oct 17
I never had any japanese food except those egg rolls I've tried on my own. They look super good by the way and I really want to go Japan and have some of it.

• Japan
29 Oct 17
if you come please let me know, japanese food are great and also japanese people are so kind..

• Delhi, India
29 Oct 17
@japanesesamurai
sure!!



• Malaysia
31 Oct 17
Oh so you are a turkish man married to a Japanese wife, so you two speak in English? Your kids must be beautiful because most mixed culture kids are born beautiful, nope never had bento japanese lunch nor meal, too expensive in malaysia

• Japan
31 Oct 17
I can speak 4 languages so we sometimes speak english and sometimes japanese! Yes mixed kids are so cute!

•
27 Oct 17
I've seen people eat it before.it looks delicious