Bit By A Spider!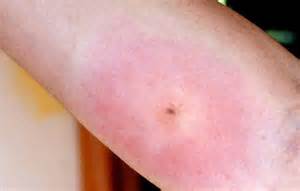 United States
October 28, 2017 1:23pm CST
I remembered many years ago when I was in my twenties and six months pregnant for our second child (my ex-husband and I). We were living in the Adirondacks, 13 miles from Lake Placid, NY. Anyways, I was laying in a hammock and suddenly I felt funny like some strange thing had invaded my body. I started itching on my left shoulder blade. I went into the house and looked into the mirror and I could see a big white circle. I knew I had been bit by a spider and was having a severe reaction. Well the hospital was atleast 13 miles away. So we headed to the hospital. I was scared as it felt like my head was going to pop off. My blood pressure was sky high! They gave me some medication and watched me for awhile. Finally things started settling down and I began to feel normal again. I was more concerned about the baby I was carrying, but was reassured by the doctors that my baby would be fine. I was told that whatever bit me was definitely a poisonous spider and if it ever bit me again it could kill me. So I had to carry a epi pen with me. In the beginning I carried one with me but over the years I let down my defenses and didn't carry one. We didn't stay in the Adirondacks for very long. We ended up back in Delaware County Pa. I just thank God that it turned out okay. As the feelings I had right after the bit were very powerful and scarey, especially being pregnant! I suspect it was a wolf spider, but I'll never know for sure. Have you ever been bit by a poisonous spider? Picture by bing.com It's the closest picture I could find that looked a lot like the bite Picture by bing.com
9 responses


• United States
28 Oct
That sure was a scary incident for you. Glad all turned out OK for you and for the baby. I have never been bitten by a spider of any kind.

• United States
28 Oct
No I have so far not had a bite like that. I am so sorry this happened to you Kimberly..

• East Tawas, Michigan
28 Oct
I've never been bitten by a poisonous spider, but my husband had a bad reaction to a bite, last summer. His arm swelled up, like he'd been poisoned. He called his doctor's office. They assured him that it would eventually go away and it did.

• Guangzhou, China
29 Oct
Oh, that looks so horrible! I hope you will get well soon. Luckily I have not been bitten by a spider yet. Occasionally I saw the spider in the countryside and they walk away soon and they will not attack you. Today it is hardly see a spider in the city. Perhaps just a small one if there is such a chance.

•
28 Oct
Let hope I would never be bitten by one. Sounds a nasty time for you there.


• Daytona Beach, Florida
28 Oct
Thank heavens I have never been bitten by a spider. I hate those crawlies. We got some that come up from our cellar but mostly in the summer. They are scared of us and quickly make their way to the garden when the doors and windows are open. They are not poisonous though.

• Roseburg, Oregon
28 Oct
One time being bit would be enough for anyone. That is why I do not like spider. I spray for them every summer.