Catalan secession crisis: Is separation the destiny of Europe?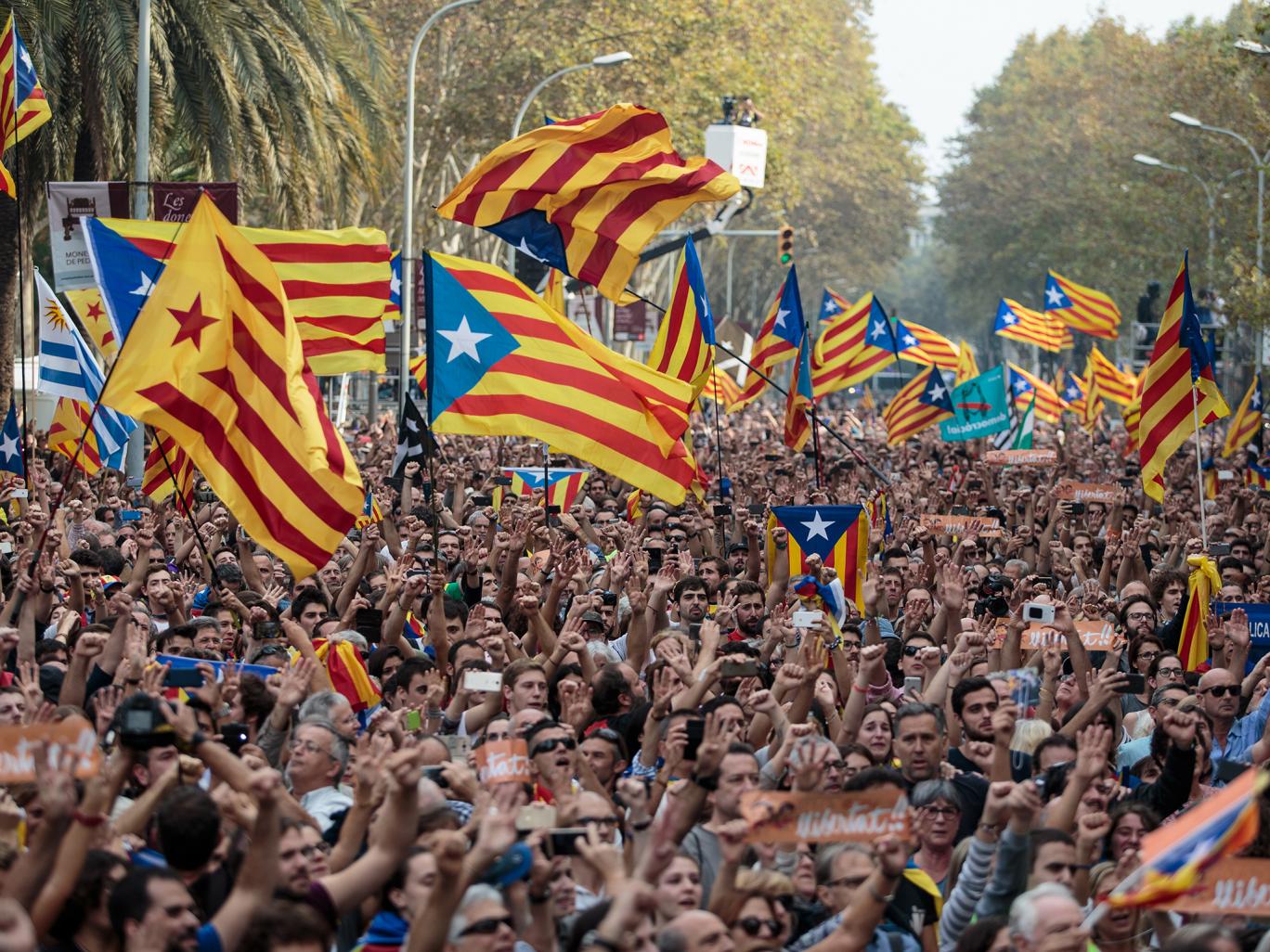 Caracas, Venezuela
October 28, 2017 1:52pm CST
Catalonia's independence declaration from Spain is the latest attempt by a region belonging to a bigger country to start a new story as an independent State. This political and constitutional crisis in Spain has many months in the making, and the central government based in Madrid tackled the secession attempt with haste, declaring the newborn Catalan Government illegal and dissolving the Catalan Parliament. The Catalan Republic has got no international recognition, with 58 countries issuing official statements of No recognition and supporting Spain. Only the dictatorial governments of North Korea and Venezuela have publicly issued support messages to the newborn republic (although they have not officially recognized Catalonia as an independent state). Catalonia is far from being the only region with a popular desire to go independent from a bigger country. Some other examples are Yorkshire and Scotland in the UK, Basque Country which is half in Spain and half in France, North Kosovo, Galicia and Valencia (also Spain provinces) among some others. This tendency shows an opposite tendency from the last two decades of the 20th century when Europe was all about union and integration into one big region with the same laws, same currency and no borders among countries. So what is really going on in Europe? What is the real sentiment of people beyond whatever elites and politicians think is best for the region? Let's discuss!
6 responses

• United Kingdom
28 Oct
The EU is a bloated and corrupt organisation and I want out asap. I 100% support brexit and other places that want out of the EU. People want to trade with their nearest neighbours...they do not want to be ruled by a central, unelected, bunch of bureaucrats that want a state of europe. If they try and impose that then isis will be nothing compares to what happens.

• Caracas, Venezuela
28 Oct
Hello all, thanks for your comments! This is a very complex discussion. Regarding the Yorkshire Independence Movement / Sentiment I can recommend these two articles that talk objectively about the issue. Maybe it is not as dramatic as the situation in Spain, but the sentiment does Exist. http://www.independent.co.uk/news/long_reads/yorkshire-independence-devolution-devolved-parliament-mayor-northern-powerhouse-george-osborne-a8015556.html
Yorkshire Independence Myths and Realities

•
29 Oct
Notice that Catalonia does not want out of the EU. They want out of Spain, but would like to remain as an independent member of it.

• United Kingdom
29 Oct
@ourlot
same as scotland. They want out of the UK but are happy to be ruled by brussels

I genuinely don't understand that mentality. They want out of something which they see as not representing them and yet they want to stay a part of the EU.


•
28 Oct
Yorkshire's independence movement is a joke. It's more a movement for obtaining more power, than a truly independent movement.

• United Kingdom
28 Oct
Here in the uk ive never heard of yorkshire independence...IF it is a true thing then it is a joke


•
29 Oct
@Mike197602
here's the article in the British news: It's actually about devolution, but independence sounds more intimidating, I suppose.
The news that Yorkshire wants to set up its own international football team sounds like something straight out of a Boy's Own adventure, or perhaps the Python-esque 1970s TV series Ripping Yarns.

• United Kingdom
29 Oct
@ourlot
yorkshire is the biggest county in England but you're right they want more powers rather than true independence as as much as many dislike london I doubt any english area could do without it's wealth generation power.

• Uzbekistan
28 Oct
Welcome to myLot. Enjoy the site! The first step for all newbies is to read the Guidelines to learn what is allowed or not on the site. Then you can write a post introducing yourself. Tell us a bit about yourself. Furthermore, read around as much as you can, Like and Comment on other members' posts. Only then will members come to your site and do the same. This is called interaction. Don't expect too much money-wise. If you reach $5 a month (the payout limit), you can call yourself lucky. Please add the name of your country to your account page. -------------- I'm an advocate of a united Europe.

This is where you will find out what kinds of behavior are accepted and unaccepted on myLot. When in doubt, remember the Golden Rule!

• Caracas, Venezuela
28 Oct
Thanks for the welcome and the Advice. I already added the information you recommended me to.

• Uzbekistan
28 Oct
@gonzalotapia
Well done. As far as I know, you're the only member from Venezuela.

• Fairfield, Texas
30 Oct
I think the people of Catalonia should be able to make the decision
@gonzalotapia
. The problem will be however that Spain will become dictatorial towards them which could affect trade.

• Toccoa, Georgia
28 Oct
I have been reading about this online. Before I saw it online, I didn't know about Catalonia.