Watching Cult of Chuckie.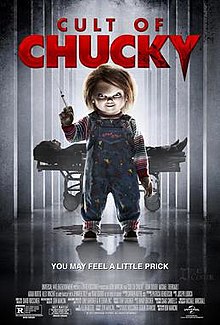 Banks, Oregon
October 28, 2017 7:17pm CST
Hey, everyone and, I hope all is well in your neck of the woods, things are pretty good here. I just got done taking out the recycling and, the slop bucket for Grandma, now I am watching the new Chuckie movie Cult of Chuckie, it's the 7th installment following cure of Chuckie and, it of course stars Dourif as Chuckie and, Jennifer Tilly as his wife Tiffany, in this one Chuckie returns to terrorize a victim he got put into a insane asylum. Some information verified at Wikipedia. Photo is from Wikipedia.
9 responses

•
29 Oct
I have not watched a complete Chuckie movie, but what I saw was disturbing enough to not want to watch anymore.


• Banks, Oregon
29 Oct
Been watching them around Halloween time since I was a kid.

• Ponce De Leon, Florida
29 Oct
I rented it from Redbox the day it came out but the disc was messed up so we never got to watch it. I'm going to try to rent it again so we can watch it on Halloween. Lol


• Banks, Oregon
29 Oct
It's a pretty scary one enjoy.

• Philippines
29 Oct
@TRBRocks420
It seems you had enjoyed watching it. I will definitely be wanted to watch it soon.

• Colorado Springs, Colorado
31 Oct
I watched a little of a Chuckie movie the other day. Not sure which one, though.

• Banks, Oregon
31 Oct
Sure they will have a bunch of good ones on tonight.

• United States
29 Oct
I thoroughly enjoyed this one. :-)

• Banks, Oregon
29 Oct
Glad to hear you enjoyed it me too.

• Bunbury, Australia
29 Oct
We've put out our rubbish too. We have two wheelie bins - one for recycling and one for general rubbish. They'll get emptied early in the morning.

• Banks, Oregon
29 Oct
Same here we finally moved on up and, got garbage service and, recycling lol.

•
29 Oct
Will he make us chuckle? Or will he terrorize us too?