When it becomes dark in your side now?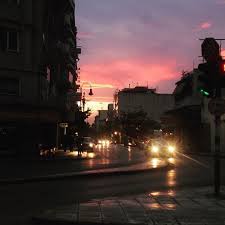 Guangzhou, China
October 29, 2017 6:40am CST
Since it is autumn and soon it may be winter here. It gets darker earlier now. I think it is getting dark since 5:30pm and it is completely dark at 6pm. But if I go to the very north city like Harbin, perhaps it becomes dark at about 4pm. Hard to imagine that!
7 responses


•
29 Oct
We put the clocks back here in the UK at 2am this morning so this evening it will be dark around 5-5:30pm not looking forward to darker nights.




• Pamplona, Spain
29 Oct
Seeing as the clocks went back yesterday it shout get dark about sevenish tonight I would say at least.

• Pamplona, Spain
29 Oct
@youless
Over there it takes longer to get dark. Did you actually go there then or saw it on the Television.


• Guangzhou, China
30 Oct
@lovinangelsinstead21
I only saw it from TV. Actually at that time I was watching the diving game



• United States
29 Oct
Right now it is getting dark about 8PM but this coming week when the clocks go back it will be much earlier.