Gruesome Halloween Displays in Stores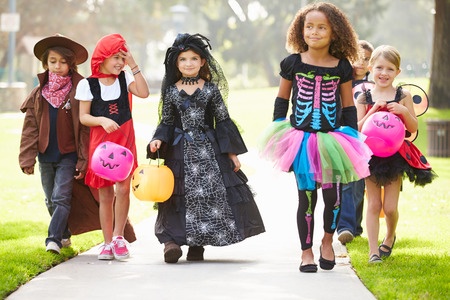 United States
October 29, 2017 8:32am CST
Oh it's that time of year! Halloween can be fun. It isn't my favorite holiday, but I do love seeing the small children and babies all dressed up. I enjoy giving out candy and I always comment on the trick-or-treater's costumes. Many folks enjoy decorating their homes and yards for the season too, and so much of it is very creative! I have no problem with that at all. Even the scary stuff. To each their own. I do have a problem with stores like Walmart, grocery stores, and other businesses having graphic, bloody, realistic displays, right near the entrance. Two examples: A few years ago, the Walmart near me had a very tall (about 7 feet) headless, bloody man, standing right inside the front door. He was holding his own head in his hands. The customers were forced to see it! It certainly could scare children or anyone else. Inappropriate in my opinion! They could've had a Halloween display that was friendlier to all types of customers. Yesterday, I went to a DAV (Disabled American Veterans) Thrift Store. They had something horrifying and bloody right inside their front door too. Yuck! I just think people should have a choice to see stuff like that, or not! And ESPECIALLY to be able to protect the little ones from being frightened. Maybe businesses could have a "scary" Halloween section, with a big sign, so shoppers could easily find those items or avoid that area of the store. What do you think?
7 responses

• United States
29 Oct
I think it inappropriate for a business to display anything that is gruesome. Far too many people would be upset by that type of display.

• United States
30 Oct
@Corbin5
, I'm really an easy-going person overall, but I did complain to a Walmart manager the year they had that tall headless man display. I haven't seen anything that bad at Walmart since then.



• United States
29 Oct
Thanks for your input
@jaboUK
. I've heard a little about your Guy Fawkes day. I want to learn more about its origins.

• United Kingdom
29 Oct
@BloggerDi
Guy Fawkes was one of the conspirators in the plot to blow up Parliament.


• United States
29 Oct

• United States
6 Oct
I agree the Walmart scare tactic was over the edge but commercialism grounded in fear is quite profitable

• United States
6 Oct

• United States
7 Oct
@BloggerDi
me thinks though it is far too early for Christmas decorations to start coming out but those have as well

• United States
7 Oct


• Philippines
30 Oct
Agree with you that some people take Halloween too far. If it is just adults, then I guess it is fine. With children involved, I'd keep Halloween decorations fun.

• United States
30 Oct
Right
@allen0187
! Personally, I'd rather not see the really graphic/evil looking displays, but at least they don't traumatize me. Thanks for joining the discussion!

• San Jose, California
16 Aug
That being said,a lot of boys get a thrill out of the uglier ones.

• San Jose, California
16 Aug
it is not my cup of tea for sure.I like the more traditional displays of pumpkins,cats,witches,ghosts,etc.