Do you find a Christmas gift for your children?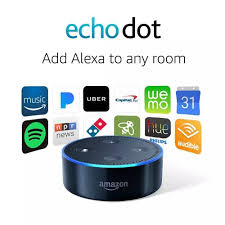 Guangzhou, China
October 31, 2017 3:02am CST
I think it is about time to think about what to buy for my child as the Christmas gift. I have many plans. But then at present I am interested in Echo Dot from Amazon. It is very cool and I think at least we can take advantage of it to practice our spoken English

9 responses

• Hong Kong
31 Oct
@youless
I'm still looking for gift my friend.



• Pittsburgh, Pennsylvania
31 Oct
Can you share this great gift for your niece or will it let the secret out? i am sure just being with her uncle (you!)for the holiday is the perfect gift! I don't buy my nephew's gift I tell my sister to spend $115 on something from me as i have no idea what he likes.

• Pittsburgh, Pennsylvania
31 Oct
@Shavkat
that sounds like my nephew used to be. The legos part, not Barbie dolls! He had every lego set there was from my mom and me! '/ '



• Banks, Oregon
31 Oct
I am saving up my gift cards for Christmas.

• Philippines
31 Oct
My son gets what he wants even if it isn't Christmas. I just don't know what he would want for Christmas this year. he's into basketball shoes and he likes Kobe, Jordan, and Kd.

• Philippines
31 Oct
@youless
Yeah and I always ask him what he likes so it's not really a surprise for him.

• Guangzhou, China
31 Oct
@toniganzon
I will not ask my son and I will judge it by myself



• United States
31 Oct
I only have the one grown son and I believe he has enough no more presents

• United States
1 Nov
Lucky for us we have very few people we ever have to worry about buying Christmas gifts for, unless we choose people we want to give more too. I usually just end up buying my husband either something he really needs, or something we both can use. I know a couple of things he is really needing this yr, so might have to try and find them.

• United States
31 Oct
I have bought gifts for our son and his wife.

• United States
31 Oct
I've already been shopping sales!