Dinner Fries with olive oil and red pepper flakes, oven baked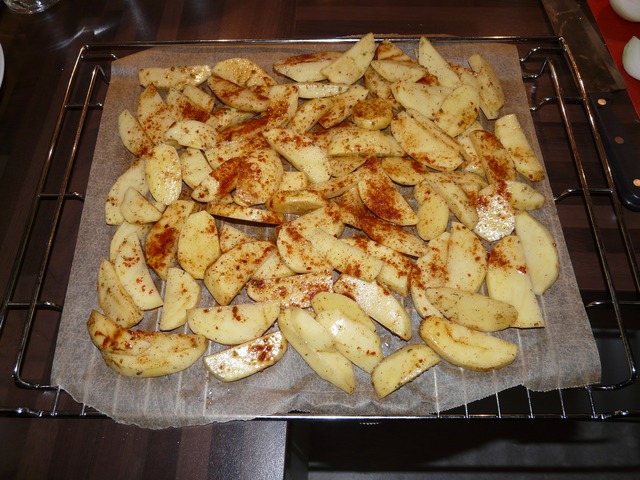 Dallas, Texas
October 31, 2017 11:42am CST
For today's afternoon meal, it will be cheese burgers made at home, along with iced tea and dinner fries, salted with sea salt, black pepper, extra virgin olive oil, cut into large planks for a crisp outer surface and a soft & creamy middle. Baked is always better. The photo above is the only one I could find from Pixabay, and it shows potato wedges on parchment paper on the rack inside an oven. We place the wedges over aluminum foil, on a large cookie sheet aka cookie pan, preferably a non-stick surface. I have had fried, deep fried in Canola oil at home, or pan fried in bacon grease, or corn oil. But the flavor of a baked dinner size potato wedge, coated in extra virgin olive oil, sea salt and coarse red pepper flakes is about as good as it gets. Yum. A good recipe for this is linked just below:Watch from YouTube

Betty demonstrates how to make her terrific Oven-Baked Potato Wedges. These are wedges cut from baked potatoes, dipped in melted butter, and then crisped in ...
9 responses


• Dallas, Texas
31 Oct
You got that right. Simple to make and very yummy.


• Dallas, Texas
31 Oct
@nomus24g
, Thanks we will indulge in just a few minutes when they are finally done.


• Garden Grove, California
31 Oct
tha really sounds so good I would love them like that oven baked is so muc h better wow

• Riga, Latvia
31 Oct
You could suggest the recipe maybe they'll make them
@Hatley

• Dallas, Texas
31 Oct

Seasoned potato wedges are baked in the oven instead of deep fried. A fun alternative to french fries.

• Riga, Latvia
31 Oct
Well that certainly looks and sounds good. I like baked potatoes.

• Dallas, Texas
31 Oct
These taste very much like a baked potato. Yum.


• India
1 Nov
It looks really very yummy. It is also an easy dish to prepare. I would definitely try this recipe one day. Children will definitely love it.

• Dallas, Texas
1 Nov
They are the best I think.



• Germany
31 Oct



• Philippines
1 Nov
Sounds good! Agree with you that baked is always better than fried!

• United States
1 Nov
That sounds great. I made some fried pecans earlier for my husband, well, actually they were cooked in the microwave with some butter and salt.