Too Cute Not To Share

Boise, Idaho
October 31, 2017 7:10pm CST
Oh my goodness! Looking through my emails today I found this one from Care2 that was so cute I have to share it. I like #4 myself. What about you?

Be prepared. There's a lot of cute on this page.
7 responses

• Moses Lake, Washington
1 Nov
Too cute. Those patient animals!

• Boise, Idaho
1 Nov
They do look very patient don't they?

• Moses Lake, Washington
1 Nov
@celticeagle
Sally allows me to put a sweater on her but Leah hates things on her back. I have to push Sally's front legs through the sweater holes so it takes cooperation from the pup. Its not just a given that I will get that sweater on.

• Boise, Idaho
2 Nov
@sallypup
.......I think most don't like stuff on them.It is not natural.


• Philippines
1 Nov
Thanks for sharing this! Cuteness overload!


• Alicante, Spain
5 Nov
how cute... I think the shark and the pug are my favourites .... lol none of them look very happy though .I bet their owners had some fun trying to putvthem on...lol


• Boise, Idaho
5 Nov
Hope it was worth it to the owners.

• Rochester, New York
2 Nov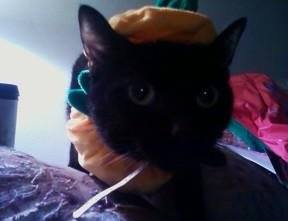 I had a black cat that used to let my nieces dress him up in Build a bear outfits. He dressed as a pumpkin every year.