Of all things sweet....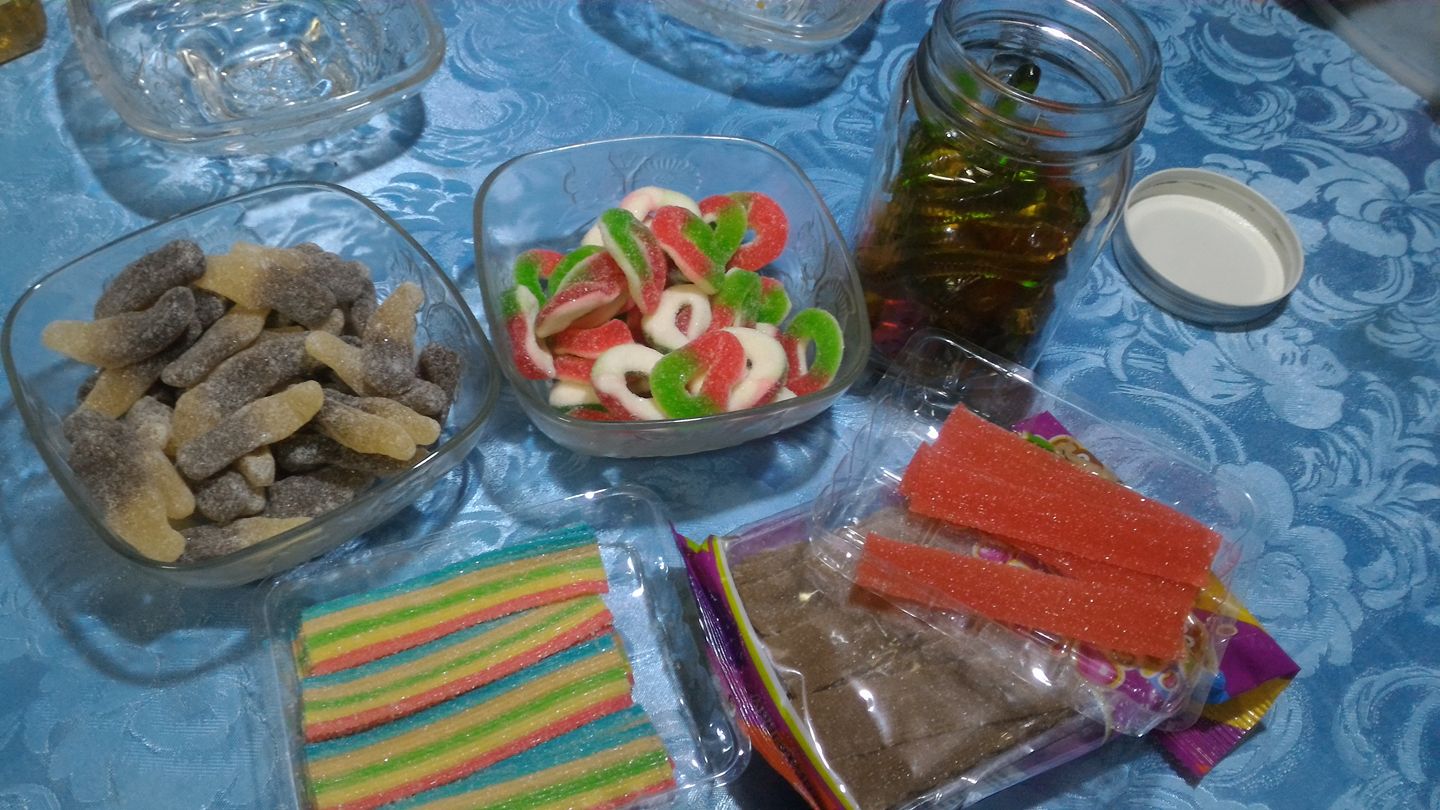 November 1, 2017 12:14pm CST
As you read this post, these sweets has long been gone lol! :D It's a late post from days ago. These are some of the sweets I gave to children who went trick treating this Halloween. I forgot to include the lollipops and fruit sticks here. My attention was on the gummies, as gummies here are a big thing to children; in all shapes, colors, forms and flavors; from worms, to belts, to rings and colas, name it they love it. I myself would buy and enjoy eating these candies once in a while. Time truly flies fast. Its now the second day of October, All Soul's Day and soon it'll be Christmas and the next thing you'll know it will already be.... Of candy canes and Christmas lollies hohoho :D Photo used here is mine
10 responses

• Canada
1 Nov
I see lots of sour candies..those are my favorite.

•
1 Nov
Yeah, feelin' like a small kid here, like these candies too.


• Haldwani, India
2 Nov
So are you sharing it with us...


•
2 Nov
Sure, have some buddy! Hehehe By the way, out of topic, how do u add smileys/emoji in your comment. When I try to add one it does not show, all I see is a question mark. Thanks

• Haldwani, India
2 Nov
@pitsipeahie
ya...why not...!.. So where I'm supposed to come..??

•
2 Nov
@mohit459
nahh its all in the nearest candy store! Lol...hehehe


• Bunbury, Australia
9 Nov
I'm sure the trick or treaters really loved these lollies. I like chocolate but I'm not a great fan of lollies.

•
9 Nov
I love chocolates too! Kids here loves gummy candies.

• Ciudad De Mexico, Mexico
3 Nov
That is a good collection of candies. Soon, it will be Christmas time, a good time to enjoy candies and food

•
4 Nov
Exactly!

Its that time of the year again, of good food and togetherness!


• Malaysia
3 Nov
That's plenty of sweet treats, yum! Can't believe 2018 is almost here.

•
3 Nov
Yeah, its like everything happens in a blink of an eye.

• Philippines
2 Nov
After this Snickers, Kitkats, Twix and MnM of Halloween, it will be the cakes and pastries this Christmas.

• Green Bay, Wisconsin
10 Nov
I'm glad the kids enjoyed the treats. Yes, Christmas is coming fast.