A Border Wall Concept by A.P. Davis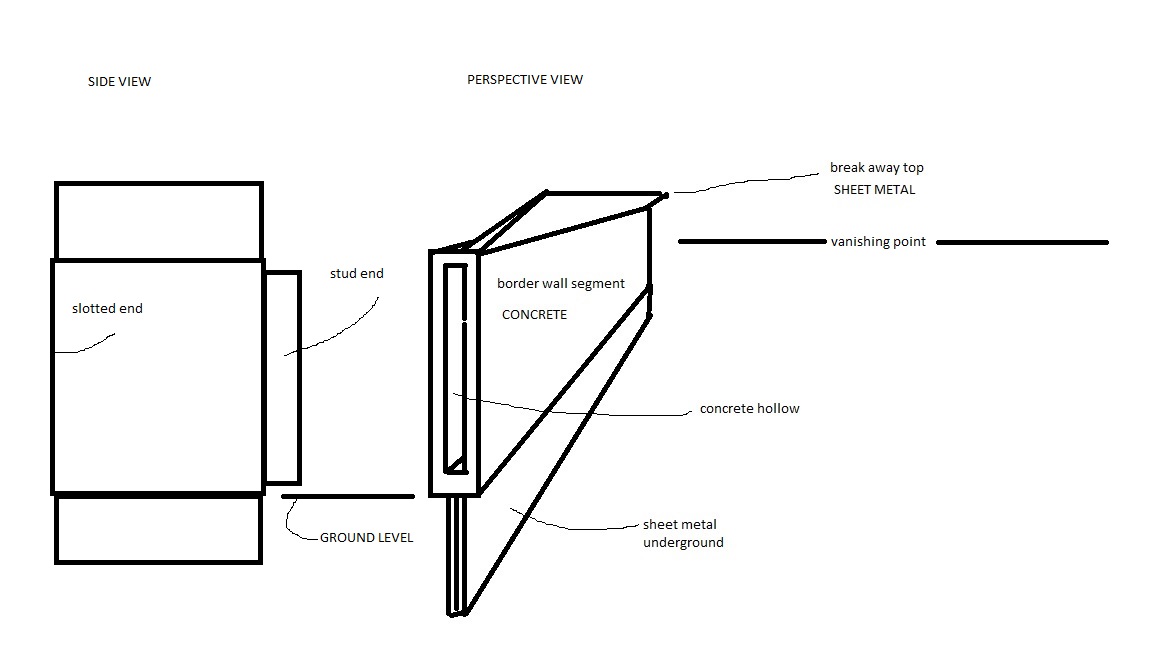 Dallas, Texas
November 2, 2017 8:14am CST
I drew a Border Wall Segment for you to take a look at. I did this while having a cup of tea this morning at about 8:05 AM on 11.2.17 What do you think of the idea? Basically the concrete segment has a hollow so one end is slotted for the other end of the adjoining segment stud end can inter-connect with the next one and so on and so on, down the line, and the top is made of sheet metal and the bottom is sheet metal, but thicker so it will penetrate the ground and prevent shallow digging and can be made longer, depending on the need to do so. The upper sheet metal is angled at a 45 degree and will simply flex or break away in segments if an attempt to scale it is made and can easily be replaced with new and will provide indicators of the locations where frequent attempts at going over the wall and the segments would be GPS per each and in a computer system to alert border patrols and digital surveillance cameras would be embedded in each segment or one every 100 yards, to keep an eyes on approach to attempts to scale the wall and alert law enforcement ASAP. The concrete would have steel re-bar vertically and horizontally within and would be light weight and could be assembled piece by piece in a mass production style either by wheeled conveyances or from helicopters or both to put things together. Just a silly idea I came up with while having a cup of hot tea. Good morning myLot members. Have a great day this Thursday, November 2nd, 2017. In any case it would appease the gods and quell the drug lords to a degree and could easily be disassembled in the future to make way for a more solid type of perhaps a future BORDER WALL CITY, kind of like a horizontal tower, that, at some places could house business and be the foundation for future light rail across the length of the wall for the fine citizens of the good old USA.
1 response

• Philippines
2 Nov
Its too technical for me so I cannot say if its good or bad, but this should be seen by President Trump, maybe he will the like idea.

• Dallas, Texas
2 Nov
It would be a good thing if President Donald Trump took a look at my drawing, just to get his opinion. It would be a wonder for sure.

• Philippines
2 Nov
lets hope someone in White House are doing his job on internet sites and had a glance on mylot and see your project.