This one is mine as well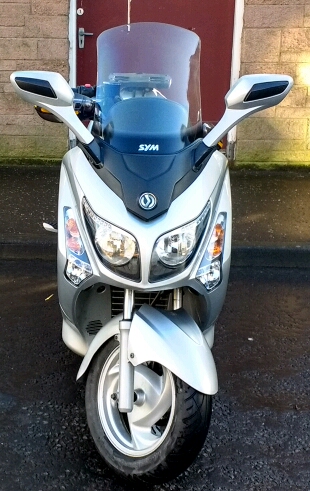 Dundee, Scotland
November 4, 2017 9:29pm CST
My scooter. Automatic. Getting a bit stiff in the ankles changing gears on the geared bikes so this has hand operated brakes and no clutch. We call them twist and go. This is 300cc Do 88 mph Delivers 60 plus mpg Lots of storage space. Comfortable. Done 10k miles on this one in a year I have owned it. Its 7 years old and still looks and drives like it was new. Any out out there into bikes? Anyone driven a scooter like this? Go on. Share. You know you want to.
8 responses

•
5 Nov 17
Is it more like a motorcycle or what? I used to be into bikes. Now, I have my mobility scooter which I use for my transportation around town. It is beautiful and looks in good shape for 7 years old.

• Dundee, Scotland
5 Nov 17
Its a scooter. No gears. Automatic. Belt and roller drive. Its got heated grips for the cold Scottish winter. Fog lamps. LED back light Hazards. Its OK but I still like my geared bikes better.

•
5 Nov 17
@saulgoodman
Jim, do you use it in winter? If so, do you have plastic or something to protect you? How bad does the winter get in Scoland? How many months is winter there?

• Dundee, Scotland
7 Nov 17
@Hannihar
Hi. Winter. I use all my bikes all year round. Winters here are not as severe as they were when I had my first bike some 40 years ago. I have only missed one day due to bad snow since 2011. We do get a lot of rain and I do use wet weather clothing. Winter starts in November and lasts till about March. Ice on the roads is the worst hazard. But our roads are kept free of it mostly.


• Hyderabad, India
5 Nov 17
I thought it was a new piece brought from the showroom. Really maintained very nicely.

• Dundee, Scotland
5 Nov 17
Hi. Its 14 years old. The previous owner really did look after it.

• Dundee, Scotland
5 Nov 17
Thanks. Bikes are better kept clean and shiny. More chance of them being safe and mechanically sound


• Dundee, Scotland
5 Nov 17
Lol. I'm 57 next month and my eyes are not as efficient as they used to be. I drive more defensively now.

• Redlands, California
5 Nov 17
Awesome, I so want to get one, but live in California and afraid these stupid people would run me over.



• Dundee, Scotland
5 Nov 17
I've been run down twice in the last 5 years. But I enjoy it too much to let that stop me. One crash I had wife on the back. Car hit us as I was turning into our drive from main road. Wife escaped unhurt. I was on crutches for a while.

• Indonesia
5 Nov 17
Wow! that's fantastic motorcycle. Can I afford that? What's the brand? Yamaha? Let me know please. Ta.

• Dundee, Scotland
5 Nov 17
Yes it is nice. Its a SYM Based on the Yamaha Yp or Xmax series. 300 cc I paid £1900 when it was 6 years old with 7k on clock a year ago. Its got 17k on clock now Great fun. If you can get one you go for it

• Indonesia
5 Nov 17
@saulgoodman
I am planning to buy NMax Yamaha. Almost similar in model.

• Dundee, Scotland
5 Nov 17
@yanzalong
Wise buy. Better quality than my one. It will be so much fun for you. I would buy one too.

• Waikoloa, Hawaii
5 Nov 17
nice 300 cc for a scooter is super fast that can compete in big bikes?

• Dundee, Scotland
7 Nov 17
Hiya. The scooter has really good acceleration from a standing start which leaves most bikes standing but for accelerating from say 60 mph to overtake dropping a gear on a bigger bike is better than any scooter.

• Garden Grove, California
5 Nov 17
tha t looks really sharp n o im notinto bikes too old but iust iterestd in the phoo looks really sharp

• Dundee, Scotland
5 Nov 17
Hello again Patsie. I prayed that you would still be around and me too lol. It is quite sharp. Its 14 years old.

•
5 Nov 17
I think the other one is better.


• Dundee, Scotland
7 Nov 17
Hi. The 2 bikes are totally different. The orange Honda is better for short commutes at high speeds on rural roads lol. The scooter is more for longer road trips - or it was until I got the one I haven't posted about yet. That post is coming.