Have you ever encountered The Hat Man?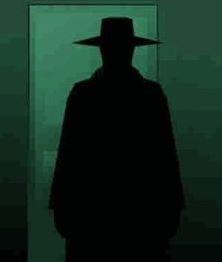 Las Vegas, Nevada
November 6, 2017 9:54am CST
There is a worldwide phenomenon that seems to be happening more and more often. People from all over the globe have been and are reporting to have had encounters with these mysterious beings that many refer to as shadow people.There is one shadowy being in particular that seems to terrify those that claimed to have seen him and he is known as The Hat Man. People describe this dark apparition as being an extremely tall man who wears a trench coat with a fedora or a top hat and those who do encounter him are usually overwhelmed with a feeling of sheer terror. Most people that have seen the man in the hat say that they encountered him while they were lying in their beds at night and many even report that his sighting was accompanied by sleep paralysis,how chilling. Some people say that The Hat Man is merely a figment of the collective imagination, while others think that he is an evil spirit,an interdenominational being, a time traveler, or a demon; in fact, some people even believe that he is the devil himself. What do you think of this phenomenon? Have you ever seen this Hat Man? Who do you think he is? Or probably a better question is, what do you think he is?
7 responses

• Eugene, Oregon
6 Nov
Probably a figment of their imagination, however, I do have an old trench coat and a fedora, so may go out in the night. Nooo, not a good idea, someone would shoot me.

• Eugene, Oregon
6 Nov
@db20747
Yeah, I could have been the Hatman!


• United States
17 Aug
I am familiar with the hat man and shadow people. I think the hat man and shadow people are demonic spirits. They are pure evil and I get unnerved every time I see one in my house.

• United States
6 Nov
I think this is in some way related to the UFO phenomenon. Fear is the result of not understanding the energy pattern.