Do you like to paint?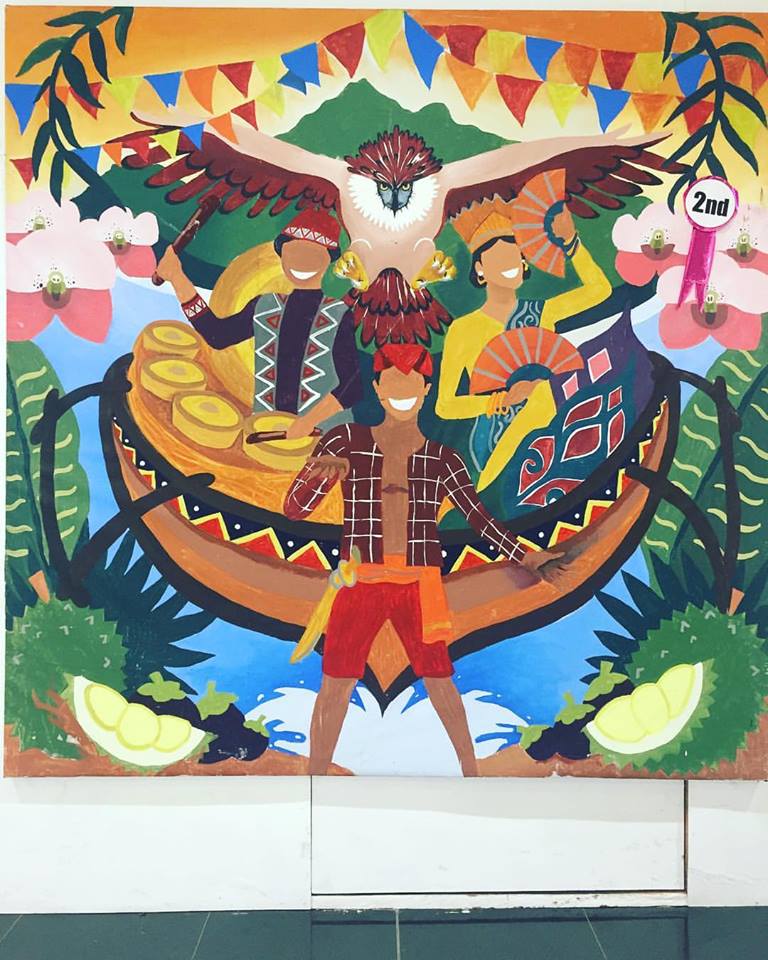 Davao, Philippines
November 7, 2017 7:27am CST
I and the boyfriend went to the mall last Sunday to pay our due. Then the boyfriend was looking for the Yamaha motor show somewhere. He couldn't find it then we bump into some art competition somewhere in the mall. I only took a photo of the 2nd price and not the 1st price because there are teens who are taking pictures and selfies of themselves there. And this is the photo I took. Do you think it deserves the second price? The photo is mine.
10 responses

• Italy
7 Nov
It's a nice one, very colorful, and it's like I can hear the music in it. I like how the flowers resemble loudspeakers.

It happens to be cool despite the genre I don't appreciate a lot. I wonder why the hawk (?) has eyes but the people don't.

I don't know if it deserves 2nd place, I don't know what the other pieces were like. I think I only painted when I was in primary school. It requires a lot of material, I doubt I can afford the tools and space for painting. If I'm going to move, maybe, as my grandpa might join us and he likes to paint.


• Davao, Philippines
7 Nov
Yay, you have a good eye on that Sabrina. Yes, I wonder why people don't have eyes. Anyway. I think that's an eagle which represents our City. Here in Davao City, we have Monkey Eating Eagles living here somewhere. Sorry, I haven't taken pictures of the grand price.

• Italy
7 Nov
@JustBhem
Monkey Eating Eagles?

Do they eat monkeys?

Yes, it's probably one of them, because of the "crown" on its head, that's a clear sign.


• Davao, Philippines
7 Nov

• Philippines
7 Nov
it is a beautiful painting, but of course we have to know the theme of the painting. But in fairness the artist seems talented, it is so happen that what he painted was just normal thing.

• Philippines
8 Nov
Though i find it beautiful because of the vibrance of the color but the I think the concept is normal.

• Davao, Philippines
8 Nov

•
7 Nov
Yeah, I like it. P.S.: Beautiful paint.

• Davao, Philippines
7 Nov


• Green Bay, Wisconsin
7 Nov
That is a very good picture. Yes, it deserves second place.

• Green Bay, Wisconsin
7 Nov
@JustBhem
That's okay, this one is very good.


• Waikoloa, Hawaii
12 Nov
yes i sell some of my paintings

• United States
8 Nov
I like to paint sometimes, but it takes a chunk of time and inspiration, so I don't always. This is a very nice painting.

• Philippines
8 Nov
good piece of art, but for me, it deserves the grand prize, unless you show us too the first place so we can compare.

• United States
7 Nov
We are a family of artists . . . Hubby and I used to paint (just don't have much time anymore!). With art competitions, as well as with any competitions, it depends on what the contest is about and what the judges are looking for. The art itself is subjective . . . one could like it or not . . . but for a contest it's usually about the art fulfilling the requirements of the contest and how it compares to the other entries.

• United States
7 Nov
Do you mean second place as in a competition ?