It's funny what little things affect me!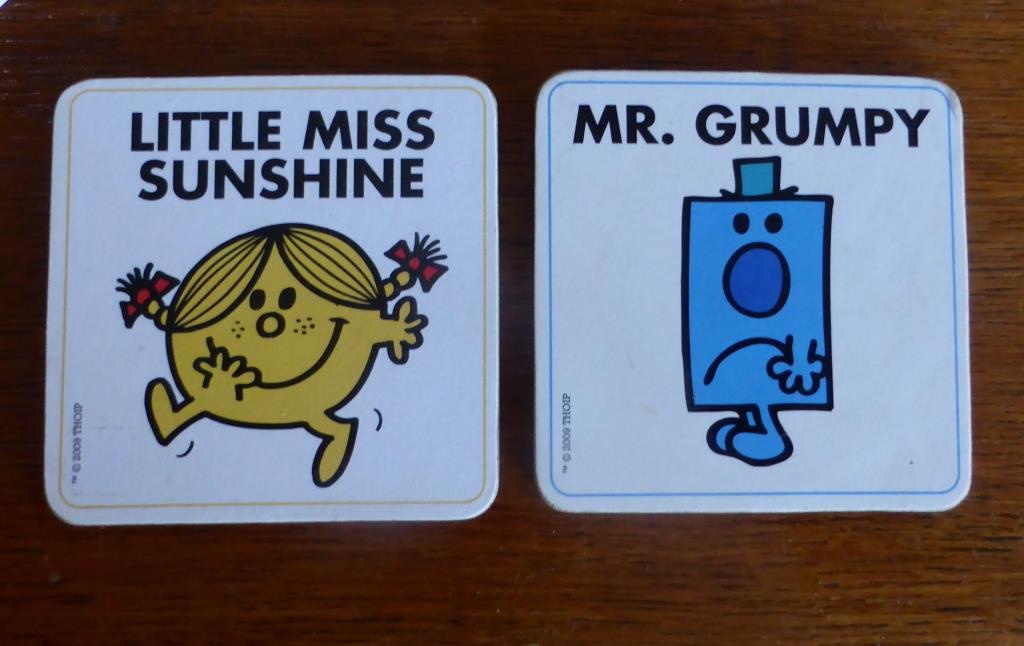 United Kingdom
November 10, 2017 6:26am CST
I'm sometimes surprised at how affected my mood is by little things. Music, for example, has a huge effect; if I listen to country music for more than about half an hour I find myself feeling like I'm going to cry for no reason, whereas beautiful classical music or uplifting dance music really makes me feel happy. At one of our girls' birthday parties years ago we gave the guests each one of these Mr Men coasters in their party bags, but we had a couple left over so we used them ourselves; my partner and I each have one on our bedside table. I didn't really think it would matter which one we had and my partner doesn't even notice as he prises his eyes open to reach for his morning cup of tea. But when, after moving house, I ended up with the Mr Grumpy coaster I found that when I lifted my coffee mug and was faced with Mr Grumpy's frowning face it made me feel a bit miserable. I had to ask if we could swap, and now when I see Little Miss Sunshine smiling at me each morning it really does seem like a good morning. Who would have thought it? All rights reserved. © Text and image copyright Fleur 2017.
9 responses

• United States
10 Nov 17
Little things can ruin our moods. But some of those little things are just not important enough to make a difference. Music is the one thing that can change moods in seconds. That I agree. But don't worry about Mr. Grumpy. Try and find it funny, then you will feel better.



•
11 Nov 17
So your partner ends up facing Mr Grumpy every morning?


• United States
10 Nov 17
Glad you now have Little Miss Sunshine. The littlest things do have some control over the emotions we express. I remember Mr. Grumpy, Little Miss Sunshine all the other characters from a series of books I read to our son when he was little.


• Preston, England
11 Nov 17

• United States
11 Nov 17
I think we all respond better to a smile than a frown.

• Philippines
10 Nov 17
I think the same as you as those little things makes me happy no matter what



• Philippines
10 Nov 17
@Fleura
We all have encounters those bad circumstances but in different times and ways


•
23 Nov 17
It's important to accept that any day you'll encounter small annoying things. I used to get upset by traffic, traffic jams, people not respecting the rules or being too slow. Now I get that it's just the way it is. It won't change any time soon. At least around me, it will go even worse. Streets are getting more and more collapsed each year. So, it's better to accept and let it go.