My Stencils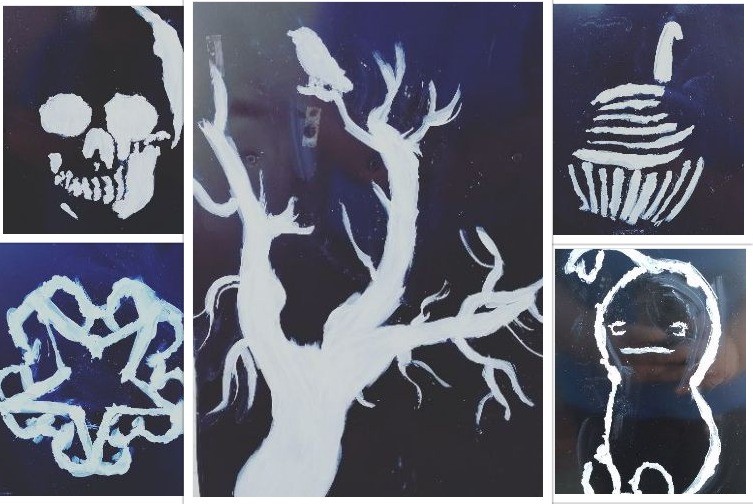 Peoria, Arizona
November 11, 2017 8:22pm CST
So...I got something to tell you all. If you ever want to make your own stencils. Do not and I repeat DO NOT use printer paper. Use cardstock..it is thicker, it won't peel or get stuck when you paint. So yeah, these are all on my cabinet that holds my yarn. And like I said before, they are not bad, they are just not good either. I was using a wide tip paintbrush, I didn't have a fine tip, I wish I did but I don't have one. I don't hate them, they are just messy. So I should explain what all of them are. Top left: A skull, I like skulls, the are creepy, and i am a creepy, so skulls are neat. Bottom left: No, that is not a pentagram, that is the Black Veil Brides pentacharm. It has nothing to do with the devil, Paganism, whatever! It is just a band logo and it is of my favorite band. Top right: a yarn ball with a crochet hook. It just made sense to me. it is a cabinet to hold all my yarn and also I crochet, so yeah! that is actually on the front center of my cabinet. Bottom right: That is Sup Guy! My favorite youtuber/stream is Cryaotic. Most of the time when I am working on stuff, I am watching his content. I love him to death, he is just such a cool dude and I have been watching his stuff for like 6 years so it just made sense to put his little logo dude on my cabinet. In the middle: That is a tree with a raven. The tree I actually free handed. No stencils and I actually love how it came out. Yes it is a dead tree, what can I say? I like dead things. So yeah! I think it came out alright. Maybe if I ever get a fine tip paint brush I will fix it, but I am okay with how everything turned out!
7 responses

• East Tawas, Michigan
12 Nov
Great job, you are very artistic, to say the least!:)

• Peoria, Arizona
12 Nov
Thank you! I try to do the best i can haha!

• East Tawas, Michigan
12 Nov
@DesirousDreamer
As you said, stencils out of cardboard won't stick, plus they are stiff and won't move.

• Peoria, Arizona
12 Nov
@kobesbuddy
Yep yep! Cardstock would have been the smarter decision



• Peoria, Arizona
12 Nov
Thank you! I love the tree as well haha It is my favorite.

• Boise, Idaho
13 Nov
How cute. They all are very attuned to you and what you enjoy.

• Peoria, Arizona
16 Nov
Thank you! And yes, you are very right haha

• Philippines
13 Nov
Like what I wrote in your previous post, I love the skull.

• United States
12 Nov
I love those! I never thought to use card stock. I generally use empty cereal boxes when I make stencils for the kids.

• Peoria, Arizona
16 Nov
That is basically cardstock, just a bit thinner haha very smart though


• Peoria, Arizona
12 Nov

• Banks, Oregon
12 Nov
Nice job on the stencils.