Favorite Songs From 1988 # 7- Hungry Eyes.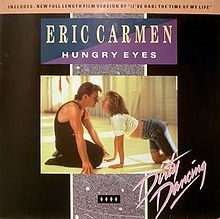 Banks, Oregon
November 11, 2017 8:30pm CST
Coming in at # 7 on my favorite songs from 1988 series is Eric Carmen's big hit for the Dirty Dancing sound track Hungry Eyes, it came in at # 4 on the Billboard hot 100 and, is a very memorable song. Check out a sample of the lyrics below. I think you will like them. I've been meaning to tell you. I've got this feelin that won't subside. I look at you and, I fantasize. You're mine tonight. Now I've got you in my sights. With these hungry eyes. One look at you and, I can't disguise. I've got hungry eyes. I feel the magic between you and, I. Some information verified at Wikipedia. Eric Carmen is a former member of the band the Raspberries. Photo is from Wikipedia.
4 responses

• Jacksonville, Florida
12 Nov

• Banks, Oregon
12 Nov
Good to see another fan and, me too great song.

• Colorado Springs, Colorado
12 Nov
I love the Raspberries. One of the top power pop bands ever!

• Banks, Oregon
12 Nov
They were a pretty awesome band, one of the best no doubt.

• Anniston, Alabama
12 Nov

• Banks, Oregon
12 Nov
Same here it's a good song.

• Roseburg, Oregon
13 Nov
That is a song that I really love. Great song.