Should The 3 UCLA Basketball Players Thank President Trump?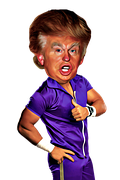 Calgary, Alberta
November 15, 2017 12:32pm CST
I am sure most Americans know what these 3 stupid young black UCLA basketball players did in China. They SHOPLIFTED! President Trump asked President Xi to let them go back to the USA. President Xi complied. As of today I have not read in the news that these basketball players, who are now back in the USA, and their respective families say something "nice" to President Trump, who saved them from a 10-year jail sentence. Do you think they should thank him or just ignore it? I wonder what the Trump-haters here would say. (Note: Image from Pixabay)
10 responses

• Bunbury, Australia
15 Nov 17
I think they were very, very lucky not to mention very, very stupid. In some countries they could face being lashed for such a crime.

• Calgary, Alberta
16 Nov 17
@LadyDuck
How about Obama . . If he were still president, don't you think he would do what Trump did?!



• United States
15 Nov 17
Just curious why you think their skin color matters...

• Calgary, Alberta
15 Nov 17
Well, I was thinking of Maxine Watters, the African-American NFL players ,and scores of NBA players! They hate Trump

. . By the way, do you think they should just ignore the good thing Trump did for them?! . . And if they were white, I would also mention they are white.

• United States
15 Nov 17
@antonbunot
No, but no one sends thank you notes these days it seems. By the way...I am white and I hate Trump...but I would still thank him.



• Calgary, Alberta
19 Nov 17
@LadyDuck
. . . . LOL . . . No more comment from me. All I wish is- - - May he succeed in making America great again!


• United States
29 Nov 17
Anna, the truth is any POTUS would have helped American citizens avoid likely long and possibly tortuous prison sentences. Nobody thinks shoplifting isn't a crime but it's low on the scale of criminal activities and not worthy of what might happen to them in a communist country. I simply think Trump is trying to take all the credit and I doubt he did much if anything at all personally.


• United States
17 Nov 17
All of them have thanked the president as well they should, being in a Chinese prison would have been a wakeup call to this spoiled boys.

• United States
5 Dec 17
@TheHorse
One would think, but it is that big mouth father who was shooting his mouth off!! They should give him a week or two in a Chinese prison and see if he changes his tune.

• Calgary, Alberta
5 Dec 17
@BelleStarr



. . That would teach him a lesson to shut his mouth.


• Moses Lake, Washington
3 Dec 17
When Trump does something nice there is a reason. It helps him in some way or other. I don't know what it is but he got something out of this. Sure no respect from me. Me? I would ignore him.

• Moses Lake, Washington
3 Dec 17

• United States
3 Dec 17
@TheHorse
I STILL doubt that he had much to do with it. He may have instructed some State Department workers to speak for them but I don't see Trump as a charitable or compassionate person AT ALL. It's just that as usual he managed to make it all about himself.


• Walnut Creek, California
3 Dec 17
I'm a Trump-hater. Well, not a Trump-HATER, but someone who thinks he's a narcissist and an idiot, and should not be President of the United States. I think the basketball players should thank him for what he did to get them released, and learn not to do that kind of thing.

• United States
28 Nov 17
I read somewhere that many people were already working on those boys' release before Agent Orange even got to China. However, they still DID thank him anyway. I suspect this was yet another case of Donald trying to take much more credit than he deserved. Even if he did get them released just by speaking to the Chinese President, big effing deal, it's nothing any POTUS wouldn't have done. The only difference is no other POTUS would have ended up in a fight with one of the kids' fathers. It appears I can no longer see all the comments in this discussion or comment myself any other way than by editing my previous posts as I'm doing now, assuming this goes through. This really is so unfair. And childish, much like the so-called POTUS is. I don't think I said anything to offend any member here but if I did I apologize. I will NOT, however, apologize for anything I've said about Donald Trump. I need to reply to
@dir297
's comment which appears below by once again editing this post. It's aggravating but I feel I must respond to what she's said. It's clear where the racism is. When does Donald attack anyone who isn't a woman or a minority? And you're right, he's unlike any other president and that's NOT a good thing at all. He's devoid of any class or dignity, he's disgracing us around the world as he puts us in danger daily.

• United States
4 Dec 17
The father of the one should never have made the commits that he did,,,Our president had every right to defend himself, and to say what was right...the Truth of the situation is always the best policy....The boys father was a complete and total idiot...and needed to be put in his place........ All it took was for President Trump to talk to China's president to help get those boys set free....We know what Obama would have done because of what happened to the ones in N. Korea, and Mexico....He left them their........

• Calgary, Alberta
4 Dec 17
@dlr297
My friend, there is no use to discuss or argue with Trump-haters because they only see "negatives" on President Trump. To them everything he does and say is NOT RIGHT. The best thing for us, who see the positive things that President Trump has done and is doing for the good of the American people, is to ignore and laugh at these Hillary Clinton's diehard supporters. They will never, never accept the fact that their corrupt Hillary lost to a non-traditional politician! Their hatred to Trump is personal not rational.



• United States
4 Dec 17
@antonbunot
You are right but i always try to put my two cents in for others that are reading their commits, so they can at least see both sides of the issue.......


• Philippines
16 Nov 17
could it be that the 3 NFL players did the petty crime with knowledge to spite the US president?

• Philippines
17 Nov 17
why would they do it on purpose?

• Calgary, Alberta
17 Nov 17


• Daytona Beach, Florida
15 Nov 17
I think they should be grateful and certainly extend a thank you.

• Calgary, Alberta
15 Nov 17
@RasmaSandra
To this date, nothing is heard from them. Maybe they are waiting for Obama and Hillary to tell them what to say.


• United States
3 Dec 17
@antonbunot
At least President Obama and Hillary know how to talk above a third grade level!

• Calgary, Alberta
3 Dec 17
@anniepa
But they were not able to make America great!



• United States
3 Dec 17
It isn't just a case of if you are pro Trump or not, it's a case of going to a foreign country as a representative of our country. They may not have been an official representative of the United States, but as students from one of our top colleges they were showing what America produces. It's a pretty poor example! Are the people of China asking themselves if all Americans are thrives? I know if I lived in a foreign country I would be asking that question, along with "Do all Americans that the steal get saved by their leaders?" FYI. I'm not partial to Trump, but I'm not a hater either.


• United States
4 Dec 17
@anniepa
that's the point everyone is missing!!! We, as Americans, had what was supposed to be our "best" in China and they decided to show China what Americans are like by stealing!!! America is viewed as a wealthy country, and that our people don't have to steal to get what they want. Instead we have three young athletes thumb their noses at China, their host. Do they do the same thing to the American people they visit??? It isn't whether you hate Trump, or whoever got the three young men released, it boils down to the impression left by three thieving idiots, who shoplifted for whatever stupid reason entered their even emptier heads! (I thought, mistakenly, that people attending UCLA were supposed to have some semblance of intelligence!!!!)

• Calgary, Alberta
4 Dec 17
@BearArtistLady
O, boy . . . there is no use arguing with or telling the right thing to Trump-haters, my friend. They will never accept, agree, and acknowledge positively anything good that the president does. That is how bad they treat him for beating their corrupt candidate. Crazy! That is why I don't argue or discuss with them . . I make fun of them.



• Walnut Creek, California
5 Dec 17
@BearArtistLady
Well said. Sadly, I think they represent America fairly accurately.