Omigosh, my message box is full.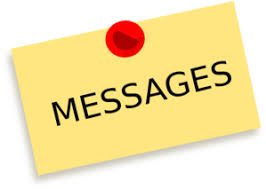 Philippines
November 16, 2017 7:30am CST
Photo courtesy of google images. By now you must know how pathetic I am with every other important thing in mylot. Gosh, I am so very sorry. It's only tonight that I did click on Messages. I was shocked! I have so many messages from many friends. I do promise to read them. My back aches now and I long to lie on my bed. Just writing this post to send message to friends that I am the techie failure who knows not to click. It was by accident that I stumbled on Messages. Gosh. I deserve to be scolded for stupidity. Once again, I am sorry.
7 responses

• Preston, England
16 Nov
just delete all the ones you don't want / need to read and keep the ones you are interested in - good luck

• Philippines
16 Nov
A very helpful tip. Don't you think the messengers will feel disappointed if their messages are discarded? When I send messages, I deem those important. But I will take your tip and scan which ones are really important.

• Preston, England
19 Nov
@eileenleyva
sometimes we really can't find time to reply to everyone. That's just how it goes

• Philippines
20 Nov



• Philippines
17 Nov
@eileenleyva
It doesn't matter as long as the messsage is really important. Spamming content must be deleted.

• Philippines
17 Nov
@miketagz
Yes, Thanks for being emphatic on that. I will get on with deleting in a while., It was a taxing activity. So, the word is spamming. My vocabulary increased. Thanks again.

• United Kingdom
19 Nov
I've not had one since May last year.


• Philippines
20 Nov
Would you like me to send you a message? Just to fill your box with anything.

• United Kingdom
20 Nov
@eileenleyva
It sounds like you will be busy with all your outstanding messages, but when you have some free time that would be nice. If it works of course.

• Philippines
22 Nov
@Orson_Kart
I need free time now. All of a sudden, there's one too many errands to attend to. Sigh. I could barely log in.


• Bunbury, Australia
9 Dec
I love getting messages so I'm always checking my message box. I'm sure you'll be forgiven by your friends.

• Philippines
14 Dec
Yes, they did forgive me. Some have been reassuring and supportive. That is one thing I like about virtual friends, they make me feel warm and important.

• Bunbury, Australia
14 Dec
@eileenleyva
The people on here are mostly like that too. I feel I have a lot of friends here.

•
17 Nov
Are you talking about messages here or notifications here? I am confused or are you referring to your e-mail?


•
19 Nov
@eileenleyva
Thanks and now I see what you were trying to explain to me.

• Moses Lake, Washington
16 Nov
I hope your back feels better soon.

• Philippines
16 Nov
The night sleep did the trick. I think I was sound asleep. It was a long day at the mall yesterday. Malling is an strenuous activity for me. Thank you. I didn't expect the concern. Which makes me begin believing in people. A kind word from a virtual friend actually brings joy.


• Roseburg, Oregon
16 Nov
I hope you come backvafter your back is better.

• Philippines
16 Nov
Why, thank you. That is such a warm thought. I feel better just by your kindness.