Favorite Movie From 1988 # 4- The Great Outdoors.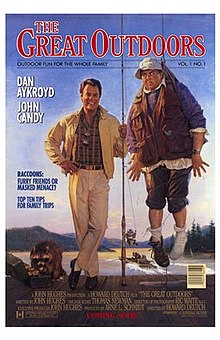 Banks, Oregon
November 18, 2017 8:58pm CST
Coming in at # 4 on my favorite movies from 1988 series is one of my favorite comedy movies of all time, Directed by Howard Deutch, Produced by John Hughes and starring the legendary comedy team of John Candy and, Dan Akroyd, who play a couple of brother in laws, Chet and, Roman, the two guys basically play a game of one ups man ship through out the movie, bringing their family a long for the ride on the great American vacation in the outdoors of Yosemite national park, one memorable part is where Candy I think it was gets towed behind the boat on jet skis lol. or also when he gets chased by the Bear haha. Famous lines Chet: Don't call me Chester call me that one more time and, you're gonna go home with a dint in your for head. Roman: Why do Chet's kids look at him like he's Zeus and, my kids look at me like I'm a rack of tools at Sears lol. Some information verified at Wikipedia. Photo is from Wikipedia.
6 responses

• Colorado Springs, Colorado
19 Nov
Funny movie. Man do I miss John Candy.

• Banks, Oregon
19 Nov
Good to see another fan and, me too Candy was the best.

• United States
19 Nov
I am not sure if I have ever seen this one. But I love both of those actors.

• Banks, Oregon
19 Nov
Oh wow you got to see it, you will love it.

•
19 Nov
Those SNL alums really have great chemistry. Did you see the movie Uncle Buck or Planes, Trains and Automobiles? He was hilarious in both! He just has that funny goofy style I find so funny


• Banks, Oregon
19 Nov
Yes, I love both of those movies too. Candy was a one of a kind.

• Banks, Oregon
20 Nov
@dgobucks226
Would have loved to see Candy and, Farley work as a father son on a movie.

• United States
19 Nov
I think I remember watching this and of course enjoyed it TR.

• Banks, Oregon
19 Nov

• Bunbury, Australia
19 Nov
Those are great lines. I'll keep my eyes open for this one.

• Banks, Oregon
19 Nov

• Roseburg, Oregon
19 Nov
The actors are good. I never saw the movie. I like crime movies.