Fun Posts: 2017's Most Popular Dog Names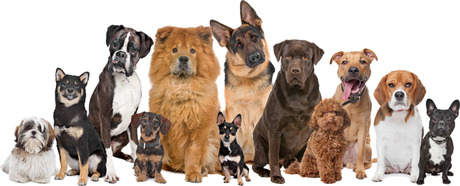 November 19, 2017 3:43pm CST
According to PuppyToob.com, these are the twenty most popular dog names of 2017. Maybe your a "Mash" TV show fan and named your dog Hawkeye. Or a chocolate lover, hence Coco. Perhaps you wanted to name your dog after a famous Actress, Sophia. The names we choose for our dogs tend to be the ones that are the most popular within our society. We may choose them because the name describes the appearance or personality of the dog. What made you choose the name you did for your dog? Did your dog's name make this list? Here are the top 20 dog names of 2017: 1. Buddy 2. Princess 3. Jack 4. Bella 5. Rocky 6. Max 7. Molly 8. Lucy 9. Bailey 10. Maggie 11. Daisy 12. Charlie 13. Trapper 14. Finn 15. Lucky 16. Boomer 17. Hawkeye 18. Coco 19. Sophie 20. Sadie Sources: New Jersey 101.5 & puppytoob.com Photo- dogtime.com
10 responses


•
22 Nov
Three cheers for Molly a list maker


And yes, I see the Molly resemblance


• United States
22 Nov
She is so cute. My dog would never wear a bandana.

• United States
22 Nov
@misunderstood_zombie
Well, she was not happy at the bandana. When she is not happy, she will not make eye-contact with us.



• El Paso, Texas
20 Nov
One of my furbabies from the 1990s was Sophie and I have a cat named Max. So Ally, Gracie, Mykey, Prissy, Stanley, Hotshot, Rebel, Sandi and Spunky are kinda unique, not bad. I always liked unique.


•
20 Nov
Those are some unique names. Max is a cool name for cat or dog! Rebel is also a good one Rebelann, lol. Thanks for that impressive list of names!

• El Paso, Texas
20 Nov
You are welcome
@dgobucks226
I loved each and every one of those furbabies.

• Moses Lake, Washington
20 Nov
I live with Sally Gator and then there's Leah. Leah is Rachel's sister in the bible. Our human daughter's name is Rachel so my hubby played a joke on her and decided we HAD to name the new pup Leah. Ha. I also call Leah LL Bean or Leah Lunch Bucket. Yes, I am crazy.

•
22 Nov
That is so cool! My dog growing up was named Sam, but for some reason I nick named him Bo. I thought it went with Sam well. And he answered to it. Go figure? BTW: I like how you arrived at Leah.

• Moses Lake, Washington
22 Nov
@dgobucks226
My husband came up with the Leah name. He's a fun guy for sure. Our Siamese kitty was supposed to be Lord Voldamort but I hate that name so I said lets call him Teak. (Adopted from a shelter.) Hubby said "How about Beau Teak??? Cool. So now he gets called Beau Beau a lot but his full name is Beau Teak- the Vet receptionists hate figuring out how to spell our fur person's names.

•
22 Nov
@sallypup
I bet they do! You husband has some sense of humor. He would be great at naming race horses



• Denver, Colorado
20 Nov
The last dog I owned I named after reggae singer Maxi Priest.

•
22 Nov
Nice tribute! Looking at the list without the "i" technically you are on the list with Max


• Denver, Colorado
22 Nov

• Bunbury, Australia
19 Nov
It's strange how some names become so popular. And we probably all think we've chosen a name that isn't particularly common.

•
22 Nov
Some of the names on that list are so unique to me? I've never heard of any pet name called Finn? But what do I know, we named the dogs we had growing up Spot and Sam.

• Bunbury, Australia
22 Nov
@dgobucks226
I haven't heard of Finn before either. Our pet sheep came with some strange names. Monty, Joel, Baasil, Hercules, Oscar and Petal. The last one was the only one we named ourselves.

•
22 Nov
@JudyEv
I like Monty and Joel is kind of funny.

• United States
22 Nov
My dog's name is Dodger. It was my husband's nickname for me, so when I got a dog, it just seemed appropriate to name her that. I don't think that name would make any list.

•
22 Nov
Guess not, but I really like the name. One of a kind actually yet so popular sounding to me. Thanks for the input Rhonda.

• United States
20 Nov
We have Gizmo and Mush so our names didn't make the list. However, I did have a dog named Max when I was a kid and my Aunt had a Buddy

•
22 Nov
So, at one time you did have dogs on the most popular list. I imagine if you use different names over time you are bound to make the list. By the way, our dogs were: spotty, red, and sam so I missed he list too.

• Banks, Oregon
20 Nov
I wish I would have thought to name Rooger Hawkeye lol.

•
22 Nov
I like Rooger TR! It is such a unique name for a unique dog, ha.

• United States
19 Nov
Ours were already named Penny and Faye when we adopted them from the shelter. We used to have one named Molly.

•
22 Nov
There you go a list maker! My pets never made the list. My Aunt had a dog named Penny. And she was a very small pup, so the name fit well!