Thanksgiving Dinners--then and now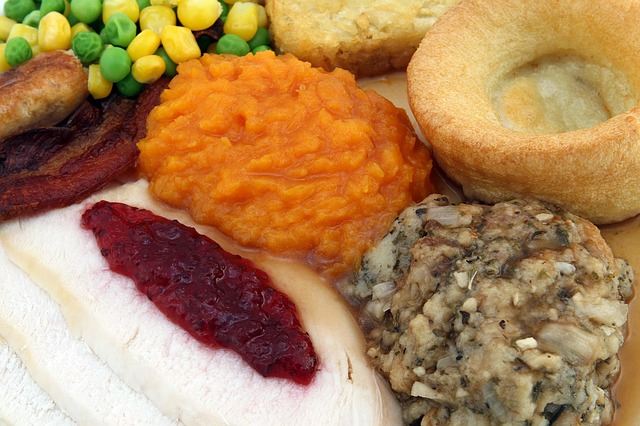 United States
November 20, 2017 11:27pm CST
I have not cooked any Thanksgiving dinner in a very long time. In these past several years, I have met with a friend or two, and we find somewhere to go out to eat. Years before that I would go to my daughter's home, but it was always a bit "strange." Sometimes, I would transport the dinner and, at other times, she would cook. Now I understand the "strange" vibe, since learning of what was going on in the family. Now that she is single again, she does not seem to be interested in getting together for holidays. In fact, I have not heard from her in weeks. There was a time, when I was not allowed in her home or around my grandchildren (now 17 and 20). I know now that it was not about me, but it had everything to do with who was "calling the shots." Of course, we all played a part in it. It was heart-breaking and I nearly took my life. I am glad to be past all of that part of what life dealt. There were many years where I was alone. I rarely let people know what was going on inside me. It was among the darkest times of my life. Because I did not allow others "in" to what was really going on, I was not invited elsewhere. People assumed that I was busy. I never told them otherwise. This year, I talked with the two friends with whom I have shared Thanksgiving dinners at the International House of Pancakes or a local casino buffet. I asked them both if they would like to come over and I will do the cooking. I think they were both surprised. I am going to make it quite simple, as there are only three of us. I bought a half a turkey breast (enough for four), so it will cook in about an hour. I will make a bread dressing, mashed potatoes with gravy, fresh orange-cranberry relish, butternut squash, and a kale salad. My friends are going to bring green bean casserole, pumpkin pie, and another dessert. It is certainly a lot of carbohydrates, but that seems to be the way of the American Thanksgiving feasts. I am looking forward to a different Thanksgiving than I have had in a long time. (Photo credit: Pixabay, Thanksgiving plate)
9 responses

• United States
21 Nov
I am sorry to hear that things aren't good for you and your daughter. I hope she gets beyond this and realizes that we only get one shot at this thing called life and it speeds by fast. Loving the beautiful soul that you are it pains my heart to know that you were at that dark place once in your life. I am glad that you chose to turn in a different direction. Nice that you are cooking a meal to share with friends. Sounds like you will have good company to share Thanksgiving with. If you lived closer to me I would have you over to share the day with us. Love ya lady. Keep on keeping on.

• United States
21 Nov
Oh, it's not "bad" for D and me, but just seems distant all of a sudden again.

• United States
21 Nov
@CoralLevang
I hope that the distance goes away. My son and I are going through the same thing. I believe it is due to his fiance. He says she works a lot and that is why they can never come over. However, he can come over without her, not sure why he won't or can't.

• United States
21 Nov
@ElusiveButterfly
I went through nearly two decades of that. Then, she started being more in contact again, when she left, but now she's just so busy that she doesn't bother anymore. She's 42 going on 22.



• United States
21 Nov
I know that she is busy, and time runs away. I am glad that she is doing things now at 42 that she should have done in her 20s. I'm glad that you talked with her, too, and that it was pleasant. Hugs. I'm sorry to hear of the stroke.

• Switzerland
21 Nov
@CoralLevang
We know she will never recover. I would like that the hospital would let her go, this is what she would have asked.

• United States
21 Nov
@LadyDuck
Hugs. It's never easy, I know. I hope the hospital will do what they need to in compliance with her wishes.


• United States
21 Nov
I am sorry to hear of your relationship difficulties with your daughter. It sounds as though you have come to peace with it and have managed to make the holiday a good one for yourself. Making your way past that very difficult dark part of your life just shows what a strong beautiful person you really are.

• United States
25 Nov
Thank you for the kind words, but I had a rough day yesterday because I was ruminating on the fact I didn't even get a text message. I go back and forth sometimes.

• United States
26 Nov
@CoralLevang
I think we al have days like that. Don't worry, as long as you know you are a good person you can weather this storm too.

• United States
27 Nov
@HazySue

thank you for your kind words

• United States
21 Nov
Sorry you havent heard from her in awhile, and that you had not so good thanksgivings. We wouldve invoted you all those years had we knew you and lived close. Glad you'll have good company this year for a small gathering at home!

• United States
21 Nov
You are very sweet. Thank you. I'm fine, and it will be a nice, quiet gathering of friends.

• Derby, England
2 Dec
That is sad that you and your daughter have drifted apart. My family are the world to me so I can understand you feeling devastated. Well done for inviting others to share your feast.

• United States
7 Dec
The drifting apart started decades ago when she married a fool. It's not nearly as bad as it once was, but I wish there was more communication/contact. Thank you for the warm words.

•
21 Nov
Years ago, when the grass grew tall ion the plains, and the buffalo were many, and gas was much cheaper because no one had a car, we (being the extended family on my Mother's side) used to gather at an old one-room school house for a Thanksgiving feast. The men were likely to go out hunting, the women set table after table with all kinds of food, and we kids would do what kids do best, explore everything that was happening. I think the building no longer exists...last time I saw it, it was an abandoned relic of days gone by that looked as though a puff of air would blow it down. And unfortunately, most of the people from those days are now relics of the past as well.


• United States
21 Nov
Yes...myself, included. I find that the younger generations don't want any part of the gathering, and certainly won't seek the older folks out. Maybe the older folks are too vocal. Who knows. But it can be a rather lonely existence. They will understand (about lonely existence) in 30 years or so. It all seems to come full circle. And newness becomes old, and it all starts all over again.

• United States
21 Nov
Thanksgiving Meals have changed a lot for me the last few years, as we don't eat at home and the last few years have eaten a meal with friends. Its great to spend time enjoying food with others. Happy Thanksgiving

• United States
21 Nov
Holidays, in general, seem to have changed. Happy Thanksgiving to you, as well.

• Los Angeles, California
21 Nov
You are going to have a great Thanksgiving this year. Doing your own will make a big difference over going out.

• United States
21 Nov
I hope that you have a wonderful Thanksgiving and that you hear from your daughter soon.


• United States
21 Nov
Thanks, Marie. Enjoy your Thanksgiving! Will you be celebrating then, too? I know you have already had one celebration with your parents.