How threadbare do you wear your clothes??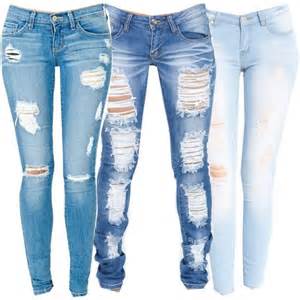 November 22, 2017 9:19pm CST
So when do you think someone has gone to far and it's time throw out those old jeans, shoes,(or whatever) because they are too worn. Using jeans as an example, it used to be when jeans ripped at or below the knee, they were cut into shorts, ... then torn knees were fashionable, then rips across the thighs, and now I see rips on the bum. Where do we draw the line? The same goes with Pantyhose....some call it fashionable to have ripped hose these days ... so at what point do you consider a piece of clothing is finished?
7 responses

• El Paso, Texas
23 Nov 17
I've always worn my cloths completely out but usually when they began to tear I'd only wear them around the house or when I was working in the yard. When I was working I wasn't allowed to wear jeans to work so mine lasted longer than today generations.

• El Paso, Texas
23 Nov 17
I am a product of the 60s
@Luap1050
when almost everyone wore good looking slacks and shirts for men and neat dresses or skirts and blouses for women.

• United States
23 Nov 17
I don't wear torn or stained clothing, but I do have two favorite pairs of shoes that really need to be gotten rid of! But they're so comfy and I have a terrible time finding shoes that don't kill me.I do own a lot of shoes(I love them), but can't wear most of them too long at a time, especially the heels.

• Roseburg, Oregon
23 Nov 17
I used to in my teens wear clothes that were falling apart. That was the style back than.

• Indonesia
23 Nov 17
Nowadays, the threadbare jeans are made on purpose to be more fashionable.

•
23 Nov 17
And I do know this , but I ask myself do I want to pay a premium price for ripped clothes??? ! ... and what about this ... if I put dents in my new car will they manufacture them like that and it will be a fad?? ....I certainly don't think so , but I guess clothes are just more personal and they can get a great following of sheep with them.


• Indonesia
23 Nov 17
@Luap1050
Yes you are right. I will never buy threadbare jeans. I will buy new ones and let the jeans worn out naturally.

• United States
23 Nov 17
I only wear torn clothing if I just love it and then only at home.


• Bunbury, Australia
23 Nov 17
My 'home' shorts now have two rips in them so soon they're going to have to be recycled as rags.

• Roseburg, Oregon
23 Nov 17
In my teens I wore jeans until they were really falling apart and about to rip in half.