It is official I hate Marvel cinematic Universe /Marvel Fox movies/TV now.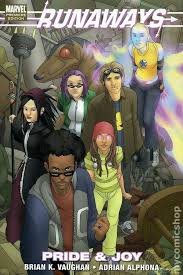 Calgary, Alberta
November 23, 2017 10:57am CST
The only part of the Marvel Cinematic Universe I enjoy is the Dare Devil netflix tv series and Deadpool. I know casual people loves Marvel movies because casuals don't read comics nor watched the cartoon adaptations. They are casuals after all but people who are fan of the comics are polarized. Seriously Avengers have lots of female members and Black Widow and Scarlet Witch are the only ones you see on movies. Marvel Cinematic Universe plans to make Captain Marvel their most powerful Superhero even though she is not that strong in the comics and she is hated in the comics. Spiderman kept on rebooting instead of moving the story forward. Stop keeping Spiderman as a high-school student as he is now on his 30's on the freaking comics. I want this adventures as an adult in the movies. Stop keeping him as a teen. Agents of shield is freaking unwatchable compared to the DC Arrowverse movies. X-men movies turned Wolverine into the strongest character while he is not in the comics. Now they just ruined the Runaways. Runaways is originally going to be a movie but they decided to make it a tv show instead. It is an award winning comics and Marvel Television universe ruined it. Runaways is a superhero team that is so easy to adapt to movie or TV. They are a group of teens and they dont wear costumes. They still ruined it in the adaptation. It is so slowpaced the characters are turned into charisma vacuums. It is about kids who discovered their parents are super villains so they runaway and decided to fight them even if they love them so much. One of the characters of the comics is Molly Hayes, She is a little girl with overwhelming super strength. She even defeated Wolverine from the X-men. This character is popular because of her sense of humor and her innocence. The one the adaptation is serious as a documentary about the stock exchange, and she is fun as watching people play golf. The Tv version gets rid of the personalities by toning them down that makes the characters popular in the first place and there is too many flashbacks. The comics is not known for flashbacks, it is straight forward and fastpaced. Molly is suppose to be a little girl but the one they casted is taller than some of the highschool female characters. As a fan of the comic I was livid with the adaptation.Casuals may like it. ------ I think DC movies and TV shows are more respectful of the source material. They may change things but not ruin it like Marvel does. Just look at the Wonderwoman movie, it is liked by both casuals and fans. Not all DC movies are good but it is better than the Marvel ones.
6 responses


• Calgary, Alberta
23 Nov
They should stop rebooting it. No more highschool Peter Parker. He is now a Businessman in the comics. I want to see College peter Parker, , Adult Peter Parker and Married Peter Parker.

• Brussels, Belgium
23 Nov
@CaptAlbertWhisker
I don't read comics to be honest but I would like to see a grown man Spider-Man for a change

• Calgary, Alberta
23 Nov
@Madshadi
So many story arcs they can adopt but they kept repeating the teen Peter Parker saga and it is annoying. I want to see Spider man as a Husband, Dad and office guy.

• Daytona Beach, Florida
23 Nov
Cannot judge. Don't watch DC movies. Does Batman count as that? I love all of the Batman movies.

• Calgary, Alberta
23 Nov
Batman is DC, So yes DC is better than Marvel at this point.

•
23 Nov
DC Black Hole Marvel.


• Calgary, Alberta
23 Nov
I am still salty from the runaways and inhumans is awful.

•
23 Nov
@CaptAlbertWhisker
I have watched one episode of Inhumans. Oh, my... So awful!


• Calgary, Alberta
23 Nov
@TheInvisibleMan
The funny thing , Marvel is pushing inhumans to replace x-men since X-men is now owned by fox.


• United States
24 Nov
I like the X-Men movies, but mainly because of Hugh Jackman as Wolverine.

Although I grew up watching the cartoon and read some of the comics, and the movies are not that good compared to either of those. I prefer Wolverine from the cartoon to the movie. They made him too..."good," or too nice, in the movies. It's annoying how they stray from the source material. I am annoyed with how Spiderman keeps rebooting too. We don't need to see his origin story over and over again. I wish they'd move on from it already!


• Calgary, Alberta
24 Nov
Yeah enough of Origin stories with Spiderman, Stop making him a boy and make him a man already. Have him marry Maryjane and have a career just like in the comics. I want to see Peter as an adult instead of the awkward teen over and over again and they can do that by stop rebooting. I will stay away from the X-men movies, They make Storm a weaklink, Have Rogue use Jubilee's storyline instead of her own and they make Wolverine way too powerful than X-men members who are stronger than him. Also Bryan Singer the X-men director is a child molester.

• United States
25 Nov
@CaptAlbertWhisker
I completely agree about Spiderman. I mean...he's SpiderMAN, not SpiderTEEN. LOL I don't get why they keep rebooting the origin story and never advance the story past that. Oh, I hate what they did to the X-Men characters in those movies. Especially Rogue being given Jubilee's story line. I don't get why they did that, if not for blatant racism because they didn't want to have a lead character who was Chinese. So they gave her story line to the cute white actress and just cut her out of the movies (until one of the later sequels, where she is only in it so briefly that she might as well not be in it at all.) Storm really seemed lame in the movies, when she was very powerful in the cartoon and the comics. I always loved Wolverine though, ever since I was a kid watching the cartoon. And I like Hugh Jackman as an actor, but I agree they made him way too powerful and didn't quite get his character right. And I just read about Bryan Singer....gross. I already felt weird watching X-Men: The Last Stand after reading about how Brett Ratner treated Ellen Page and other actresses during filming. Hollywood truly is filled with perverts.



• Calgary, Alberta
25 Nov
@Srbageldog
Rouge have a very nice story. She was a villain of the avengers who uses her powerdrain by stealing powers from Miss Marvel (Currently known as Captain Marvel)which gave her super strength and flight. Putting Miss Marvel in a Coma.It gave her sleepless nights due to her conscience and that made her join the X-men. Iceman is also not her love interest as Iceman is Gay and her love interest is Gambit. But yeah she have a strong storyline that will do wonders on the movies but they gave her Jubilee's story instead and demote Jubilee into non speaking character. Bryan Singer forced teenboys and little boys do a shower scene on X-men movies. He told them it is part of the movies but he just did that scene for his personal use. He is a very sick man and he should not be directing.


• Philippines
24 Nov
I stopped watching Xmen related movies after watching LOGAN. As for the DC ones, I have not seen teh season 2 of supergirl in netflix. not sure about Justice League there either.

• Calgary, Alberta
24 Nov
I like DC TV, Legends of tomorrow is so fun to watch. I still love Flash and I still watch Supergirl. Arrow is going downhill but it is still tolerable compared to Agents of Shield, Ironfist and inhumans.

• Los Angeles, California
23 Nov
There are just too many Marvel/DC movies and shows. It's overkill.

• Calgary, Alberta
23 Nov
As a fan of Marvel and dc I wont mind them if they are good. Most Marvel ones though are awful.