Plastic bag vs. Paper bag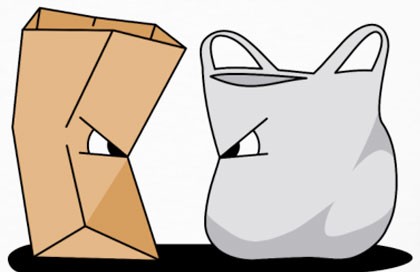 November 23, 2017 4:45pm CST
Which of the two options do you prefer to use (in any place / situation) and for what reasons do you prefer one and not the other? In my opinion, the papers bags are better / more effective (besides being made of sustainable material... which is obviously a very good thing

).
10 responses

• United States
23 Nov
I like the paper bags better, but the stores where I live are only using the plastic bags.


• Chile
23 Nov
Where I live, the supermarkets are ghanging from plastic bags to some that can be used several times. But you have to buy them.

•
23 Nov
Obviously, paper bags are better for environment. Plastic pouches and plastic bags are strewn everywhere. I was sad to see them clogging drains, thrown on the roads,streets and parks, lying even at places which should be clean.

• Philippines
13 Dec
For small items paper bags are better. For wet items and heavy items plastic bags are better

•
13 Dec
I have big bags that I put in my knapsack that I take for grocery shopping and put my items in a plastic bag and then inside my cart.

• Jamshedpur, India
25 Nov
Paper bags are always better, they seem to be more expensive than plastic ones.

• Canada
24 Nov
I prefer bags made out of heavy plastic/fabric combination that will live and work for you forever, Yes you have to buy them but they last forever. They are strong and will carry your groceries home as well as toys, clothes, whatever you need to put into a bag.. I think paper bags are a waste of trees, and the thin plastic ones that costs us here in Canada's grocery store around 5 cents are tossed away and also found in our lakes and rivers. The problem with thin plastic is it is around, blows in the wind and kills birds and small animals that get caught by them in the wild. The bigger heavier plastic bags live in my car so when I go to the store, I bring a few in the store with me... Also most of our grocery stores don't just break down the cardboard boxes and get rid of them, they put them in the front of the store for anyone to use to carry their groceries or to take home to be used for whatever...

• Malaysia
23 Nov
Paper of course. Here in most places you have to pay extra for plastic bags. I usually bring my own reusable shopping bag.