Do you use Tinder?

Philippines
7 responses

• Philippines
15 Dec
I hear Tinder in one of the members here. What is that exactly?

• United States
25 Nov
I have never been on Tinder and would never be. Even when I was still on the market for dating I did not even try it. I heard enough horror stories from friends and co-workers about it. I guess I am just a little old-fashioned n a sense that I would like that actually physical meet-up first in a casual setting then going out after. I met my fiancé through common friends and I prefer it that way. I guess dating is essentially the same, just the method of meeting people initially is the difference. Tinder may be the way to go for some, it just wasn't for me.

• Philippines
25 Nov
I don't use Tinder and I won't recommend it for people who are actually looking for serious relationships.

• Calgary, Alberta
15 Dec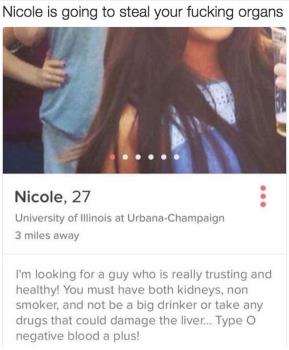 It's the best place to get laid or the best place to have your organs harvested.


• San Antonio, Texas
25 Nov
I have never used before , don't really plan to

• Boise, Idaho
25 Nov
Depends on what you are looking for. Flings or real relationships?

• United States
24 Nov
I'm happily married so I haven't used it. I've heard from people (guys) that its just a free means to pick up a hooker or what not as it leads people to find matches for bed activity and not much more. So, who knows? I didn't use the term hooker, but that is what one person called the chicks on it. So...

• United States
24 Nov
I think you can find a good guy almost any where. But I also know men see woman in a different way when they meet them in all kinds of places. Like wondering what kind of person would be in a dive like this. Oh