Who Remembers Aluminum Christmas Trees?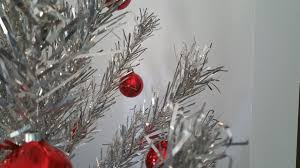 Saco, Maine
November 24, 2017 8:58am CST
When I was very young, my father always brought home a small live fir tree for us to decorate at Christmas. I remember how fragrant those trees were and how much fun it was to gaze deeply in between their branches at all the ornaments. Then one year, when I was in my teens, Daddy broke with tradition and came home with a brand-new aluminum tree. It was a culture shock for us at first, as trimming such a tree is a totally different process. Needless to say, we couldn't put strings of electrical lights on it, nor did the tree need tinsel. (I didn't miss that part, as my mother was a stickler about tinsel. Instead of tossing handfuls of it into the branches of a real tree, she insisted on hanging each strand-or icicle-individually, which could take hours to do depending upon the size of the tree.) Another thing to consider was how cluttered the tree looked if we overloaded it with too many ornaments of different shapes and sizes, and we soon realized that a single color scheme worked best. That left how to light the tree, which was done using a lamp with a rotating wheel that cast different colors onto the aluminum: red, green, yellow, and blue. I was older by that time, so the whole idea of a Christmas tree had lost much of its appeal. My mother loved the silver tree and kept it till she finally moved into a smaller place after Dad died. From then on, she used a much smaller green artificial tree until the time came when she did away with decorating altogether other than to hang a wreath and put out a few small table-top ornaments. That's a long time ago now, and I don't remember what she did with that silver tree, just that neither my sister nor I wanted it. I hope whoever did end up with it enjoyed it as much as my mother once did. (Public Domain Image)
10 responses

• United States
24 Nov 17
@Raelove
I remember them well. Not because we had one but there were several relatives who had one. Now days I just don't do a lot of the old traditions.

• Saco, Maine
24 Nov 17
Neither do I, Bernie. I still enjoy the sights, smells and sounds of the season. But beyond that, I keep it to a bare minimum. And that includes the gift giving, too.

• United States
24 Nov 17
When younger we had a real tree, then we switched to the fake ones. But they did look real. Not sure if I remember the aluminum ones that much.

• Saco, Maine
24 Nov 17
They came out around here in the mid-60's. Not sure when they faded, but I no longer see them anywhere.

• Los Angeles, California
24 Nov 17
I remember when aluminum trees became popular. Did you have that light wheel to go with it?

• Saco, Maine
24 Nov 17
Yes, we did. And I remember how noisy it was.

• United States
24 Nov 17
I don't remember the aluminum trees but I do remember the smell of a real tree and as soon as I find a new home I want to have a real tree again. Of course, we'll keep the one to have and put it in another area but I really want a real tree again.

• Saco, Maine
24 Nov 17
There is nothing like the real thing, mainly for the smell. Whenever I come across it, I am immediately transported back to my first Christmases.

• United States
24 Nov 17
I do remember those trees. My parents always got the real trees, though. In my husband's office at work, he always made sure to find a spot for one pretty sick-looing aluminum tree. We have it somewhere in our basement now.

• Saco, Maine
24 Nov 17
Took forever to put all the branches into the "trunk," as each one had to go in separately.

• United States
24 Nov 17
@Raelove
We used to have the "Mountain King" tree. It was green and huge, and it too required each branch to be placed in its own hole. Got rid of the "Mountain King" for a much easier, smaller tree.

• Saco, Maine
25 Nov 17
@Corbin5
Oh, there are so many huge expensive fake trees out there now, some upwards of $200! Good for you for going with something easier to manage.


• Boise, Idaho
24 Nov 17
Oh, the horror! Yes, I remember. We always had real trees.

• Saco, Maine
25 Nov 17
I have always preferred the real ones, too.

• Boise, Idaho
26 Nov 17
@Raelove
.....And, if you keep it watered and taken care of it isn't that much of a problem.

• Saco, Maine
26 Nov 17
@celticeagle
No, it's not. And that reminds me of a Christmas tree story I think I'll write about.



• Bunbury, Australia
25 Nov 17
Nothing ever stays the same for long does it? There is always change.

• Saco, Maine
25 Nov 17
Yes, and often, you find things circling back to where they started. There is only so far you can go with certain things.


• Saco, Maine
24 Nov 17
I prefer the real trees. It was hard for me ever to buy a fake one, but my mother liked her silver tree a lot.

• United States
24 Nov 17
I had a friend who was allergic to real trees and she provided an aluminum tree for our classroom and the disc that rotated for colors.

• Saco, Maine
24 Nov 17
It was kind of a neat idea for awhile. I don't even like fake green trees. But here where I live, that's all that's allowed.