My children introduce me to new things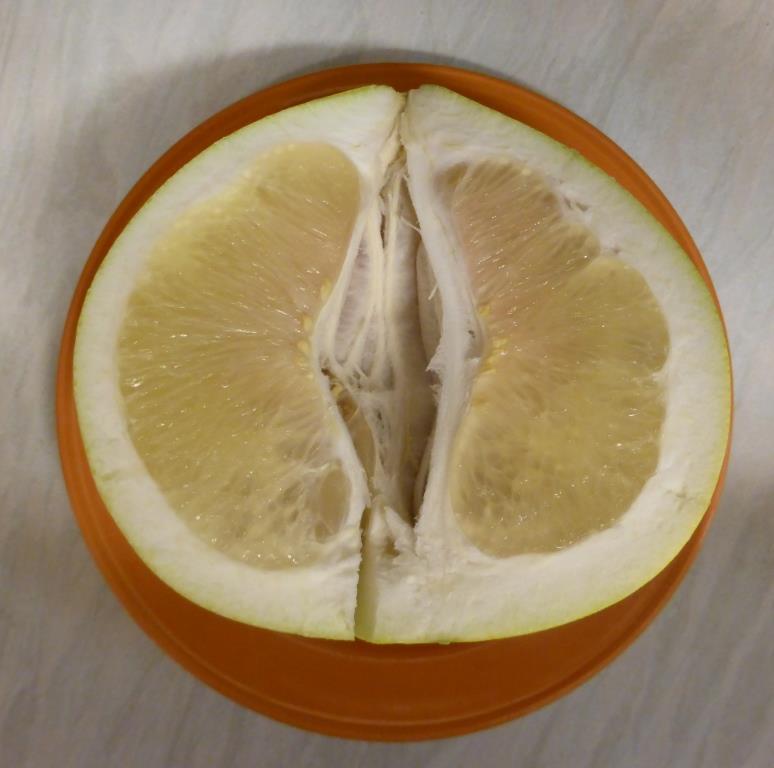 United Kingdom
November 25, 2017 7:42am CST
A lot of the time we parents are teaching our children about the world, introducing them to new foods for example. But now Big One is growing up the tables are starting to turn and she is introducing us to new things. One introduction is the pomelo. I had never come across these before until Big One announced that she would like one, having seen a friend with some as part of her packed lunch. They seem quite tricky to track down, only appearing at certain times of year and so far I haven't quite worked out when that is – sometimes it seems to be early winter (like now) and other times later, around February. The ones in the shops here are imported from China and always come individually shrink-wrapped in plastic and then enclosed in a little net bag, which seems a bit unnecessary for just one fruit. They are bigger than a grapefruit (to which they are related) with much thicker skin, but otherwise look similar both inside and outside; however the flavour is milder and not at all sour. Personally I prefer the zingy sharpness of a grapefruit, but Big One loves them. Have you tried these? Do they grow where you live? Have your children introduced you to new things? All rights reserved. © Text and image copyright Fleur 2017.
10 responses


• Bunbury, Australia
25 Nov
I don't know these. I don't think I've seen them in our shops.


•
25 Nov
Learning, as well as teaching, is not age limited. In Germany, you can buy them in the supermarkets during certain season. I remember that I ate some, but I am not a big friend of it, as there are other kind of fruits I prefer. In Spain, you also can find pomelos, not only in the supermarkets. It's usual to see them growing here. Otherwise, since I have got my children, they showed me plenty of things which I would never have learnt without them. First, the parents teach their children. But, as they grow, there are plenty of things we learn from them. Kids have a nice, often unconscious, way to teach us and to see way of life and particular situations under a new point of view. That's what it makes so interesting having children.


• United Kingdom
25 Nov
Pomegranates were the 'thing' when I was at school too - when they were in season the children who would usually go to the sweet shop in the time while waiting for the bus home, would instead buy a pomegranate and eat the seeds individually, picking them out with a pin they carried stuck in the lapel of their school blazer especially for the purpose. I don't know where you might find a pomelo near you - I am in the UK. Sometimes they are in the supermarkets, but not very often although they seem to be around now. They are more often to be found at corner shops selling Asian foods. I hope you find one!


• United States
25 Nov
I have never tasted or heard of pomelo. Our son does introduce us to new things regarding technology, usually he teaches how to do those new things when we have tried and failed.

• Malaysia
26 Nov
I love pomelo! It's amazing how kids absorb so much from their surroundings and from what they read as well. My little man taught me so many things about science that we had never heard of.


• Aurora, Missouri
2 Dec
Hmmm... your daughter introduced you to some delicious eating, Fleur! We do get them here... normally from the first of January to the middle of February. I like them very well, but Pretty won't eat them. I peel the pomelo, separate the sections, pull the skin (membrane) off each section and eat the fruit pulp. I've found that I can't tell if the ones I select are going to be juicy or really dry. (Either way, they are delicious!) Thank goodness Pretty stopped introducing me to the things she picked up at school! She always brought home every illness any other kid had caught! She rarely got sick, but I almost always got sick! SMH!

• Aurora, Missouri
6 Dec
@Fleura
There were pomelos at the store last night when we were grocery shopping. We bought two of them.

• United Kingdom
6 Dec


• United States
14 Jan
I have seen them, and if I have found them on reduced price racks I would try them. They do not come all wrapped up here, but are sold in bulk, from time to time.