Do You Agree that The Christian Bible Should Be Taught Academically in Public Schools?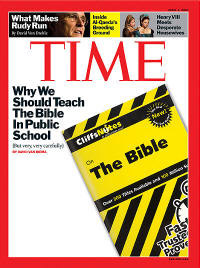 Oklahoma City, Oklahoma
November 25, 2017 3:00pm CST
Scholar Chuck Stetson argues that it should be taught (using the method that 'most of the schools that teach it' use)--not in any regard to "the existence of God"--but rather so that all readers today will know the themes & references most of the writers ever (from ancient papyrus scrawlers to modern bloggers) used. https://youtu.be/cmokz7legAE You Agree?
6 responses


• United States
25 Nov
Only if every other religious tome is taught as well

• Preston, England
26 Nov
it should be taught that some people believe in the Bible and also that many do not - similarly with other religious texts

• Oklahoma City, Oklahoma
27 Nov
Not even that. It should be taught like every other widely distributed and society-influencing piece of writing.

• Preston, England
27 Nov
@mythociate
as history and literature - not as facts but as a perceived belief system, along with The Koran and Upanishads, not forgetting The Flying Spaghetti Monster of course

From Wikipedia, the free encyclopedia Jump to: navigation, search "Pastafari" redirects here. It is not to be confused with Rastafari. Flying Spaghetti Monster Pastafarianism Touched by His Noodly Appendage, a parody of Michelangelo's The Creation of Adam,

• Oklahoma City, Oklahoma
3 Dec
@arthurchappell
and like 'the moon landing'



• United States
25 Nov
That would seem discriminatory to those that have a different point of view. Possibly offensive as well.

• Oklahoma City, Oklahoma
27 Nov
What if it were one topic in a wide subject like "Ancient Writings"?

• United States
1 Dec
@mythociate
well that is a historical topic, not just in the bible. That is taught in most history classes as is.

• Oklahoma City, Oklahoma
3 Dec
@TheDemonicAngel
I don't remember it being taught in any of my public-school history-classes ... of course, they were teaching us
other
mythical stuff like "the genius of Christopher Columbus" and "the freedom-fighting Founding Fathers," etc.
https://www.salon.com/2013/03/13/11_heinous_lies_conservatives_are_teaching_americas_school_children_partner/


• United States
25 Nov
I do not think that this is going to happen.It will backfire

• United States
27 Nov
@mythociate
you have so many people out there against it. Remember we are dealing with the new generation.They are the ones changing the rules etc.No it will not happen. Maybe there not here