MyLotters from INDIA: I need your help with Goddess Kali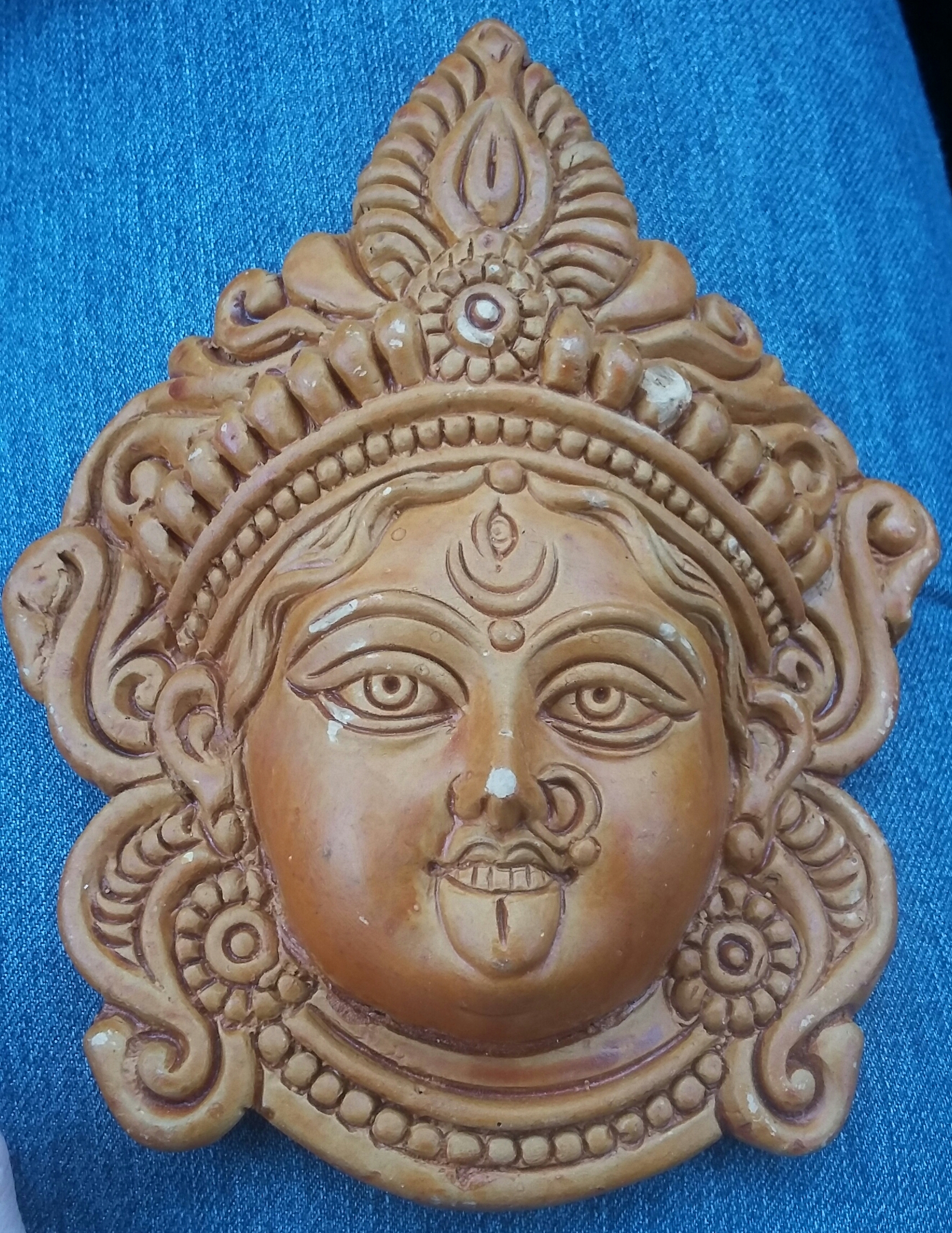 United States
November 25, 2017 4:35pm CST
I know that we have a lot of Indians here on our website. Many of you are Hindu. I'm asking for your help and ideas. I have always been drawn to the goddess Kali. On some level her spirit speaks to me. I know that she is often talked about by some as being mean and angry and horrible. I don't see her as that. I see her as fierce, protective, and a force with which to be reckoned. I believe she can take a lot, but when the line is crossed, you will see her become a formidable Warrior whose purpose is to fight for what is right. Because of all of this, I think she is often misunderstood. This is my sense about her. So, I'd like your thoughts about how I see her as I am not Hindu. I grew up as a Christian, but I no longer practice this religion. I'm spiritual and I borrow from a lot of different traditions. I found this clay goddess Kali for a couple of dollars at one of our thrift stores. I love this depiction of her and I'm curious as to the significance of this art work of her. I've seen many which are different and I'm curious as to which area of India this particular image might come from. I am also drawn to possibly paint her. Rather, to paint this piece. Are there traditional colors that I might use that would be better? I want to give this piece as much respect and love and honor as I possibly can to be true to the spirit of goddess Kali. Thank you, in advance, for any insight, ideas, and thoughts you might share. If you do not know, perhaps you know others to ask. Photo is my own.
9 responses

• Bangalore, India
26 Nov
Kali is the fierce form of Parvati ( Lord Shiva's wife). It is believed that at a point in time, the earth was 'polluted' with evil (demons) and the other God's asked Goddess Parvati to help. However, there was a catch to killing these demons. If even a drop of their blood touched the ground, it would create more demons. So Parvati, being a powerful and able Goddess came up with a solution that required her to kill (collect all their blood in a bowl )and drink the blood of the demons so that it doesn't fall on the earth. This sacrifice that she made is what is said to have saved the earth at one point. Drinking all that demon blood is said to have turned her skin black (kali meaning black). In many depictions she is shown with a neck-less made of of the head of the demons. Her tongue is shown red with their blood. There is a continuing story with this that says that after draining all that evil, she had become a unstoppable force herself and was ultimately stopped ( or more like made to calm down) by her husband, Lord Shiva. Kali is known as the mother who protects. Kali is the power of a women.

• United States
26 Nov
Thank you,
@ms1864
, for your response here. I read about the necklace with the skulls/heads. I did not realize some of the story you told. The colors make sense. So, is Kali always shown with black skin in India? I have seen a lot of artwork where her skin looks blue. I have always felt that Kali is "an unstoppable force"... So in the culture, are Parvati and Kali one in the same? Just different aspects of the same woman?

• Bangalore, India
26 Nov
@CoralLevang
Yes. The skin is black, some believe there was poison in the blood of the the demons, so the show her blue because of it. But yeah, either way, they are the same women. In fact there are quite a handful of godly depictions in Hinduism that are basically other forms of either Shiva or Krishna. ...and their wifes.



• Los Angeles, California
26 Nov
You should get some responses when India comes on myLot late at night our time.

• United States
26 Nov
That's that's what I figured and why I posted it when I did. So it will be there


• United States
26 Nov
Please make sure the Indians that you know get asked this question.

• Pleasant Hill, California
26 Nov


• India
26 Nov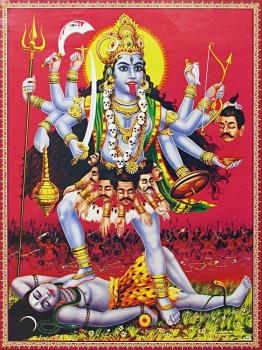 Not a Hindu here but can't live surrounded by Hindus and not learn something of theirs.

Hinduism whose correct name is
Sanatan Dharam
which means
Eternal dharma
. "Sanatana" is a Sanskrit word that denotes that which is Anadi (beginningless), Anantha (endless) and does not cease to be, that which is eternal and everlasting. It's more a way of life than a religion. In Hinduism, they believe in the trinity: Brahma (The Creator), Vishnu (The Preserver) and Shiva (The Destroyer). These three and their incarnations along with their wives and their incarnations are worshipped. They believe that God is everywhere and this is my assumption that since they see God everywhere in everything, over the years (this religion can be traced as far back to 10,000years and still no set date can be found) each aspect of nature such as sun, moon, air, water, fire, earth, etc developed into separate identities as Gods. On navratras, which is a nine days festival, each night is dedicated to one of the nine different Goddess forms. One of them being, Goddess Kali. Also known as Adi Shakti. Manisha has explained about Goddess Kali. When Goddess Kali went out of control hunting the demons and was so lost in her task that she started to destroy everything in her path. So, to calm her down several attempts were made but they soon realized no one could stop her. She was that powerful. So, her husband Lord Shiva (the Destroyer) was asked to do something to calm her. Lord Shiva is generally seen as very calm God unless angered. So, he goes and steps right into her wives path. But Goddess Kali is so lost in anger that she is ravenous for blood. Finally, Lord Shiva lies down in her path so that the next step she takes will fall on Lord Shiva himself. She places her foot on her husband's torso and stops in shock which brings her out of her bloodlust. She is the embodiment of a women's strength. It says that whenever all limits are crossed then the inner power of women shines through. And then there is no stopping her!

• United States
26 Nov
Thank you so very much for this explanation.

• India
26 Nov
@Daljinder
great explanation! Goddess Kali has other forms as Durga Mata, Parvati Mata. She is also called as Shera Wali Mata(sitting on Lio- Sher for Lion). Even Laxmi Mata is basically a form of the divine female Shakti(Power). During Navratras, people decorate Goddess Parvati or other forms with sarees, Lehengas, dupattas of multiple colors, but Red, Yellow, Orange, Blue seem to be the dominant colors, and so is Golden color.

• United States
26 Nov
I am enjoying reading the responses to this discussion.

• United States
26 Nov
As am I! As am I! Fascinating indeed!

• India
26 Nov
@CoralLevang
Hindu Mythology is full of fascinating - powerful as well as meaningful stories, perhaps rivaled only by Greek mythology to some extent. And nowhere in Hindu Mythology would you see any term Hindu- since basically Hinduism is a religion just for technicalities, but its a vast concept. An atheist can be Hindu. A regular priest can be Hindu. A person who prays just once per month can be so, and so can be a daily worshipper. But all follow certain principles of Dharma(religion), value for life(Humans and animals), and basic respect and tolerance for others' views. Some view such traits as our weakness, but these are our strengths. Unfortunately, people are losing many of these traits, and falling into immoral practices and forgetting respect of others' and tolerance of others' views.

• India
26 Nov
@CoralLevang
Thanks and well I like good things from various religions. I read a concise Bible too when I was in my teens and do recall the good lessons from the various stories in Old and New testament. I believe that all Good religious and Philosophical books teach us to be good. Those who preach hatred are not religious at all!


• Mangalore, India
26 Nov
Goddess Parvatis story is fascinating because of her inner strength and determination and supposedly great beauty . It is because she has so many different facets to her personality that she has been attributed with many different names. There is a very beautiful,calm and romantic side to her when Parvati, a princess born to Himatvant who rules in the Himalayas, sees Shiva and is attracted to Shiva , who is the symbol of manhood and very attractive , lost in his own world filled with spirits and demons that follow him , perpetually doing penance , mediation , yoga, wandering in wilderness ..when she realizes that he hardly looks at her or is here of her presence , she takes it up as a challenge to win him over and she does . Shiva is so mesmerized by her beauty and personality , that he forgets everything else . So the other God's led by Brahma and Vishnu take on the task of bringing them together or else there would be calamity because evil is thriving without Shiva's attention. Understandably there are many difficulties that has to be overcome by the couple to before they unite. Even after they get married and settle down in the Kailash mountain in the Himalayas which is the abode of Shiva, Parvati continues to be independent and often dominating and Shiva has his hands full. So she is a true companion , as powerful as Shiva and called Shakti. Later as Manisha explained she helps Shiva in destroying evil from the earth . Together they are the most powerful couple , worshipped and looked up by all Hindus.

• United States
26 Nov
Thank thank you so much! I love how you've told this story

• Philippines
26 Nov
Lovely piece you got there Coral. Looking forward to seeing the painting. Love the responses that you got. this is the myLot community delivering again.

• Eugene, Oregon
26 Nov
Very interesting and I hope you get some informative responses.

•
29 Nov
@DaddyEvil
Thank you for tagging me here. There could be many reason behind it. Seeing her in dreams is a good thing and might be she wants to fulfill some of the tasks through you. Or may be you are reading/watching movie about them that might be the case of seeing her in your dreams. Though I am kinda confused after reading comments here. This is what I heard, Durga devi was sent to kill the demon, But demon had a special power if with every drop of blood which falls on ground they can reborn with it. So after seeing this Kali was called and asked to kill them but with that she has to drink all their blood. Since the blood was poisonous that caused her skin color to turn blue. It's all about beliefs so you will see different story and different points depending on the reference they used to read about it. Reading about devi/devtas is always interesting but different references have bit different stories.

• United States
29 Nov
I was very happy to tag you here, Raja. (grinning at you!) If different reference books give different stories, you should write one that supersedes all other reference books so everyone had the "right" story from the beginning! (You might even find someone who would pay you to do that, you know!




)