I love To Bake On Christmas How Will I Fight Temptations?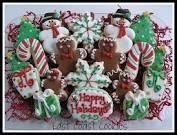 United States
6 responses

• United States
26 Nov
I think I will give myself a pass on Christmas -- though I will try to not go too crazy the rest of the season

• United States
27 Nov
I will try harder this year not to bake too many cookies this year!


• United States
27 Nov
I love to cook but when I bake sweets I have to eat them:(

• United States
26 Nov
I also love baking! I have started by the beginning of November as I know we will be celebrating Christmas vacationing in Florida so I will not have my kitchen with me to bake. I am trying to get the baking itch out of my system this early, if you will. When my fiancé's brother stayed over here 3 weeks ago, I baked a spiced cake. Then I also made my brownies and sugar cookies. For our Thanksgiving dinner I baked and brought Bourbon Pecan Pie Bars at my fiancé's niece's place. Then last night I made cheesecake bites and my pan de sal or Philippine rolls. I know it sounds a lot of baking but I don't think I am done yet, haha! I also have troubles fighting temptations, let me know if you manage to find a fool-proof solution to fight it!


• Australia
26 Nov
You don't.


Enjoy the holidays.

• Portugal
26 Nov
That is a problem in my place too, but I think this year due to some health problems of a relative Christmas won't be the same.

• United States
26 Nov
Not us we don't normally cook for that day other than regular meals.