You learn something new every day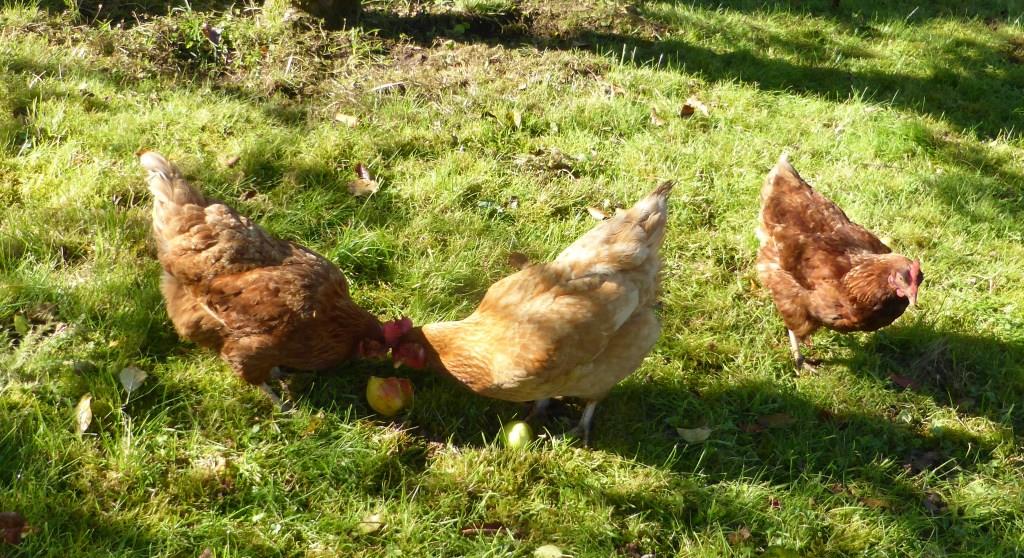 United Kingdom
November 27, 2017 3:17am CST
When you think about what chickens eat (if you have ever even given it a thought) you probably think of corn, or perhaps worms. But like us, chickens like a bit of variety. Mostly they eat commercially-produced pelleted chicken food which is designed to provide a nutritionally-balanced diet and meet all their needs, but if they get a chance to have something a bit different they literally jump at it. Yes they like corn, and they eat a surprising amount of grass too. Some of them like worms or other creepy-crawlies like woodlice, slugs or flies and they love bread, bacon and milk products like yogurt. They also like fruit, and even though I've kept chickens on and off for several years I didn't know this and never thought to offer them any, until chance happened to bring some fruit their way and they gobbled it up! I now know that they love grapes as well as apples and pears; I didn't have any trouble clearing up the windfall fruit in our new garden! All rights reserved. © Text and image copyright Fleur 2017.
9 responses

• Switzerland
27 Nov
My grandmother had chicken and hens and I know she gave them bread, fruits, corn, they can eat almost everything. Milk should not given to laying hens, they lay less eggs. Fat must also be contained, fat chicken and hens have difficulties breathing.

• Switzerland
28 Nov
@Fleura
It's the fat in milk that is not good and there is not enough calcium in milk for the hens. You need to buy crushed oyster shells if they need calcium, or to crush the shells of the eggs you use. They are the best source of calcium with no fat at all.





•
16 Mar
You are right I learned something new today about chickens. Thanks. I have learned a lot of new things here I did not know on My Lot. Thank you and others for educating me on things I did not know.

•
16 Mar
@Fleura
Fleur, it interesting for me to read and learn about things I did not know.



• Bunbury, Australia
28 Nov
In the poultry world, geese in particular eat a lot of grass. And yes, chickens eat just about anything.


• United Kingdom
27 Nov
Well I wouldn't be at all surprised, they certainly eat meat and how would they recognise cooked chicken for what it is - after all there are stories of people unknowingly eating their relatives etc. But after one of many food scares - I think it was the one about scrapie in sheep - it is now banned to feed animals food made from the same species. Really, for herbivorous animals like sheep, it should never have been allowed in the first place, but the feed manufacturers just go for the cheapest ingredients of course.