To be Good is not easy to do?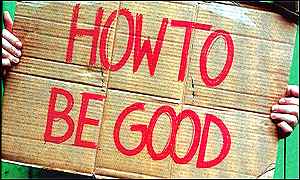 Philippines
6 responses


• Philippines
27 Nov
No I beg to disagree Evil is nothing compared to God

• Switzerland
27 Nov
@ebanreb
You surely know that Satan was the most powerful of all the Angels of God. He desired to be God and rule the universe and he was chased out of the heaven as a fallen angel. He is powerful and he is the one to create evil things.

•
27 Nov
Because the world is cruel and some people get satisfaction from doing the wrong things

• Philippines
27 Nov
Yeah nowadays evil are everywhere

• United States
27 Nov
Don't get me to lie. I have no idea but I tell you each day that I do good brings me happiness. so I will always look for that.

• United States
30 Nov
I always try to treat people with kindness! Very wise words.

• Philippines
30 Nov
That is right treating them in a nice word will reflect how good a person is. Learn to treat people because in the end you will also be treated the way you treat others. Thank you for the kind words my friend.

• Canada
27 Nov
I think it all depends on what we want to do. Since I want to do good then in day I will do a lot more good than bad. God has made a way to get forgiveness for the few things that we might do that are bad in a day. Each day, we start anew. What will we want to do today?

• Jacksonville, Florida
27 Nov
God doesn't expect us to do good. He knows how imperfect we are. I think He is pleased when we are honest about our struggles and lean on Him for guidance and strength.