Starting Yule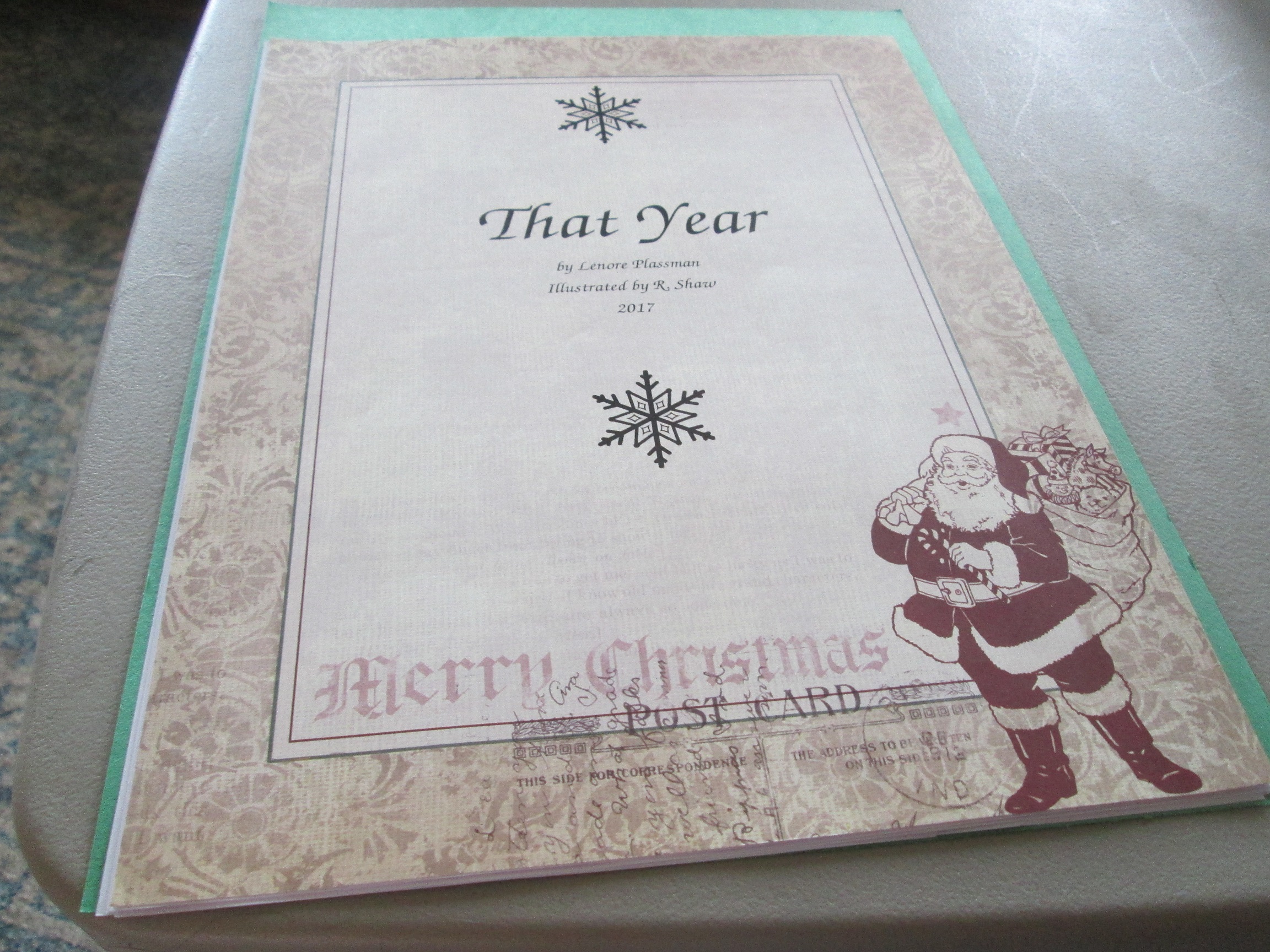 Moses Lake, Washington
November 29, 2017 12:10pm CST
I need to take my mind off this morning's commute. We had a whole lot of rain yesterday. This morning we had below freezing temps. You got it. I drove a 12 mile long skating rink , got to the highway where it was nicer and got hubby to work, only a little late, considering. Oh my shattered nerves. One driver honked at me. Guess what? I got above 20 miles an hour and it felt like me and the ditch were about to have a conversation. No way. Keep honking. I am doing what I am doing. And I did. The photo shows the cover of this year's Christmas Tale. I will snip the green construction paper that is the back. I will snip it to size. First I need to get all the pages in order- there will be thirty books in total when I am done. The Staples clerk did not put them in order this year. Plenty of work to get my mind off my scary morning commute. The temps are going above freezing so tonight's commute won't be near so awful. On to figuring out what pages go where. I wish daughter would number them.
7 responses

• Daytona Beach, Florida
29 Nov
Glad you made it home safe. What is this Christmas Tale all about?

• Moses Lake, Washington
29 Nov
@RasmaSandra
Every year I write a short story. Different from the year before, hopefully. This one is about a small town family. Sentimental but its Christmas. The family is poor. The Mom takes the toddler to see Santa; the feel, the snow, the cold. Later in the story a lady shows up at their door, a stranger that has been hurt and needs shelter. They let her into their little house. Next morning the adults discover that the little kid has gotten the door open and is out in the cold- they run out, trying to find her. Their cat is out there meow-yowling cause he knows where the kid is and has been doing his best to keep the child warm. Just a Christmas story.

• Daytona Beach, Florida
29 Nov
@sallypup
that sounds like a wonderful and heartwarming Christmas story.

• Bunbury, Australia
30 Nov
That sounds a really awful drive. No way I'd want to be doing that.

• Moses Lake, Washington
30 Nov
@JudyEv
I agree with you totally. This is just the start of winter.

• Bunbury, Australia
30 Nov
@sallypup
I don't suppose your husband can ski to work or something?


• Moses Lake, Washington
30 Nov
@JudyEv
Thanks for the laugh. He has reminded me that I HAD to have this little acreage and I am the person who talked him into this so now I pay.


• Genova, Italy
29 Nov
What is your intention? Fill this cover by pictures? You should be able to do an excellent job!

Talking about weather, even here in italy, the cold, begins to "hit!" However, the temperature here is definitely higher. Today, the outside pharmacy thermometer near my home, marked 6 °C. An advice: Ignore rude drivers who honked you!

• Moses Lake, Washington
29 Nov
@alberello75
Thank you for your support. There is a story behind the cover that I showed you in the photograph. A little book.

• Genova, Italy
30 Nov
@sallypup
If I understood well, it would be an album of memories of the past year. True?

• Moses Lake, Washington
30 Nov
@alberello75
No. Its not a family album. It is a piece of fiction. There is a start- in this case, a small family that has little money. They live in a small town. There is the middle part about what happens to them at Christmas time. Then there is the end where the little girl in the family gets herself into trouble and how she is okay in the end. Other years I have written other stories.


• United States
30 Nov
Oh I hate driving on icy roads. We had a hairy drive not to long ago. It rained and turned to snow, then froze. The road crews kept the road clear on the main route to town. Once I got to town it was a luge run. The vehicles were skidding all over the place. I did notice that there was salt on the roads when I left my first client to go to the next. Took the idiots long enough to realize that it was necessary to lay down some salt.

• Moses Lake, Washington
30 Nov
@ElusiveButterfly
. I feel your pain. That kind of driving just shatters the nerves. I went to get the studded tires on today. The shop is closed until tomorrow cause the owner is out for a doc appointment. Dang. Might snow/rain today so tomorrow morning's commute could be ugly- it will be frozen for sure when I head out.

• United States
3 Dec
@sallypup
there are places here where drivers use chains. They are mostly for the big trucks though travel over the mountain. It gets treacherous to drive those roads when we get a heavy snowfall.

• Moses Lake, Washington
3 Dec
@ElusiveButterfly
It sounds like you live near mountains. About two hours to the west of me is the Cascade mountain range. Big semi trucks are allowed to use chains there and sometimes I believe regular cars do, too- I stop driving that way after October cause of the danger.


• United States
29 Nov
You sure had a scary ride. Drivers honk at me when I am driving to slowly during a darn blizzard. Like you, I let them honk. You do have a large task in getting the Christmas Tale in order.

• Moses Lake, Washington
29 Nov
A store clerk told me that he had seen semis flipped on his longer drive this morning. You bet I continued to drive slow-
@Corbin
I am glad you are sensible, too.

• United States
29 Nov
@sallypup
I cannot believe people speed past me due to their impatience, but that do. I am so relieved, too, that you drive sensibly.

• Moses Lake, Washington
29 Nov
@Corbin5
When its ugly on the roads, my car starts to act funny- not sure how to describe it- like its not acting right and I suppose that's cause its trying to get a grip on the road's surface. When I slow way down I feel that sensation less.


• United States
29 Nov
My nerves would have been completely shattered by that drive. I hate ice.

• Moses Lake, Washington
29 Nov
@BelleStarr
You are my twin sister for sure. More is coming up. Maybe day after tomorrow though I promise you I will have the studded tires on my car by then. I hope that helps me.

• United States
1 Dec
@sallypup
We never used to be able to use studded tires in Connecticut but the law has changed.

• Moses Lake, Washington
1 Dec
@BelleStarr
Studded tires tear up the roads. I never used them when I lived in another part of my state. Here I am delighted for the option though it costs me extra money.

• Tucson, Arizona
29 Nov
make sure you keep the freezing ,rainy weather up in Washington, i like our weather

• Moses Lake, Washington
29 Nov
@hostessman
I bet you do. My daughter showed me one totally awful photo of her getting caught in a monsoon mess. Oh not what a Mom needed to see. A fireman hauled her out of her car before she got washed away.