Daily Bible Study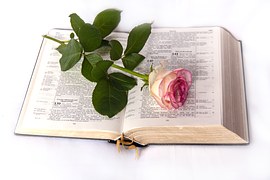 Green Bay, Wisconsin
November 30, 2017 3:30am CST
Day 41 Jeremiah 42-43 42:1 Then all the captains of the forces, and Johanan the son of Kareah, and Jezaniah the son of Hoshaiah, and all the people from the least even unto the greatest, came near, 2 And said unto Jeremiah the prophet, Let, we beseech thee, our supplication be accepted before thee, and pray for us unto the LORD thy God, even for all this remnant; (for we are left but a few of many, as thine eyes do behold us:) 3 That the LORD thy God may show us the way wherein we may walk, and the thing that we may do. 4 Then Jeremiah the prophet said unto them, I have heard you; behold, I will pray unto the LORD your God according to your words; and it shall come to pass, that whatsoever thing the LORD shall answer you, I will declare it unto you; I will keep nothing back from you. 5 Then they said to Jeremiah, The LORD be a true and faithful witness between us, if we do not even according to all things for the which the LORD thy God shall send thee to us. 6 Whether it be good, or whether it be evil, we will obey the voice of the LORD our God, to whom we send thee; that it may be well with us, when we obey the voice of the LORD our God. 7 And it came to pass after ten days, that the word of the LORD came unto Jeremiah. 8 Then called he Johanan the son of Kareah, and all the captains of the forces which were with him, and all the people from the least even to the greatest, 9 And said unto them, Thus says the LORD, the God of Israel, unto whom ye sent me to present your supplication before him; 10 If ye will still abide in this land, then will I build you, and not pull you down, and I will plant you, and not pluck you up: for I repent me of the evil that I have done unto you. 11 Be not afraid of the king of Babylon, of whom ye are afraid; be not afraid of him, says the LORD: for I am with you to save you, and to deliver you from his hand. 12 And I will show mercies unto you, that he may have mercy upon you, and cause you to return to your own land. 13 But if ye say, We will not dwell in this land, neither obey the voice of the LORD your God, 14 Saying, No; but we will go into the land of Egypt, where we shall see no war, nor hear the sound of the trumpet, nor have hunger of bread; and there will we dwell: 15 And now therefore hear the word of the LORD, ye remnant of Judah; Thus says the LORD of hosts, the God of Israel; If ye wholly set your faces to enter into Egypt, and go to sojourn there; 16 Then it shall come to pass, that the sword, which ye feared, shall overtake you there in the land of Egypt, and the famine, whereof ye were afraid, shall follow close after you there in Egypt; and there ye shall die. 17 So shall it be with all the men that set their faces to go into Egypt to sojourn there; they shall die by the sword, by the famine, and by the pestilence: and none of them shall remain or escape from the evil that I will bring upon them. 18 For thus says the LORD of hosts, the God of Israel; As mine anger and my fury hath been poured forth upon the inhabitants of Jerusalem; so shall my fury be poured forth upon you, when ye shall enter into Egypt: and ye shall be an execration, and an astonishment, and a curse, and a reproach; and ye shall see this place no more. 19 The LORD hath said concerning you, O ye remnant of Judah; Go ye not into Egypt: know certainly that I have admonished you this day. 20 For ye dissembled in your hearts, when ye sent me unto the LORD your God, saying, Pray for us unto the LORD our God; and according unto all that the LORD our God shall say, so declare unto us, and we will do it. 21 And now I have this day declared it to you; but ye have not obeyed the voice of the LORD your God, nor anything for the which he hath sent me unto you. 22 Now therefore know certainly that ye shall die by the sword, by the famine, and by the pestilence, in the place whither ye desire to go and to sojourn. 43:1 And it came to pass, that when Jeremiah had made an end of speaking unto all the people all the words of the LORD their God, for which the LORD their God had sent him to them, even all these words, 2 Then spoke Azariah the son of Hoshaiah, and Johanan the son of Kareah, and all the proud men, saying unto Jeremiah, Thou speak falsely: the LORD our God hath not sent thee to say, Go not into Egypt to sojourn there: 3 But Baruch the son of Neriah sets thee on against us, for to deliver us into the hand of the Chaldeans, that they might put us to death, and carry us away captives into Babylon. 4 So Johanan the son of Kareah, and all the captains of the forces, and all the people, obeyed not the voice of the LORD, to dwell in the land of Judah. 5 But Johanan the son of Kareah, and all the captains of the forces, took all the remnant of Judah, that were returned from all nations, whither they had been driven, to dwell in the land of Judah; 6 Even men, and women, and children, and the king's daughters, and every person that Nebuzaradan the captain of the guard had left with Gedaliah the son of Ahikam the son of Shaphan, and Jeremiah the prophet, and Baruch the son of Neriah. 7 So they came into the land of Egypt: for they obeyed not the voice of the LORD: thus came they even to Tahpanhes. 8 Then came the word of the LORD unto Jeremiah in Tahpanhes, saying, 9 Take great stones in thine hand, and hide them in the clay in the brickkiln, which is at the entry of Pharaoh's house in Tahpanhes, in the sight of the men of Judah; 10 And say unto them, Thus says the LORD of hosts, the God of Israel; Behold, I will send and take Nebuchadrezzar the king of Babylon, my servant, and will set his throne upon these stones that I have hid; and he shall spread his royal pavilion over them. 11 And when he comes, he shall smite the land of Egypt, and deliver such as are for death to death; and such as are for captivity to captivity; and such as are for the sword to the sword. 12 And I will kindle a fire in the houses of the gods of Egypt; and he shall burn them, and carry them away captives: and he shall array himself with the land of Egypt, as a shepherd puts on his garment; and he shall go forth from thence in peace. 13 He shall break also the images of Bethshemesh, that is in the land of Egypt; and the houses of the gods of the Egyptians shall he burn with fire. Many years ago, slogans started appearing – Just do it, Make it your way – we got to the point where we believed we deserved better than we got. It got to be known as the entitlement philosophy. People would make demands and expect those in authority to carry them out. The remnant of Judah went to Jeremiah to ask him to appeal to God for them, and promised they would do whatever God told them. However, when God did reply to Jeremiah – in his timing, not Judah's – God told Jeremiah to tell the people they were to go to Babylon and be safe, and not to go to Egypt where they would suffer death, starvation, and disease. They didn't listen to Jeremiah. They had already made up their minds to go to Egypt, and didn't believe God would not be with them there. From the day Moses led the children of Israel out of Egypt to that day, God never once told them to go back to Egypt. He had told Moses, they would not see Egypt or slavery again. God's desire for his people was to save them, not bring them any harm. Yet, the people of Judah didn't listen, and they left Judah and went to Egypt, taking Jeremiah with them. As Christians, you also have at times told God what you want him to do. Your prayers were more demands, instead of asking God for what he wanted for you. When problems rose in your life, you told God how to fix those problems, instead of laying the problem at his feet and asking him to fix it his way, in his time, and by his mighty power, which is greater than yours is. Consider your children. As they start out in life, they have ideas of how to do things, and tell you they can do it, not wanting your help. Even though you want to help them, knowing they will not accomplish their desire doing it their way. We are children in God's eyes. We don't know how to make things right, and often we make things worse before we hand our problems over to God to fix them for us. It is only when our situation looks hopeless that we turn to God for his answers. Our problem lays in trusting what God says, and allowing him to fix it. It is only when we take our hands off our problems completely, and put our trust in God to take care of the problem and us, that God will fix the problem. Judah wasn't willing to let God solve their problems. They didn't trust God to do what was right for them. So, they took the problem they asked Jeremiah to talk to God about, back into their hands and did what they wanted. They went to Egypt. Egypt represented slavery, hardship, and bondage. Judah would rather put their lives back in Egypt's hands and suffer what they were familiar with, than to take the risk of allowing God to keep them safe. It's time we started putting our problems in God's hands, and allowing him to fix them his way, and not take our problems back before he has had a chance to fix them for us. We need to trust, and have the faith we claim we have, and let God be God in our lives. Let's pray: Father, you know what is best for me. You know the problems facing me, and you know how to fix them. Take them, Lord, and help me trust you to do what is best for me. In Jesus' name, I pray, amen. Copyright © 30 November 2017 by Valerie Routhieaux Image courtesy of Pixabay
4 responses


• Green Bay, Wisconsin
30 Nov
Yes, they did, and see how long it took him to send them into captivity in Babylon and Assyria. Many judges, and many kings later, along with several prophets trying to convince the people to turn back to God, but they wouldn't until God sent them into captivity. It's interesting to note, they haven't strayed since they returned from captivity. They got the message. God wasn't going to tolerate their sin.

• United States
1 Dec
So true! I tend to be a little impatient at times. I try not to be, but it is something I keep trying to work on. Thankfully, I still have faith in God but also want to try and help too!

• Green Bay, Wisconsin
1 Dec
It's when we try to help God, that things can get a bit out of control.

• United States
1 Dec
@just4him
I know. its hard to sit back and do nothing :(

• Green Bay, Wisconsin
1 Dec
@Daelii
Yes, it is, but when you do, the rewards help you let God handle it in the future.

• London, England
3 Feb
Father, you know what is best for me. You know the problems facing me, and you know how to fix them. Take them, Lord, and help me trust you to do what is best for me. In Jesus' name, I pray, amen.

• Green Bay, Wisconsin
4 Feb

• Philippines
30 Nov
3rd verse of the 42nd chapter of the book of Jeremiah reminds me of the greatest trial of Abraham when his fauth is being test by God who requires him to offer his only son, Isaac. His faith doesn't falter. God knows his willingness by offering Isaac for a sacrifice. Therefore, God provides a ram to be offered instead of Abraham's son.

• Green Bay, Wisconsin
30 Nov
Yes, I can see that. God provides everything we need.