Now You Can Have Your Tweets Double-Sized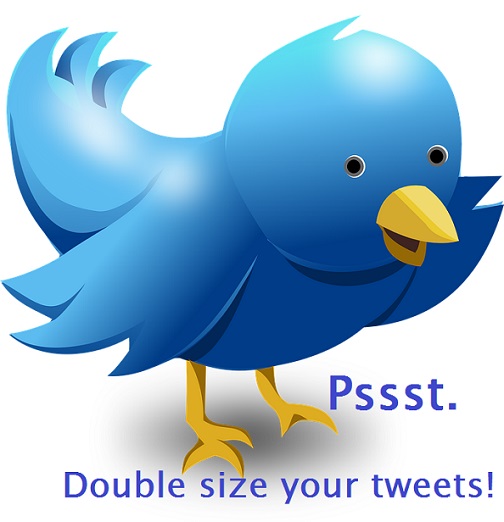 Austin, Texas
November 30, 2017 4:01pm CST
When I first started tweeting, I took up the challenge to really hone my writing skills in order to be able to compose attention-grabbing tweets using only 140 characters. I released my inner Shakespeare.

(Actually, it wasn't really that hard. I just pretended I was talking to one of my kids. Gotta say what you have to say as quick as you can, with as few words as possible, and be as persuasive as possible.

) Anyway, tweets can now be Double-Sized.
You can now compose tweets with up to 280 characters.
Have to say "up to" because some people didn't mind the 140 characters and have not changed their tweeting style. I thought I wasn't going to like it. I thought the tweets were going to come out too long and people wouldn't want to read them. But tweets with 280 characters don't really look that different from the ones with 140 characters. It was easy to adapt!
What do you think about the Double-Sized Tweets?

Twitter's expansion to 280 characters is rolling out publicly today to all users in supported languages, including English. The company had first..
4 responses

• Switzerland
1 Dec 17
The announcement was made three weeks ago, the last November 7. I agree with
@toniganzon
, it defeats the purpose of how Twitter was created. I think it had to stay as it was.

• Austin, Texas
1 Dec 17
I don't know if it was a rumor but a while back I remember reading that the plan was to increase the characters to 10,000. Ten Thousand??!! I'm sure glad they didn't do that!!

• Switzerland
2 Dec 17

• Bunbury, Australia
30 Nov 17
I'm not on Twitter but I always liked writing flash fiction so tweeting would probably suit me.

• Austin, Texas
1 Dec 17
My kids like flash fiction and fan fiction.

• Philippines
1 Dec 17
I think the update was two or three weeks ago. I think it defeated the purpose of how twitter was originally made. Twitter was loved by many because of its unique microblogging feature and now it's gone. I haven't tweeted that long yet. I'm still not used to that. I still use twitter of how it was before.

• Austin, Texas
1 Dec 17
Only a few of my tweets so far are the double-sized. I wanted to see what it looked like. It does provide some extra space for hashtags. That's how people find your content on Twitter anyway. Although I've been told that the rule for hashtagging is 5 hashtags per tweet. I can probably follow that rule now because of the extra 140 characters. It was very hard to do it before.

• Philippines
1 Dec 17
@cmoneyspinner
I usually tweet just a few words and I rarely use hashtags. My twitter account is private anyway.

• Austin, Texas
1 Dec 17
@toniganzon
- My accounts are public and I use them for home business purposes.

• Malaysia
6 Dec 17
I used to see the low character limit as something that differentiates Twitter from other social media pages. I wonder what led them to expand the limit.

• Austin, Texas
6 Dec 17
Not sure but Twitter has been trying to earn more profits and perhaps it is something that even paying tweeters requested so they gave them what they asked for. Really! Doubling the characters has not made that big of a difference in my tweets.