Slave trade in Africa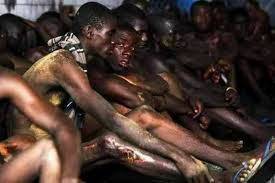 December 1, 2017 2:52am CST
Have you guys heard about the ongoing slave trade in Libya? People has been used as slaves in Libya and nobody is saying or doing anything about it. Some leaders are condemning videos that appears to show people being "sold like goats" in Libya, where thousands of desperate migrants are trapped and at the mercy of their human traffickers. This victims need help,they are dying,their family need them. Our leaders need to do something to stop this wicked act, I cried when i saw the video, Why are humans so heatless?
7 responses

• Delhi, India
1 Dec
If it is so, it

is a sorry state of affairs.

• Hyderabad, India
1 Dec
Have you heard about Boko harem This is what happening there also.It is the Human Rights Commission which should make a track of such happenings and take appropriate steps. It's very existence is becoming a big question now.

•
1 Dec
Human right commission you say? As if they care,they dont care about their citizens here.

• Hyderabad, India
2 Dec
@Fejibaby
In your opinion who are responsible for this dirty trade? What for is the International Human Rights Commission?


•
1 Dec
i`ve seen this in facebook, this is so inhuman!


• Chile
20 Jan
It is more than a shame. Is there a place where we all can sign as I sign at Greenpeace.