Everyone is busy around here and so is Preiti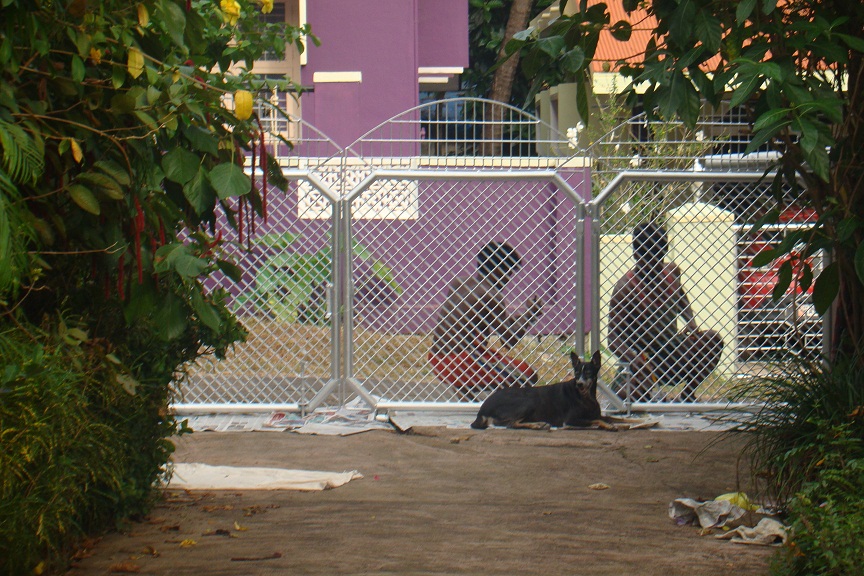 India
10 responses

• Bunbury, Australia
2 Dec
Preiti is really interested in what they are doing it seems.

• India
2 Dec
She is famous for doing this. You will always see her with workers.

• Bunbury, Australia
2 Dec
@allknowing
I guess it is a diversion in her day too - someone new to 'talk' to.

• India
2 Dec
@JudyEv
She is a people's person. Loves guests and wants to be a part sitting with us.

• Moses Lake, Washington
2 Dec
I like that purple wall. Pretty pup. Over here I see two dogs snoring on the couch. I'm sure there is a Siamese on my bed, another kitty in a window seat and not sure where the last kitty is.

• India
2 Dec
That wall belongs to my neighbours and their house is all purple - not many like it here (lol)Snoring is their legitimate right (lol)

• Genova, Italy
2 Dec
A guard dog, against nothing doing!

•
3 Dec
My guess is, the kitten is sleeping. It was very busy before playing with me, then later, convincing me that it was my duty to play with it 24/24. (My life would be practically over if I listen to that naughty kitten.)

• India
3 Dec
You will miss her demands if they do not exist (lol)

•
3 Dec
@allknowing
I happen to be a slave to others here, the kitten is just one of my masters and mistresses.


• India
3 Dec
@YrNemo
Out with it. What are the others?



• Hyderabad, India
2 Dec
I always let it free to keep a watch on the people during nights.People are quite scared to approach my gate even.

• India
2 Dec
What about during day time. Hope your dog is not kept on a leash

• Malaysia
2 Dec
didn't your doggie bark at them all day?

• India
2 Dec
Preiti only barks at strangers.

• United States
2 Dec
Preiti is doing a great job of making sure the workers are doing a fine job of painting!!!

• India
2 Dec
She loves company. Once I accept anyone then she will be with them.

• India
2 Dec
That's expecting too much. Don't you think? (lol)