GUM ... Not the chewing kind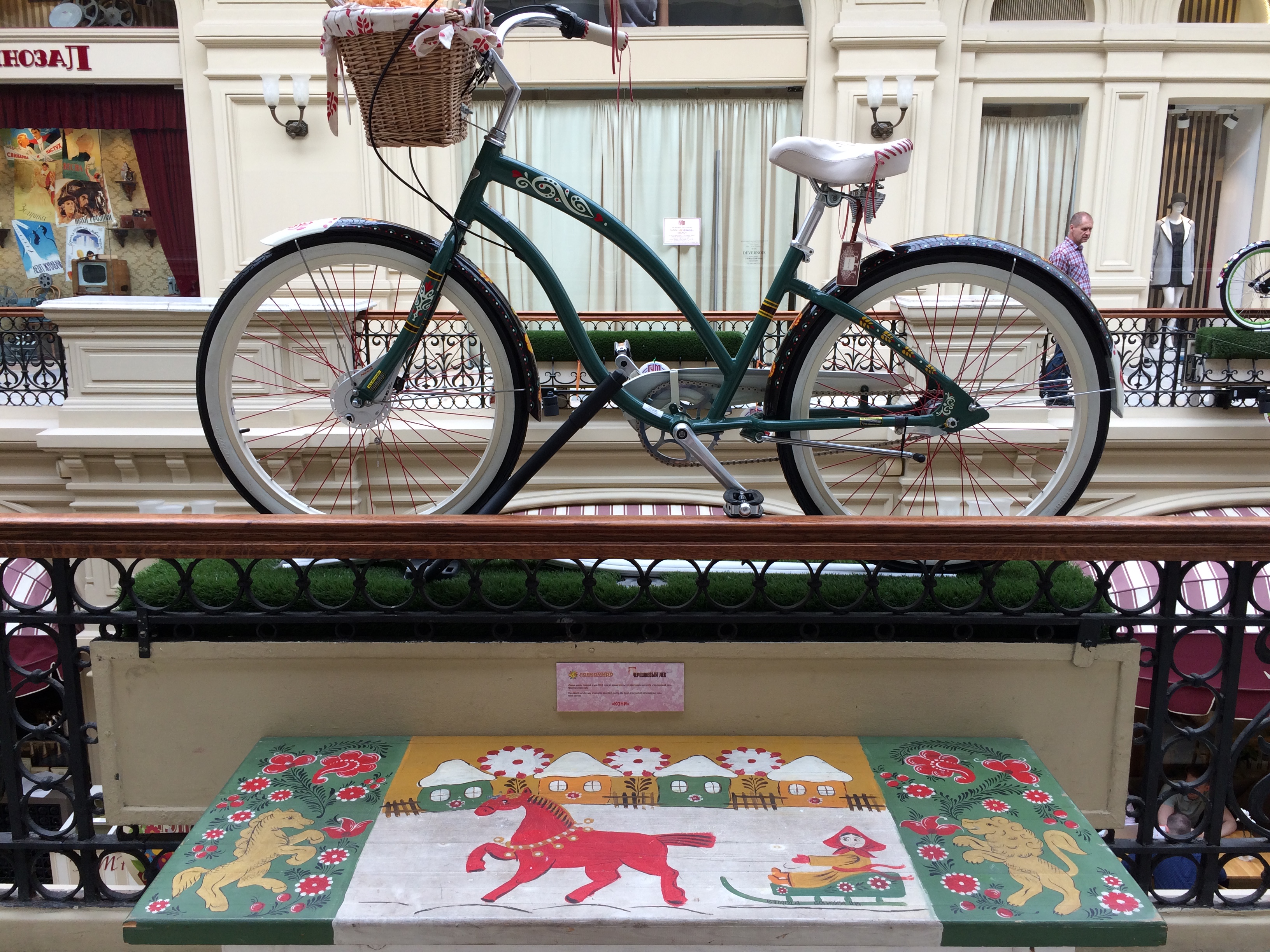 Derby, England
December 3, 2017 7:03am CST
This is a huge and very expensive department store in Moscow. It is right on Red Square. Inside once you get passed security you will see many small shops from all the poshest fashion brands. The place is on three levels and our first visit was to use the toilets which we had to pay several rubles to make use of but they were clean and worth paying for. We didn't buy anything at all except for food in two different restaurants within the complex. The food was Russian and as it was a buffet we could choose to try a few different small dishes and at reasonable prices. At night the entire place was lit up on the outside and looked stunning. Sadly St Basil's Cathedral was not lit when we were there at there was a big night time event which they had flood lights for instead. Inside the building we enjoyed taking photos of the painted tables and colourful bicycles that decorated the place. This shop is a Russian institution but I do wonder what it was like at the height of Communism when ordinary Russians struggled to even buy basic food.
10 responses

• Denmark
3 Dec
I visited Moscow and (then) Leningrad with pupils learning Russian three times when the Soviet Union still existed. GUM was something special even then. Because of the tourists from abroad, it was always well stocked. But there were definitely no luxury shops from capitalist countries! Outside Moscow, the situation was drab, of course. I remember going in once and seeing a long queue of people. People always queued, sometimes they didn't know what for. But it was always a good investment to buy something there which couldn't be got anywhere else and then sell it again for a higher price. Anyways, the queue I noticed was for a foldable umbrella. When were you there?

• Derby, England
3 Dec
@MALUSE
We went this last August. I was actually very favourably impressed as I was expecting drab and gloomy but the architecture was fabulous and it was really interesting to walk around and explore all within the Red square and nearby areas

• Denmark
3 Dec
@catsholiday
If you want to see drab housing estates, you have to go to the suburbs. Moscow is a very large city. As everywhere, you see only the 'chocolate side' if you stay in the centre.

• Derby, England
3 Dec
@MALUSE
That is very true we did realise we wee only seeing the tourist stuff. We did pass through some drab areas in the bus. Our guide kind of hinted t that without being controversial. I think they still have to tow the party line and not say anything negative to tourists!!


• Derby, England
3 Dec
@sharon6345
It was a great trip we just visited Moscow and St Petersburg and both were fascinating.

• United States
3 Dec


• Derby, England
3 Dec
@tzwrites
A great place to people watch and window shop only but not too buy anything unless you are very rich.

• United States
3 Dec
That store was quite an experience for you!!! I would enjoyed spending some time in that store.


• Derby, England
3 Dec
@arthurchappell
It was a very interesting place and the architecture as beautiful.

• Preston, England
3 Dec

• United States
4 Dec
You make it come alive, really nice.

• Derby, England
4 Dec

• Derby, England
3 Dec
@Mpimba
I would love to visit the Virgin islands so you are lucky to live there. Russia was interesting but I won't be going back as the visa application process was ridiculously complicated and expensive

• Malaysia
8 Dec
That's a very unique decoration. I've seen many places use umbrellas as decoration but not bicycles. I wonder why they chose bicycles though. Very interesting!

• Bunbury, Australia
4 Dec
That would have been a very interesting visit.

• Philippines
4 Dec
I like trying small dishes in a buffett that way I can eat all the food I want. Thanks for the virtual tour.