slurp is good in Japan but not in U.S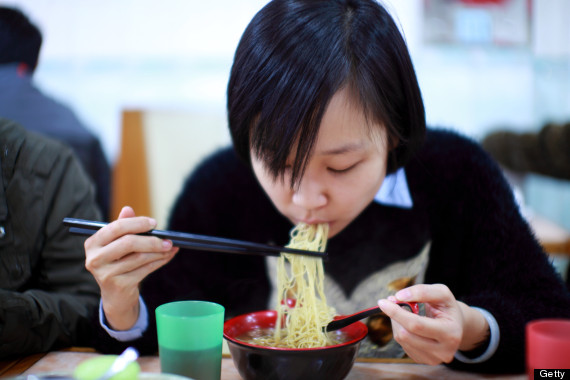 Hyderabad, India
December 3, 2017 10:58am CST
We all enjoy eating food. This is a boon. People should enjoy what they eat. Some squeeze, some make a sound, some people gasp while eating. Any objection to you if he enjoys his food? Definitely not. But, one should while eating if not for personal reason but for the sake of people sitting beside you who may be from the U.S and other countries who treat this as irritating and rude. But, in Japan slurping is accepted. This is not viewed as a rude method but looked as an appreciation of the Chef who prepared it. Next time when you visit Japan, try to learn slurp....but not elsewhere...
7 responses

• United States
3 Dec
I am Japanese but was born in the US. Yes, this is what I always heard from my dad . . . he said slurping is a high compliment to the chef! So I get confused when going to a Japanese restaurant in America

.

• Hyderabad, India
4 Dec
You should teach them to follow you instead of remaining quiet.

• United States
4 Dec
@shivamani10
Follow me? I don't even know what's really proper. Many of the Japanese restaurants here are not even owned or run by Japanese, I don't know if they would even understand the slurping thing

.




• Hyderabad, India
5 Dec
who said that leave some food is polite? Polite for whom? They are leaving it for whom?

• Hyderabad, India
5 Dec
@Bluedoll
The milk of donkey is very healthy and is given a spoon for a new born baby within 3 days of its birth. Do you know that?

• Guangzhou, China
5 Dec
@shivamani10
If you finish all the food from your bowl or all dishes are empty, the hosts may think that the food is not enough and you may be still hungry. And leaving a little bit food on the plate is a kind of good manner sometimes. As somebody may like it but nobody wants to take the last food because they also worry others want it, too.


• United States
3 Dec
It's true, that slurping is frowned upon in the US.

• Hyderabad, India
4 Dec
Do you think it is right.? It is their eating habit. We can not frowned upon them.

• Chile
3 Dec
I did not know. And I can understand the possibility of slurping a soup but not Japanese rolls.

• Hyderabad, India
4 Dec
They slurp only those which are possible.

• United States
3 Dec
Oh yes, we would get in trouble as kids if we slurped. If I am in Japan, I will slurp!

• Hyderabad, India
4 Dec
So, be a Roman when in Rome

• Hyderabad, India
5 Dec


• Hyderabad, India
5 Dec
Of course, this is not good also. Sometimes, it may be fatal.

• Hyderabad, India
5 Dec
Sometimes this is dangerous also.

• Canada
5 Dec
@shivamani10
I was thinking not too pretty but yes it could be.