Shrinking teddy bears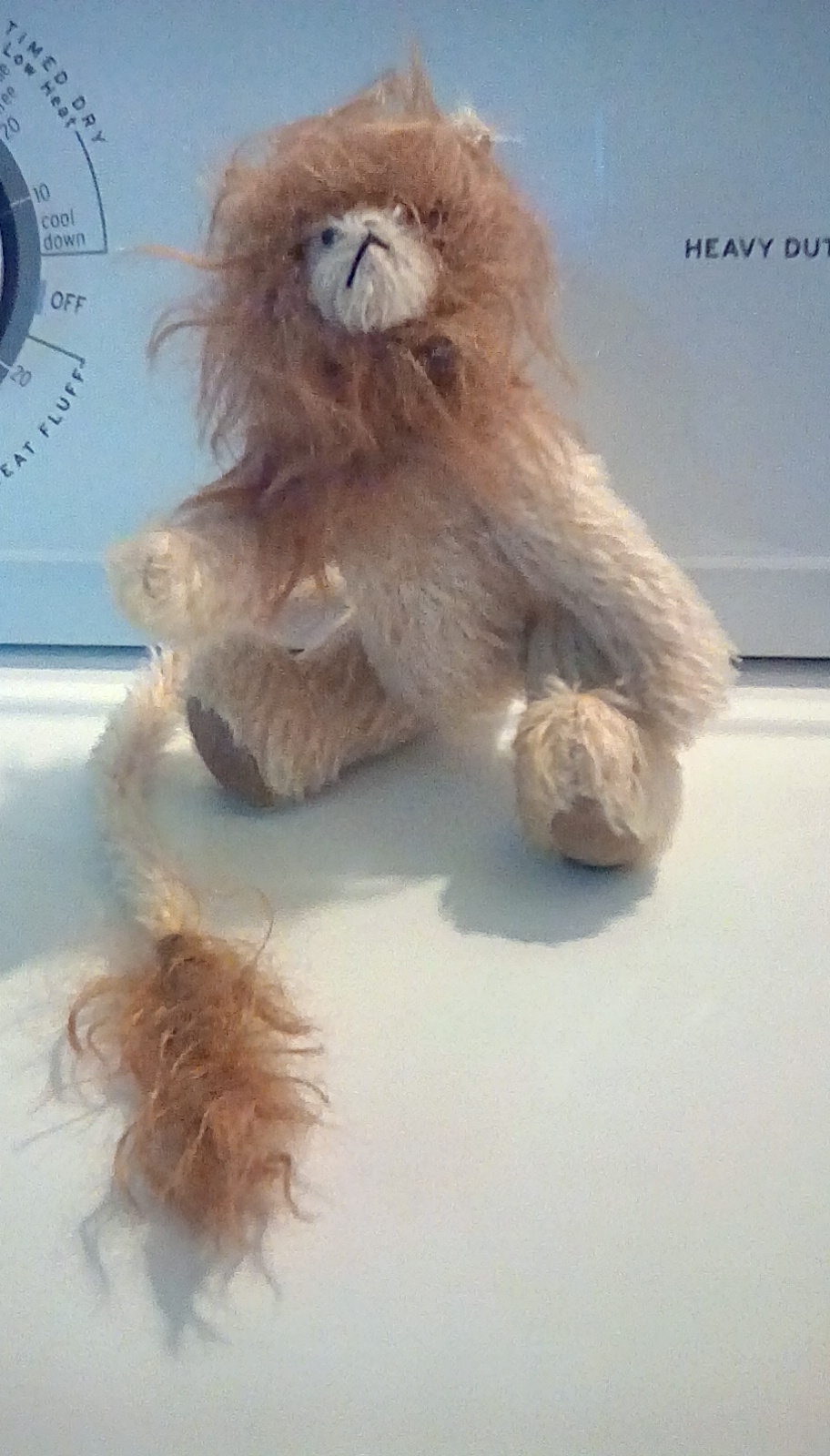 United States
December 3, 2017 1:32pm CST
As I have posted, I am a teddy bear artist. I was put out of business when my house and studio were destroyed by a fire on October second of this year. I was given a beautiful sewing machine, but it is for fine sewing rather than the sewing I do on fake furs, etc. My only option was to sew the bears by hand, which was prohibitive because I usually work in sizes from eight inches to three feet tall. So, while I was on my trip this past week I did a lot of thinking. Until my home is replaced and I have the proper equipment (including an OLD sewing machine from the 1950's) I will be making miniature teddy bears. I made a miniature lion when we started the trip and finished him during the trip. He turned out darling, and he finalized my decision to make the smaller bears and animals. Plus, it takes a lot of pressure off both my boyfriend and myself as I am living in his house and he is a neat freak and I'm kind of a slob, and making the bigger bears takes up a lot of room and is far from neat! (It's about like having a confetti tossing party in a hospital operating room!!!! lol). So, until my life is somewhat back to "normal" I'll be making teddy bears and other animals that range in size from three to six inches tall.
9 responses

• United States
3 Dec 17
so sorry about that dreadful fire there.I wished you the best there. I love the photo

• United States
4 Dec 17
Thank you for the wonderful wishes! It makes my heart happy and it sings happy songs when people send me such sweet and wonderful wishes!

• United States
4 Dec 17

• Boise, Idaho
3 Dec 17
How awful for you. I think the miniatures is a good thing though. This way you are learning a new technique and will have an entire arsenal to use so whatever the customer wants you will have had experience at it.

• United States
4 Dec 17
I love learning new techniques and ways of making things. It's even better if I can share the knowledge with others! Too often I'll hear someone say that thy finished high school and learned everything they need to know and they aren't going to learn another thing!!! I always feel sorry for someone who wants to stay stupid.

• Boise, Idaho
4 Dec 17

• United States
4 Dec 17
Thank you! He has ended up as my boyfriend's new addition to his collection.


• Derby, England
3 Dec 17
Good for you . You mini teddies sound great and I hope that you will get your sewing machine soon and your home too.

• United States
4 Dec 17
Both will take some time. My home was burned down by the local electrical company on October second of this year. Everything I owned burned with it, including my four legged family. I came home to the blaze....it still hurts horribly to talk about it! The only thing I had was the clothes I was wearing and my purse. Even my car burned. Anyhow I am slowly recovering from the fire and getting back to making bears.

• Derby, England
4 Dec 17
@BearArtistLady
You poor thing you must really have been through hell. I trust who ever is at fault s paying for putting things right. Sorry you lost your beloved pets too

• United States
5 Dec 17
@catsholiday
I spoke to the attorney today and it is going to be a long drawn out process. I had been warned it would be, but hoped otherwise.

• United States
3 Dec 17
So glad you decided to make miniature teddy bears. The lion is darling!

• United States
4 Dec 17
Thank you! I did some bear work this evening(I transferred the patterns onto the back of the fake fur so I have all the pieces marked and ready to cut out tomorrow). Bill made the comment that these bears aren't really tiny I tried to explain the concept of miniature. It was like explaining why humans use a toilet to a cat! lol. I'll cut out miniature bears tomorrow.

•
8 Dec 17
I am so so sorry about the fire and glad you have figured out what to do. I am sorry all you lost. It is not much fun having to start over again. I am glad you boyfriend is a good guy. Small teddy bears are nice too.

• Dallas, Texas
5 Dec 17
I love those soft and cute plush toys. I miss my gargantic sized black King Kong gorilla. Keep it up and soon you will be back in business.