Bit chilly here but not for these birds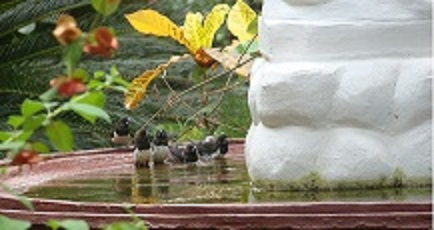 India
December 3, 2017 9:56pm CST
All kinds of birds rush to our birdbath even in chilly weather. These tiny tots are no exception. They always come in groups chatting away among themselves while they are busy frolicking in the bird bath. Wonder what they are saying to each other. This picture was taken sometime ago. It is not easy to capture them in my camera. The moment I open the door they just fly away.
8 responses

• Bunbury, Australia
4 Dec
Some of our little birds bathe together but others bathe one at a time.

• India
4 Dec
Thanks to the fruits and the birdbath we have several of them visiting us every single time. Besides this there is yet another group that comes. I have a slide show

I created this video with the YouTube Slideshow Creator (http://www.youtube.com/upload) Happy to share my moments with the birds that visit Solitaire

• Bunbury, Australia
4 Dec
@allknowing
That's a lovely clip. Thanks for sharing it with us.


• Philippines
4 Dec
maybe they are saying: "its so cold here." "shh, someone is taking us picture, they might have heard us."


•
14 Feb
They must be brave ones. I thought birds flew south or somewhere where it is warmer in winter. We have some birds here too and I thought they go to warmer climate till it turns warm here. Last week was very nice weather so maybe they came back to enjoy it.

• India
14 Feb
Our weather here never gets to extremes and so I suppose birds will stay put

•
14 Feb
@allknowing
We have strange weather here and now it is back to rainy season and getting chilly again Always smiling.

• India
14 Feb
@Hannihar
Nature has lost its discipline and breaks its own rule



• Aurora, Missouri
10 Dec
I like your photo, Always smiling! I am sure you had your work cut out for you trying to actually get the babies to pose for you, get them to smile and say "cheese" as you took the picture! (grinning and teasing you!) Hmmm... you know, it is possible the birds are discussing whether or not you will finally get them a supply of towels since you've been kind enough to supply them with the bath. (grinning and giggling, now!)

• India
10 Dec
Most birds will preen their feather after their bath, perched on branches.

• Aurora, Missouri
11 Dec
@allknowing
Yes, I have seen them doing that, too, Always smiling... I believe that if you tried hard enough, you could teach them to love how nice

clean, fluffy and warm towels feel after their bath, too!



(I just don't envy the person who will have to clean and dry the towels after the birdies have finished using them!


)




• India
11 Dec
@DaddyEvil
They are independent creatures and do not need all that fuss


• Philippines
5 Dec
Well, if they go there often, maybe there's a next time. Maybe try not to get too close.

• India
5 Dec
I use the zoom feature but the slightest noise like opening the door chases them away.