When Harry met Miss Markle. The Special relationship?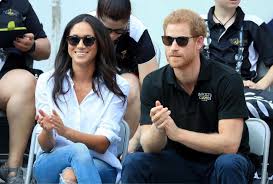 Northampton, England
December 4, 2017 5:10am CST
In times of trouble the United Kingdom has a royal wedding to pull the people together. Prince Harry has been enjoying himself for a while now but it's his royal duty is to settle down one day and he has chosen American Meghan Markle. We know her from the cold but intelligent TV series 'Suits' and she is a fine looking lady but never the star in her film and TV work. Well now she is the star and Harry is well and truly smitten and she is already in charge and looking very comfortable and calculated in front of the world's media. I think that's going to be a problem for Harry, The Royal Family and their relationship. For me she is already positioning herself as the next Princess Diana, and with a pinch of Angelina Jolie. But that charity stuff and TV work will subside as she enjoys her new popularity and easy life. Journalists and commentators knew the engagement was coming and had researched the young lady. Luckily there were no sex tapes or previous lives as Meghan 'Sparkle' the porn star (remember Koo Stark?) out there and so the American deemed acceptable to marry our prince. Harry is the most liked Royal since Diana. Another side of this will be the relationship between Harry and Meghan and Kate and William. The latter were just slotting into the roll as Royal first couple around the world as Kate wowed the crowds and then along comes sexy Miss Markle. I think there will be tension between the two couples. I'm sure Kate loves William but you sense their marriage was more formal and more about a couple tying the knot than true love. She wanted to pack her boring job in and be a society girl, waited on and have kids. Now that Williams's hair has gone he is not that appealing to women the way Prince Andrew was in his thirties and so Kate getting all the handshakes and bouquets at Royal events, very much the Prince Phillip role to the Queen. Harry is dashing, naughty, brave and upfront, what girls really like. He and Meghan are going to be box office. Kate will be in the shadows. Expect a bouquet fight soon! Watching Meghan in her first media stuff as a couple it was almost like she was preparing for a new film role and the actress instinct in her alert and alive. Being a royal is a role in a way but the British are used t that with the Royals and understand they are here to promote the country to tourist and business, the so-called soft power. When Diana malfunctioned we saw the real woman. There is also the race issue with Meghan, her black history an issue with the tabloids but not so much the British people. If she is hot she is hot and that's enough. I guess if she looked like the strikingly beautiful but true African American look of actress Lupita Nyong'o of 12-Years A Slave it may be different. Either way she is marrying Harry in May at Windsor Castle, hopefully a special relationship that even Donald Trump can't mess up!
10 responses

• Northampton, England
4 Dec
I'm pretty sick of her already - and that's speaking as somebody who's watched 6 series of Suits and still thinks she's not much of an actress.

• United Kingdom
5 Dec
Don't really know much about Meghan and haven't seen her in those shows - though real life for her will probably be quite different.

• Spain
5 Dec
@pgntwo
yep, Ciao has srtopped paying as of the 1st December, so hopefully there will be some new faces here on Mylot!!


• Spain
4 Dec
Harry is going a bit bald too already.....punching way above his weight with Megan!! Good job he is rich lol!!

• United Kingdom
5 Dec
Yes having money behind you certainly adds to the attraction for some!!

•
6 Dec
They seemed a great couple to me. Peace and happiness to them.

• United Kingdom
4 Dec
Yes I was reading about Megham's first walk about and how natural she was with Harry. Poor Kate may be feeling sidelined. I had not realised about her heritage until I read up at the weekend - as you say I doubt may people will have relaised. Yes her life will change beyond recognition once she's married into the 'firm'.

• Denmark
4 Dec
Welcome to myLot. Enjoy the site! The first step for all newbies is to read the Guidelines to learn what is allowed or not on the site. Then you can write a post introducing yourself. Tell us a bit about yourself. Furthermore, read around as much as you can, Like and Comment on other members' posts. Only then will members come to your site and do the same. This is called interaction. Don't expect too much money-wise. If you reach $5 a month (the payout limit), you can call yourself lucky.

This is where you will find out what kinds of behavior are accepted and unaccepted on myLot. When in doubt, remember the Golden Rule!


• Northampton, England
10 Dec
I think she will be too bossy and keen and sideline Harry. Two years tops


• United States
6 Dec
I have never watched "Suits,'" and I had no idea who Miss Markle happened to be, until now. I can see where Miss Markle just may upstage Kate. I do wish William had nut succumbed to male pattern baldness.


• Los Angeles, California
4 Dec
I wonder if she has really thought about how much her life will change being married to a royal where every second of her life will be scrutinized.